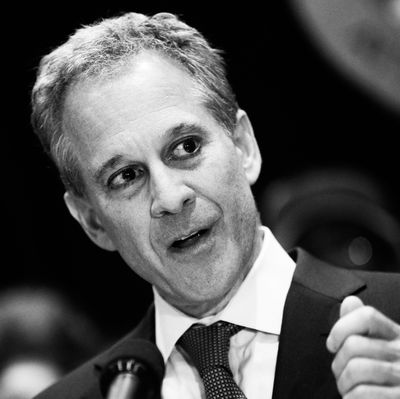 New York attorney general Eric Schneiderman.
Photo: Drew Angerer/Getty Images
New York attorney general Eric Schneiderman announced on Tuesday that Brooklyn Hospital Medical Center had reached a settlement with sexual-assault survivors who were improperly billed for rape kits.
"It's hard to imagine the heartache and anxiety a survivor must feel having to fight a collection agency over an unlawful bill for a rape kit. It's unacceptable, and we will not allow it to continue," said Attorney General Schneiderman. "I want to be clear: survivors of sexual assault are entitled to cost-free emergency care under New York law — and we will do everything possible to ensure they get the respect and care they deserve."
Under New York law, hospitals are required to provide services to survivors of sexual assault free of charge, and bill the Office of Victim Services directly, or private insurance if the patient so chooses.
The settlement follows an investigation into the hospital by the attorney general's office, which it launched after receiving complaints from a survivor who was billed for a single emergency-room rape kit seven separate times. According to a press release from the AG's office, the investigation also revealed that "between January 2015 and February 2017, Brooklyn Hospital conducted 86 forensic rape exams — and in 85 out of those 86 cases, the hospital either improperly billed the patient directly, or billed the patient's insurance plan without advising the patient of their payment options as required by law."
The attorney general has also requested information on sexual-assault policies from ten other hospitals across New York State.
As part of Tuesday's settlement, going forward, Brooklyn Hospital will maintain a Sexual Assault Victim Policy to prevent further instances of improper billing, and to provide financial restitution to affected survivors.