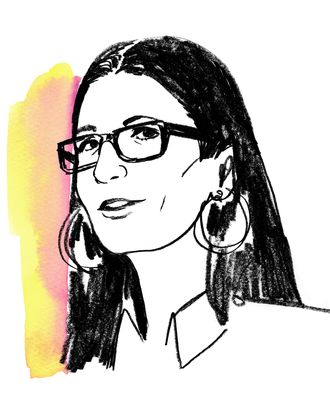 Illustration: Lauren Tamaki
Last December, Bobbi Brown left her namesake cosmetics company after 25 years of corporate life. But the former makeup mogul is as busy as ever. From her new headquarters in her hometown of Montclair, N.J., the entrepreneur and mother of three is building a lifestyle brand, working on a new boutique hotel, and learning to be a health coach in her spare time. Read on to find out how she gets it done. 
On her mornings: I wake up around 5:45 a.m. because my husband and my dog get up. Every day I have 16 ounces of water, and then I walk over to my Nespresso and make a double espresso with a tablespoon of Laird Hamilton Coconut Powder — it's unbelievably delicious. I head over to my couch where my dog jumps on my lap and I pull out my iPad. The first thing I look at is the New York Post; then I look through emails and check my Instagram. Right now I am doing four different Instagram accounts: @justbobbibrown, @thegeorge_inn, which is a new hotel that I'm working on that's going to be opening, @18label_studios, which is 18 Label Street, which is a film and TV studio, and then @bobbibrowneyewear.
On getting ready for work: I usually take a quick shower. I do not know how to blow dry my hair, so if it's a day where I'm not being filmed, the hair goes in a ponytail or a messy bun. I throw on some clothes and I head over to my office. I probably haven't even eaten at this time: I'm intermittent fasting a little these days. It helps my digestion and it gives me more energy.
If I'm not being photographed, all I do is brush my teeth and put a moisturizer on. If I'm going to be outside, I'll put an SPF on. I don't really wear a lot of makeup. I recently had this amazing laser called PicoSure — O.M.G. I look like I wear foundation, I have really even skin.
On her wardrobe since leaving the corporate world: It's funny, I now buy sneakers that cost as much as my Manolos used to cost. I have a closet full of the most beautiful high-heeled shoes, but I never wear them. The bottoms are beautiful, they are clean as could be, but I wear sneakers. I just realized I am happier when I'm most comfortable.
On a typical day at the office: I usually start work around 10. From 10 a.m. to 12 p.m. every single Monday we have our team meeting. It's like three or four pages of to-do's. It moves really quickly because there is so much to get done and it's a really small team. There are the Just Bobbi Shops at Lord & Taylor, that's a full-on project — making sure we have the right things in the store, the merchandising, and the events involved in it, and the shoots. Plus, there have been a couple different networks and media outlets that have offered me speaking or writing, so we go through it the best we can.
On having homemade lunches with her team: There are five of us on my team, including me. We have all decided that we are not getting take out anymore. Every day, we make a community meal together. Today I made a zucchini pasta with Italian tuna and some garlic, and Rao's sauce and a couple olives. I have a small garden and we grow kale, cucumbers, and tomatoes, so I usually make a giant salad, chopped up. There's a vegan on the team so she brings her own beans, and I always have some kind of protein and someone else brings hard-boiled eggs. There are always Mary's Gone Crackers if we want the crunch, and really good olive oil. And we're trying really hard to eat fruit and not dark chocolate.
On her upcoming office space, 18 Label Street, in Montclair N.J.: It is going to be full-on shoot-ready because we are doing these weekly Facebook lives, and a whole bunch of different content — it's a very open space with incredible light. It's an old funky brick building, and it will have a full shoot-in kitchen, but also an eat-in kitchen.
It's going to be loft-like. There's going to be one conference room, but the rest are going to be open spaces, tables, and a place for everything.
On staying organized: I'm really visual and I get overwhelmed if things aren't neat and orderly, like many creative people. We have a wall that has pictures and blocks with all the different projects, and when you look at it all, it's daunting. Luckily the people who work for me are gung-ho.
On working with a small team: All the people that work here have many different jobs. I forward my emails around and everyone's got their to-do's. But we are not a late office, either. I expect people to be done at 5 / 6 p.m. at the latest. And I want everyone to go home, be with their kids, their husbands. I don't want people to be here until 8 p.m.
On departing from the corporate world: It was a treadmill and I was a soldier. That's what happens in corporations. I did it, I'm proud, I'm glad, and I'm more proud and glad that I am able to do it all again my way. Once an entrepreneur, always an entrepreneur. And an entrepreneur really just means you're good at making things up and figuring things out, and being resourceful, and having fun. That's one thing I forgot for so many years — I was doing what I was doing because it was fun. And now it's fun again.
On starting over: I'm in the process of building a lifestyle brand. I've been doing it for years. Whether they are products, or lectures, it's going to be lots of things about building a better life. That's what I have always believed in, and that's what I want my company to be, and it's what I want the people who work for me to be able to experience.
On her new hotel project: My husband is a developer, and he's the one who built 18 Label Street.We're also working on a hotel called The George. It's a 32-room boutique hotel with a library and a breakfast area. I am the self-appointed Creative Director, which really doesn't mean anything because my husband is also the Creative Director, so I needed approval on everything. [Laughs] But it's okay, we have very similar taste. My little team is helping decorate the hotel and create products.
On being a boss: I depend on the people I hire as much as I expect to teach them. Even though I'm more experienced, older, than most of the people on the team, I hire them for things they bring to the table that I'm not capable of. Before you called, I was sitting with my executive assistant that I hired from the Apple Store. We were sitting there because I had flagged every single email I couldn't deal with. I am inundated with requests, and I can't handle it all. I am very big on output, I put out a lot, and I don't have time for the minutiae. So it's great having someone.
On going back to school: I just finished my ninth week. It's the Institute for Integrative Nutrition IIN. It's to be a health coach. My fear was that it would be overwhelming, but it is not. I love the content, and love the information and insight the guest lecturers provide.
What I'm most excited to learn about is bio-individuality, which is the teaching of what foods are right for you based on your individualized nutritional requirements. I'm worried about exam, but it's open book so I hope to ace it! I don't expect to be hanging out a sign in front of my office, but it's something I'm so interested in and I want to learn more.
On coping with stress: I'm a talker, so I have a handful of people that I can call at a moment's notice, and I will usually do that while I'm walking and talk about what's bothering me. And sometimes, if I'm overwhelmed I will sit myself down in a quiet room and write down all the things that are in my head. It can be as silly as "Go buy Q-tips." Or "Call Henry and see if he'll shoot the book for me"; that was on it yesterday. Once it's down there, I breath and I'm okay.
On maintaining a high energy level: If I wasn't such a health nut, I wouldn't have the energy to do everything I'm doing. If I ever do things that aren't the best for me — like, Diet Coke, pizza, bread — I feel awful.
So, I position myself to feel good. I've been like that for years and years, but I'm fine-tuning everything.
On sleep: I am usually toast at ten o'clock. Toast. And if my husband was here he'd laugh. He'd say ten o'clock? More like nine o'clock. But I can go to sleep at 10, 10:30 easily. I normally put my jammies on, which are really soft long sleeve T-shirts from the Gap or J. Crew. I put my hair up, wash my face, take whatever evening supplements are happening, I get into bed, and I have the TV on, and ten minutes later I am asleep. I just have to look at the bed and I go to sleep.