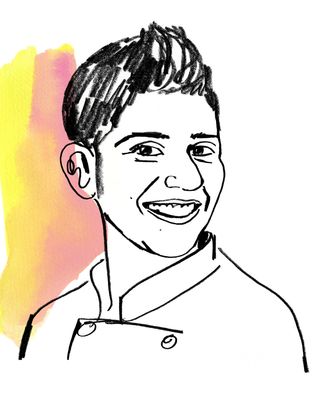 Illustration: Lauren Tamaki
Oakland-based chef and restaurateur Preeti Mistry spends her days packing her car full of fresh ingredients and shepherding them to her two beloved restaurants, Navi Kitchen and Juhu Beach Club. Though she decided to close Juhu later this year, that doesn't mean she's any less devoted to cooking. Mistry has been working on The Juhu Beach Club Cookbook, a celebration of her Indian heritage and cooking style; the book launched last week. Here, she tells the Cut about what she eats when she gets home, why she decided to close Juhu, and what's next.
On her daily routine:
I hate waking up early; I really hate having to wake up to an alarm. I've been trying to just have my one cup of coffee in the morning and not drink any more caffeine throughout the day. Once I'm up, I shower, get ready. I'm pretty much in Air Jordans, skinny jeans, a T-shirt that says something about Oakland on it, and a hoodie. That's it. I might stop at Juhu if I have some things to grab, there's always some curry leaves traveling in my Mini Cooper. Next, I'll head to the Berkeley farmers' market in the afternoon. I'll normally drop some things off at Navi and then come over to Juhu. I have been working dinner service lately. I'm usually done between 8:30 and 10 p.m. I have a really hard time eating all day. I just kind of go, go, go.
On falling in love with food:
My family is all about food. My mom cooks full Gujarati dinner from scratch at least four or five nights a week. Growing up in Ohio, I just wanted pizza and hamburgers; that's what was exotic to me. Food was how we made decisions about planning a day. What are we eating? Everything revolved around that. I always assumed that's how all people were until I hung out with white families and food was secondary. I didn't understand. They'd talk about doing things and then be like, Oh, we'll just grab a sandwich somewhere. I'd be like, Whoa, wait a minute, I'm not okay with that plan. What sandwich? Where? Maybe that's part of being an immigrant and not always knowing that you're going to find things out in the world.
On relaxing after work:
If I get out at 8:30, like last night, I get to hang out with [my wife] Ann for a little bit and talk. I'll watch a little TV. I just finished binge-watching Master of None. I was really impressed actually. I need to have some wine or a beer and talk and chill before I'm hungry. If I get home at 10:30, I'll find a moment to shove something in my face. It'll normally be rice with some curry sauce and some random meat or a little dollop of raita. I got to bed around midnight.
On blending in while traveling:
I'm not the most organized traveler, although I am definitely all about traveling light. Being a gay, brown person with a mohawk, the last thing I want to be is the person who can't fit their bag somewhere. My goal in airports and airplanes is to try to disappear as much as possible. Sometimes I am traveling with knives, so I have to check a bag anyway.
On handling pressure:
I definitely do feel a tremendous amount of stress and anxiety, not going to lie about that. Ann encourages me to take walks. We forced ourselves last weekend to go out of town for two days. My thing is getting back to my old workout, which is boxing — I jump rope, box a half hour, and do some ab stuff. I have a bag in my garage, so I do it on my own whenever I have time. I think that I respond well to pressure and I am definitely a procrastinator. I like to say I perform best when I feel like there's a 1,000-pound gorilla chasing me. For me, I think that's part of being a chef; if you can't thrive in that moment you might not be in the right profession.
On starting her first restaurant:
I came up with the name Juhu Beach Club just before we went to India with my parents over the holidays. It was really like a research trip more than anything, we just ate and ate and ate and took notes. I came back and we started the pop-up. I wanted to bring different types of Indian food to the U.S., like all you know is naan and saag paneer and chicken tikka masala. I didn't eat any of those things as a kid.
On what's next:
We've decided to close Juhu. It's been a really hard decision. It has been my blood and guts and soul, but that's also part of the reason why we needed to move on from that location. People have been asking me why I can't find someone else to run it, since I do both, am the chef and run the business, but it's hard to find someone to love the fucking shit of the place the way I do and run a healthy business.
On whether Juhu Beach Club could make a comeback:
We have been slammed every night since news of us moving on came out in the news. I feel blessed that what I'm experiencing right now is a follow-your-dreams kind of dream beyond those four walls. Juhu is already living on with the book. The timing is a positive, a bookend, because people love the book, people will buy the book, and then cook with it. Hopefully with the tour, I'll be bringing pop-up Juhu restaurants around the country. Plus, I want to make other dishes; like, I can't have people losing their mind if the cauliflower isn't on the menu every night.