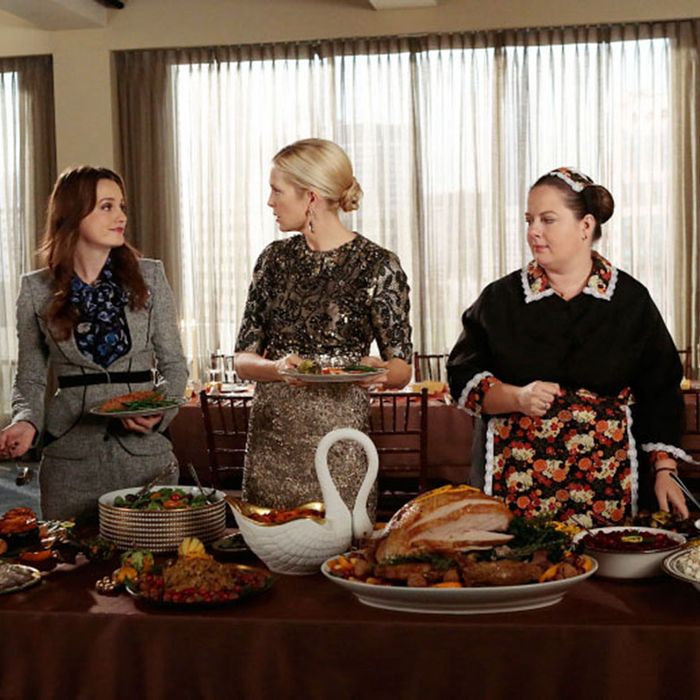 A typical awkward Thanksgiving.
Photo: Giovanni Rufino/THE CW
With a paper-towel-throwing president and the looming threat of nuclear war, there are few things to feel thankful for in the current political state. But researchers have (somehow) found a silver lining: our incredibly awkward Thanksgiving dinners were shorter last year because of politics.
A new working paper from UCLA and Washington State University found that in 2016 our Thanksgiving celebrations were an average of 20 to 30 minutes shorter among politically divided families. Republicans were far more likely to ditch their Democratic families than the other way around, and by and large an estimated 62 million person-hours of political familial discourse was lost, the Washington Post reports.
To come to these conclusions, the researchers analyzed data from a service called Safegraph, which collected more than 17 trillion location markers from 10 million smartphones last November. The team looked at where those people were between the hours of 1 p.m. and 5 p.m. on Thanksgiving Day. The researchers also looked at results from the people's local precincts to get an approximation of their political beliefs.
So, while everything might suck, at the very least we can be thankful that politics will presumably cut down the amount of time we'll have to spend talking about Roy Moore with Great Aunt Mary this Thanksgiving.