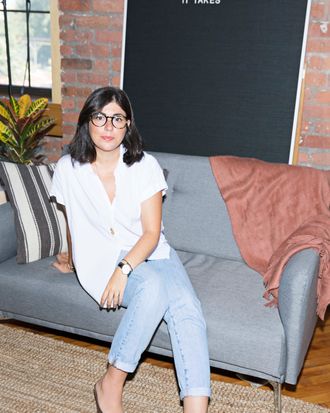 Laureen Moyal wears Mansur Gavriel heels.
Photo: Victoria Stevens. Produced by Biel Parklee.
In Her Shoes is a column about what real women wear when they need to get things done.
Even if you've never heard of Laureen Moyal and her graphic design firm Paperwhite Studio, you've probably seen her work. Restaurants like vegan fast-food chain By Chloe and Instagram-friendly café Jack's Wife Freda have turned to Moyal and her team for cute, quirky logos, menus, and even sugar packets.
After studying at Rhode Island School of Design, Moyal freelanced for various food and beverage brands before meeting her business partner, Devika Heugle. In 2009 they formed Paperwhite, which now has offices in Brooklyn, Chicago, and Graz, Austria. The company's diverse array of clients ranges from The Highline Hotel in New York City to local tech companies in Graz.
We caught up with Moyal at her Bushwick office, where she spends her days meeting with clients and discussing design ideas with her team. She talked to us about how she approaches dressing as a new mom, her love of Supergas and Birkenstocks, and how you'll never see her teetering around in spindly stilettos. Read on to see how she successfully straddles the line between being comfortable and looking polished, especially without spending tons of money on fancy designer clothes.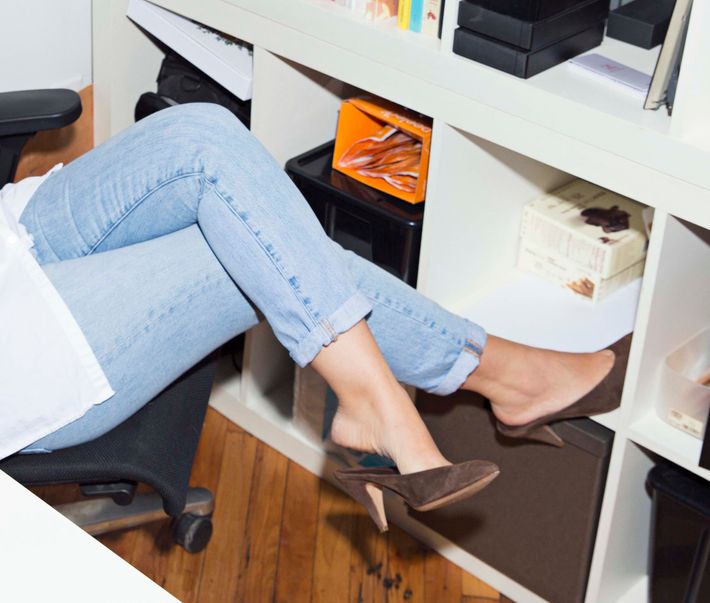 On dressing for big meetings: I'm lucky that I work in an industry that's flexible and creative. Business attire to me consists of jeans from the likes of Madewell and a button-down or sweater from Vince or Everlane. I'm usually in sneakers, so swapping to heels makes a huge impact for client meetings. My goal is to look a little more polished than my usual self but casual enough that it doesn't seem out of place.
On her style as the boss: I'll put in extra effort when I'm in meetings. I want to project a confident image on behalf of the rest of the studio, but I also believe in dressing for myself. If I'm in the office, I want to be at ease so I can focus on getting things done.
On her favorite comfortable shoes: I'm usually in Superga sneakers — I have them in as many colors as my shoe racks can handle! In the summer, it's all about Birkenstocks. I lean into whatever shoe trend won't hurt my feet.
On the practical-yet-stylish shoes at her desk: I always keep a pair of black ballet flats by Repetto or Annielle nearby because they're cute but easy to wear. I'll also stash a pair of black suede round-toe pumps with a thick heel. I'm currently obsessed with these heeled ballerinas by Balzac Paris — they're just the right height. Also on my list: Sezane's loafers. I like something I can walk in so I don't feel like I'm perched on my tiptoes.
On how her style changed as a new mom: Now that I have a 1-year-old, I like to head straight home after work for my bathtime date. I'm embracing the mom jeans since they're socially acceptable right now. I'm totally milking it and wearing them every day. I mean, they are so comfortable.
On her styling trick that dresses up any outfit: My uniform consists of my mom jeans, a T-shirt or sweater, and whatever Supergas match my mood plus weather. I don't accessorize much, but I love a good scarf and will wear one almost year round to jazz up my look.
If you buy something through our links, New York may earn an affiliate commission.
Production Credits:
Photos by Victoria Stevens
Sittings Editor: Diana Tsui
Produced by Biel Parklee