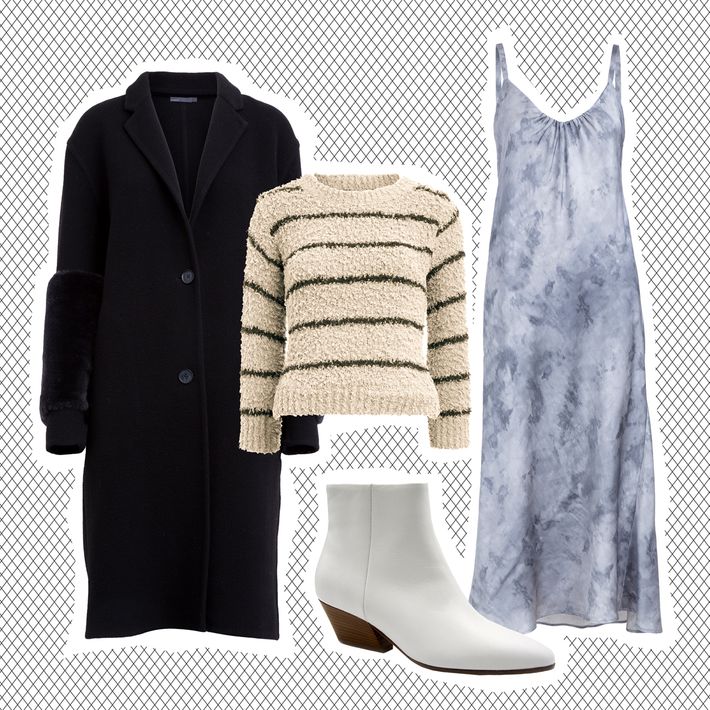 To our instant gratification, the "see now, buy now" trend means we no longer have to wait to get our hands on items designed for a season that's still a few months off. Great, except who wants to buy a piece they love, then have to wait around to wear it? (See "instant gratification.") To show how to adapt pieces that seem seasonally specific to a broader range of temperature changes, we put together a few looks featuring Vince's pre-spring collection – from a slinky dress to a classic mule. Rather than banish these items to the back of your closet until early 2018, scroll on for ways to layer them through fall's cool last days, then integrate them into warmer winter looks.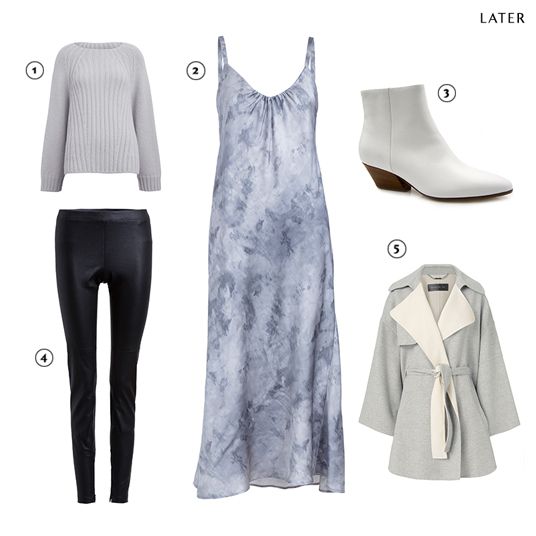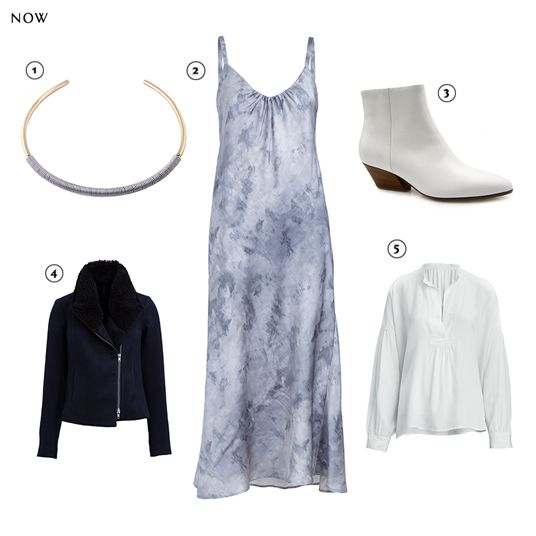 You might instinctively associate a silky slip dress with balmy weather – after all, "pre-spring" is oft interchanged with "resort." But, in chillier times, a thin midi dress works as non-bulky decoration over practical base-wear. In fall, a light blouse and tights suffice, along with a lined moto jacket on top. Later, swap in warm leggings, a chunky sweater, and a tie-close coat.
Now: 1. Soko Sachi Collar, $78 at Soko; 2. Vince Watercolor Marble Shirred Silk-Satin Cami Dress, $395 at Vince; 3. Vince Vaughn Leather Boots, $395 at Vince; 4. Vince Shearling and Double-Face Wool Jacket, $750 at Vince; 5. Vince Shirred Silk Blouse, $295 at Vince
Later: 1. Vince Raglan Ribbed Wool and Cashmere Crew, $345 at Vince; 2. See dress above; 3. See boots above; 4. Vince Zip Ankle Stretch-Leather Legging, $995 at Vince; 5. Barbara Bui Belted Poncho, $1,875 at Intermix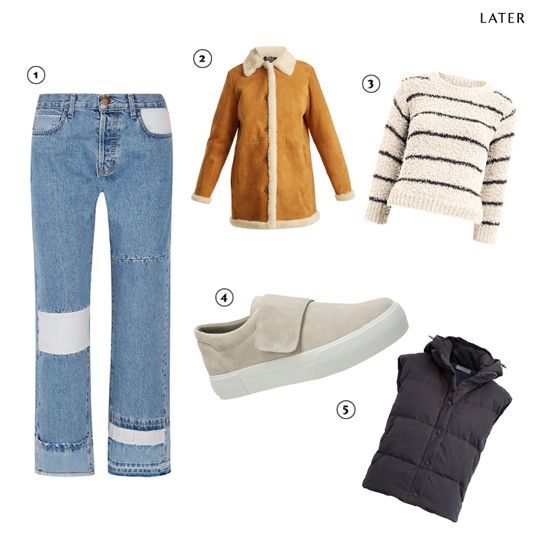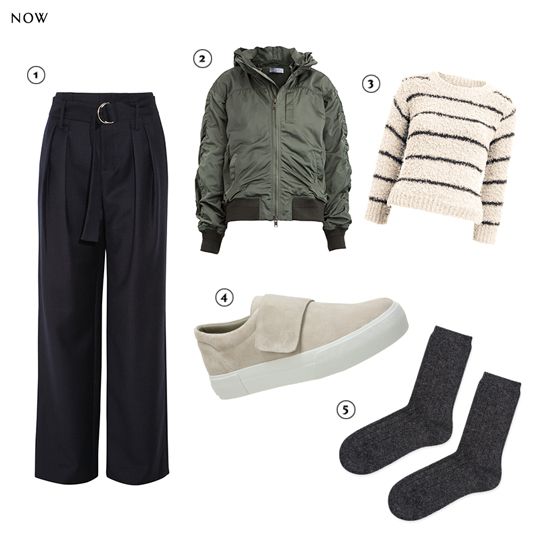 For the colder half of the year, it can feel like you're wearing almost identical versions of the same pants, sweater, and sneakers on repeat. But a few easy tweaks can switch up your go-to look from one season to the next. Starting with all-season sneakers and a versatile sweater, all you need for autumn are a pair of long trousers and a waist-length bomber. As needed, transition to heavier jeans, an insulated vest, and a shearling coat.
Now: 1. Frame High-Waisted D-Ring Pant, $475 at Frame; 2. Vince Hooded Gathered Shell Bomber, $545 at Vince; 3. Vince Fuzzy Striped Cotton Bouclé Crew, $395 at Vince; 4. Vince Cage Suede Sneakers, $225 at Vince; 5. Hansel From Basel Italia Cashmere Cozy Rib Crew, $35 at Hansel From Basel
Later: 1. Current/Elliott The DIY Patchwork High-Rise Straight-Leg Jeans, $275 at Net-a-Porter; 2. A.P.C. Natalya Point-Collar Shearling Coat, $1,980 at MATCHESFASHION.COM; 3. See sweater above; 4. See sneaker above; 5. Vince Light Washed-Shell Puffer Vest, $425 at Vince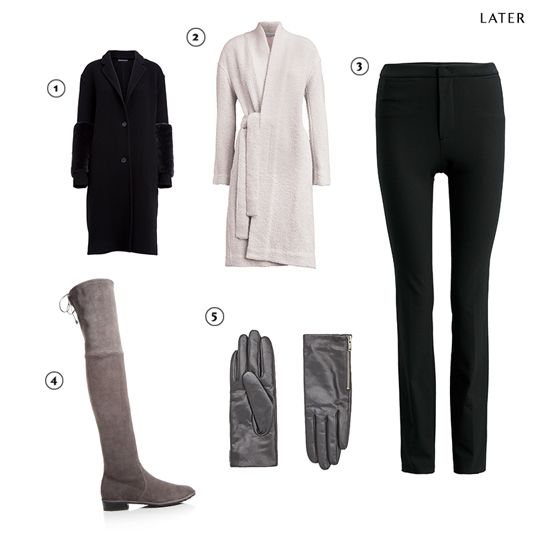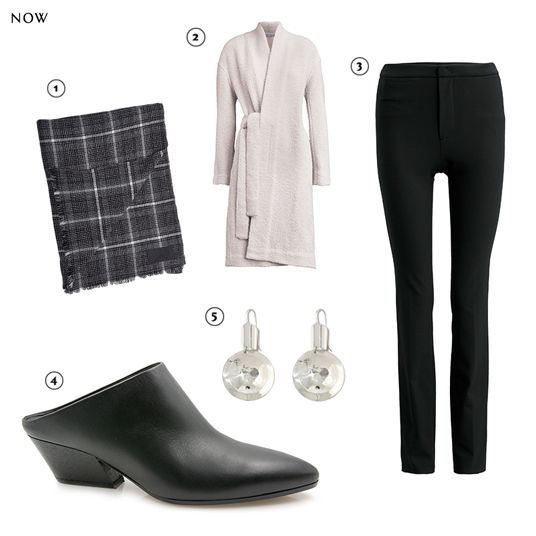 A chic sweater-coat is a transitional wonder. Choose one that feels more stylish than loungewear, and it can elevate even the simplest outfit. On milder days, wear a soft, wrap-tie duster as a (very cozy) top over skinny pants, with a soft scarf and mules. When it's frostier, layer up with over-the-knee boots, an oversized wool coat, and a pair of sleek leather gloves.
Now: 1. Zucca Checkered Stole, $428 at La Garçonne; 2. Vince Oversized Wool Bouclé Coat, $795 at Vince; 3. Vince Coin Pocket Ponte Legging, $285 at Vince; 4. Vince Vigo Leather Mules, $325 at Vince; 5. Erin Considine Bola Drop Earrings, $235 at The Dreslyn
Later: 1. Vince Oversized Shearling Band Wool Coat, $850 at Vince; 2. See bouclé coat above; 3. See pants above; 4. Stuart Weitzman Lowland Stretch Suede Over-the-Knee Boots, $798 at Bloomingdale's; 5. COS Zip Leather Gloves, $79 at COS
This is paid content produced for an advertiser by New York Brand Studio. The editorial staff of The Cut did not play a role in its creation.