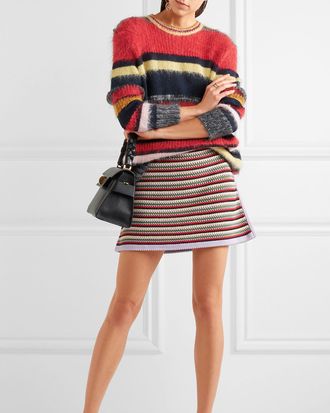 For the past ten years, Alexa Chung has been a consistent source of "Get Her Style" pieces, Teen Vogue spreads, and Pinterest style boards for her classic, real-girl style. Still, it's hard to translate personal style into a quality brand, so when Chung's line launched in May, I expected a void of Peter Pan collars. But Chung won me over with a collection that's fun and playful but still special enough to justify the price point. What can I say? I'm a sucker for pink-and-darker-pink striped suits and sequin maxi dresses.
I'm also a sucker for color after seeing it in full-force at Fashion Week, both on the street and in the shows. Who does head-to-toe black anymore? Certainly not Alexa Chung. That's where this ALEXACHUNG sweater comes in. It's cozy and fuzzy, and like the rest of her brand, it doesn't take itself too seriously. After all those years of collaborating with other companies, Chung has clearly figured out how to give the people what they want.
 If you buy something through our links, New York may earn an affiliate commission.