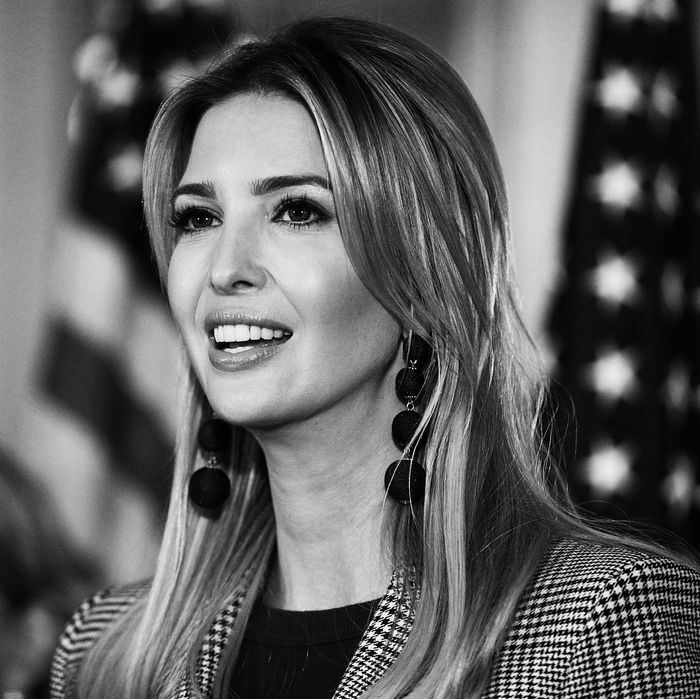 Ivanka Trump.
Photo: Alex Wong/Getty Images
Ivanka Trump, who's declared that advocating for women would be her focus in Washington, has spent the last nine months empowering (wealthy) women at conferences around the world, and this week she heads to her latest conference, this time in India. It's a country where, as the Washington Post points out, plenty of women work to produce the Ivanka Trump clothing line — maybe under poor working conditions? No one knows, as Trump has stayed markedly quiet about the women-dominated workforce her business employs in Asian countries.
Trump will be delivering the keynote address at an entrepreneur summit — theme: "Women First, Prosperity for All" — and dining at a restored palace with Prime Minister Narendra Modi. Meanwhile, elsewhere in India, garment workers will be working toward making $100 a month, often in workplaces that do little to combat sexual harassment and abuse, according to union organizers and experts who spoke with the Post. The Clean Clothes Campaign estimates that India's garment industry is 60 percent female.
In February, consumer-education nonprofit Project Just investigated the Ivanka Trump clothing line and was left with more questions than when it started. It found no code of ethics, no sustainability reports, no policies ensuring fair wages and safe working conditions, and no evidence of health care for women other than paid maternity leave for new mothers. The Post also investigated the brand and found that "it lags behind many in the apparel industry when it comes to monitoring the treatment of the largely female workforce employed in factories around the world."
On the first of this month, 23 human- and labor-rights groups urged Trump to be more transparent about her brand's supplier factories, and to approve independent groups to monitor the working conditions within the factories. The letter calls her hypocritical and irresponsible:
You have spoken often about your advocacy for women and girls. You recently spoke about fighting human trafficking, saying you view the issue as a "clarion call to action in defense of the vulnerable, the abused, and the exploited." You also lauded "the heroes who continue to shine a light on the darkness of human trafficking."




Yet several media reports this year, including a comprehensive Washington Post investigation published in July, have highlighted multiple allegations of abusive treatment of women workers at footwear and garment factories in China and Indonesia where workers make apparel and shoes bearing your brand. Abuses include verbal and physical abuse of workers as well as 15-hour work days, wage deductions and fines for workers. 
Judy Gearhart, the executive director of the International Labor Rights Forum, expressed similar frustrations to the Post. "If Ivanka truly wants her legacy to include protecting working women, she needs to start with the women in her supply chain."