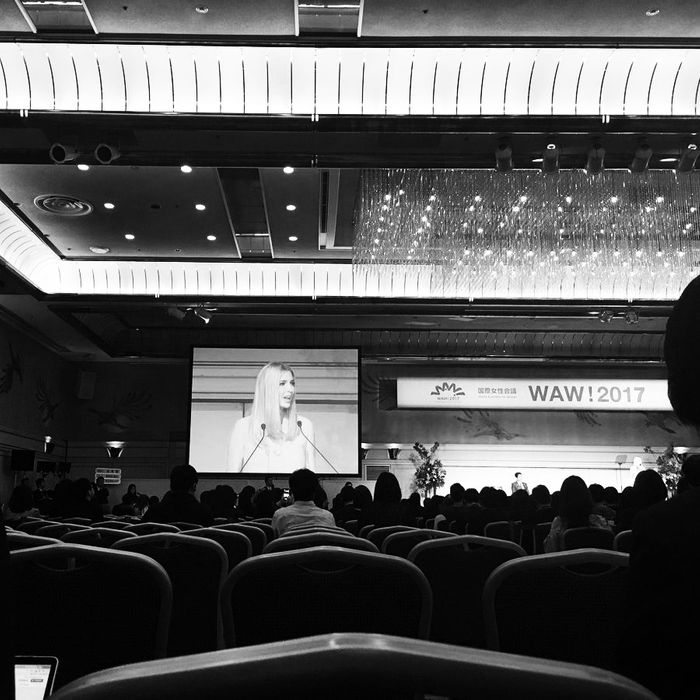 What a crowd.
Photo: Courtesy of Twitter/annafifield
It seems like most of Japan had something better to do than listen to Ivanka Trump talk about women's empowerment (uhh) and sexual harassment (hmmmm) on Friday morning, as the Tokyo hall where she was giving a speech to the World Assembly for Women sure had a lot of empty seats.
As The Guardian reports, the self-proclaimed former punk (who is well-known in Japan for her modeling work and fashion line) spoke to a half-empty venue during her speech about the role of women in the world's economy. Officials claimed Trump's speech was the most-registered event of the three-day conference and that tight security prohibited many people from entering the hall before the doors closed, but The Guardian had a different take:
However, The Guardian arrived at the hall 10 minutes before the event began and witnessed no long lines of people waiting to get in. Another attendee who entered as the doors were closing said just a handful of people were milling around outside.
The New York Times even notes that there were so many empty seats in the hall, ushers actually hustled audience members to move forward several rows before Trump walked up to the podium.
During her speech, Trump spoke of issues facing women in the workplace, and the apparent lack of respect they face in their careers. The daughter of a man who has bragged about sexually assaulting women went on to tell the empty seats, "This takes many forms, including harassment, which can never be tolerated."
Well, at least there was no one to boo and hiss at her this time.