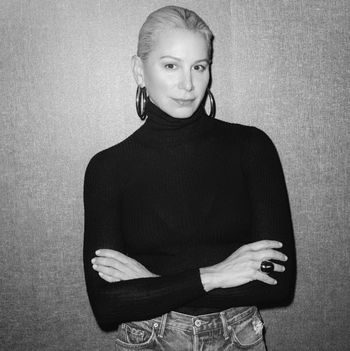 Jennifer Fisher didn't set out to design jewelry. In fact, she never even wore it. A self-proclaimed minimalist, tomboy, and "white T-shirt and jeans girl," Fisher started her career as a fashion stylist in L.A. working on the sets of Bud Light and Pace Salsa commercials, then became a costume designer for Aaron Spelling's soap opera Sunset Beach. "The styling thing happened totally by accident. I had a friend who worked at Propaganda Films for Willi Patterson and he was looking for a good stylist. He gave me a shot and was basically like, if you F this up, you will never work in this town again. I killed it and I worked for him for three more years."
In the midst of her rising success, Fisher was diagnosed with a rare Desmoid tumor caused by scar tissue that had formed in her chest from a breast augmentation. While she was undergoing chemotherapy and radiation, her husband Kevin proposed, and they married six months later. "When I wanted to have a baby, my oncologist was like, No way, you are not carrying this child. Your tumor grows from estrogen. You have to adopt or get an egg donor." After multiple failed attempts with a surrogate and IVF, Fisher decided to take the summer off. And then she got pregnant. "It was a totally normal pregnancy and it turned out that my tumor shrunk from carrying the baby, which is unheard of," she says.
After her son Shane's birth, Fisher received personalized jewelry from friends, but none that suited her style. "I wanted something a little edgier, and heavier, and I wanted his full name, because this was a milestone trying to have this kid." She created a "cool masculine dog tag" stamped in capital letters on a long gold chain and wore it everywhere. On jobs, celebrities like Uma Thurman and Nicole Kidman quickly noticed, and Fisher started filling and shipping orders, at first for friends, and then all over the world. "I didn't grow up wanting to be a jewelry designer. I was a stylist for so long and you think that's your career, that's your life, that's what you're going to do forever, and then your life changes so quickly, and it leads you on this totally different path."
Today, Fisher runs a booming jewelry business along with a new project, a line of salts concocted in her kitchen. Like her serendipitous foray into jewelry, this too began as a personal passion project after she created a zesty blend of salt, lemon, and herbs to season recipes. The mixture was a hit with everyone who tasted it, so she bottled it, and thus JF Salt was born. Two versions, the Universal and Curry, are sold on her website. More condiments are coming, she hints, including hot sauce, BBQ sauce, and salad dressings. "Everyone always asks me when I'm going to do a handbag line or make shoes, and I'm just not that girl. I want to make food." While wearing the Samira hoops and a stack of gold cuffs, that is.
Below, Fisher speaks with the Cut about her obsession with mom jeans, why she won't wear flats out at night, and the reason she always smells like cookies.
How do you thank people for a gift?
Send them salt.
Color or no color on your nails?
One coat of Essie Mademoiselle. Because I cook so much and I always have my hands in the sink, if I wear two coats of polish it chips off instantaneously.
Do you prefer mood lighting or natural light?
Natural.
What are five coffee-table books you'd be proud to display?
David Bowie Is…
Miles Aldridge: I Only Want You to Love Me
Grace: Thirty Years of Fashion at Vogue
Do you prefer heels or flats?
Heels. I wear flats during the day, but I never go out at night without heels. I'm convinced that I'm shrinking.
What's something you would never wear?
A scooped-neck T-shirt. They just make everyone look dumpy. I'm sorry. They do!
What's one trend that you like right now?
I love mom jeans; my husband hates them. He hates them. All of my jeans, the Vetements, they are all high waisted, they're all that mom jean thing. My husband sings the mom jeans song from SNL whenever I wear them.
What is your favorite song on your playlist right now?
Drake, "Passionfruit." Oh, and I like "Wild Thoughts."
If you were a car, what kind would you be?
I would be a 1971 Mercedes convertible in silver. My mom had one when I was younger.
Do you prefer no-makeup makeup or actually no makeup?
I wear Chantecaille tinted moisturizer every day. I used to have lash extensions, but I'm an anti-lash extension person now because I got a crazy eye infection. I either use Urban Decay or Anastasia brow products. I'm really into brows; Robin Sweet William at Barney's does mine. I think if your brows are done it changes your whole face. He's amazing. I also use Chanel powder on my face and Chanel bronzer.
Who cuts your hair?
I go to Jessica Gillin at Marie Robinson.
What's your dream vacation?
I want to go to Como Maalifushi in the [Maldives].
What's your dream luggage?
I collect Louis Vuitton luggage, but I like the men's stuff with the black trim and classic LV. I also have a Tumi titanium rolling bag that's black. Before my friend Michael Petry left the company, who was the creative director, it was his last design. It's amazing. It's sick for carry-on.
Olive oil, coconut oil, or face oil?
Olive oil and coconut oil to eat, not for my skin or hair.
For face oil, I use Caudalie Overnight Detox oil, it's amazing. It's insane. And Joanna Vargas has a really good face oil too, her vitamin C serum oil. She's my facialist, too.
What's another decade you'd like to live in and why?
The '70s. I like the style.
What's the secret to throwing a good party?
Make sure that you serve good food and that when people walk in, they're watered — like make sure everyone has a cocktail. It's the worst when you go to someone's house when they are entertaining and they don't offer you a drink and they don't have anything to eat. I just don't understand, why are you having people over?
What's one way your taste has changed since you were a teenager and one way that it's stayed the same?
The way it's stayed the same is denim all day, every day. I wear jeans every day. I have so many pairs of jeans.
And I wear jewelry now, and I didn't use to. At one point, I wore too much jewelry, but now I wear a normal amount. But I never wore it when I was a stylist, ever. There was no jewelry for years, and the fact that I wear jewelry now is a huge difference.
What's your guilty pleasure?
Nachos. I make really good ones. I eat them all the time. Guilty pleasure for me is food.
What are your favorite accounts to follow on Instagram?
I really only follow food. Bon Appétit @bonappetitmag, Food52, it's all food.
What's the least chic thing in the world?
Ugg boots.
What's the last show that you binge-watched?
I watched the whole season of Homeland with my husband when we went to St. Barth's. We also watch that show with Billy Bob Thornton, Goliath. We just watched the whole series, that was a good show. I don't watch a lot of TV unless it's food TV, but we watch Tiny House with the kids, and a lot of Naked and Afraid.
What is your favorite pair of jeans?
Vetements or Girlfriend Denim. The hemline is good.
T-shirt?
Off-White.
Pajamas?
Olivia Von Halle. I like the striped ones the best. I'm not a camisole girl at night. I wear two-piece men's types of pajamas with tops and bottoms.
Flower?
Anemones or ranunculus. I just think they're so beautiful; I love all the little tiny petals and I like that the center of them is black.
Chocolate maker?
Hu Kitchen chocolate. I go there all the time because I try to eat Paleo. And I don't feel bad when I eat their chocolate.
I like OCHO chocolate, too. I like Mounds Bars, but I don't eat them because they are crap. But Ocho makes a coconut-covered dark chocolate bar and they come in individual little packages. I buy them at Whole Foods, they're so good.
Perfume?
I've worn Outremer vanilla my entire life. Sometimes I'll mix it with Tom Ford Tobacco Vanille. Everyone always says I smell like cookies.
Bedding?
I like Restoration Hardware linen bedding. It's soft. They have the best muted colors. I like grays and beiges more than whites. I replace sheets a lot, so I don't buy crazy ones. You don't feel like you're breaking the bank.
Lip balm?
Glossier Balm Dotcom in Coconut. I only wear that, and my kids use it. And it's also really good as a cuticle cream or if you have any dry spots on your body. It's the best stuff in the world. I really love that stuff.
If you buy something through our links, New York may earn an affiliate commission.