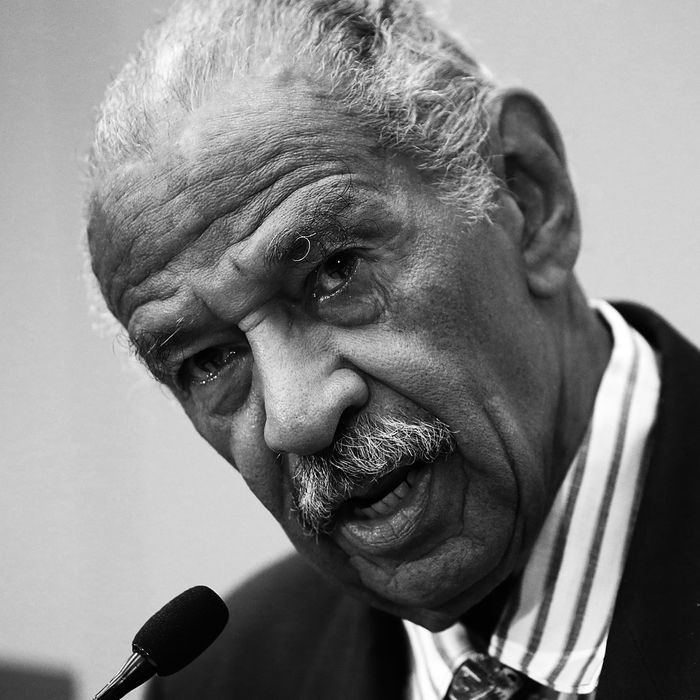 Representative John Conyers, who has been accused of sexual misconduct by multiple women.
Photo: Alex Wong/Getty Images
More than a week after BuzzFeed News reported that Democrat Representative John Conyers had paid over $27,000 to settle a sexual-harassment complaint, his accuser has shed her anonymity. Her name is Marion Brown, and she and her attorney Lisa Bloom went on the Today show this morning to recount her story and the process of coming forward.
Over the course of the 11 years she worked for Conyers, Brown says he sexually harassed her, violated her body, and propositioned her for sexual favors. She told Today that he touched her in different ways that were "very uncomfortable and very unprofessional," and she described one instance in a Chicago hotel room from 2005 in detail:
"He was undressed down to his underwear. He asked me to satisfy to him sexually. He pointed to genital areas of his body and asked me to touch him. I was frozen shocked. I didn't want to lose my job, I didn't want to upset him. Also, he asked me to find other people that would satisfy him.
When co-anchor Savannah Guthrie asked Brown how she responded, she said she refused to comply with his requests and escaped. In 2015, she reached a settlement with Conyers. Though she also signed a non-disclosure agreement, she decided it was worth the risk to come forward to "stand up for all the women in the workforce that are voiceless."
Brown also said she felt compelled to speak out publicly since Conyers has admitted to the settlement but has remained steadfast in his denial of the allegations.
"I'm here to say I'm not a liar," she told Guthrie.
Meanwhile, Conyers has reportedly been hospitalized for a stress-related illness.