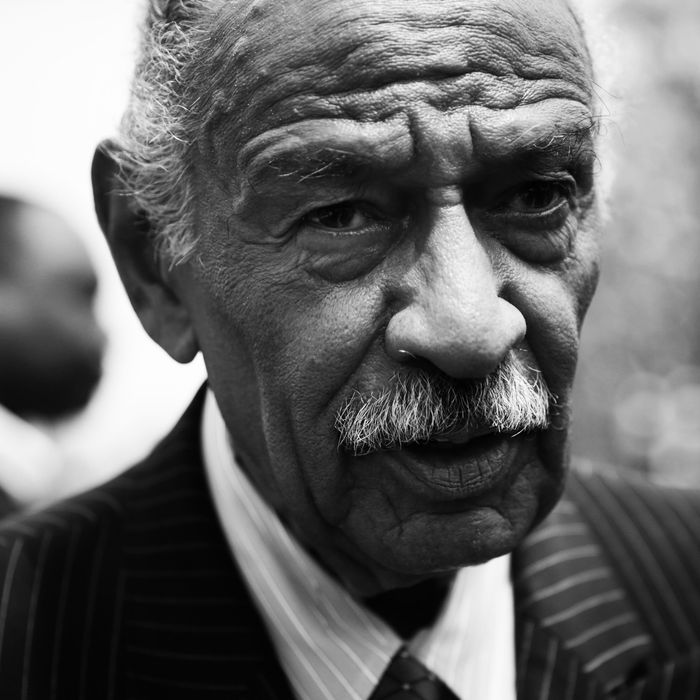 Democratic representative John Conyers.
Photo: Alex Wong/Getty Images
Michigan Democrat John Conyers, the longest-serving current House member, told Associated Press this morning that he has never settled a sexual-harassment complaint. This statement follows a former staffer's allegation in a BuzzFeed News report yesterday that she was fired after refusing Conyers's advances, and that his office reportedly paid her over $27,000 to settle a complaint with a confidentiality agreement. The investigation also contained claims that Conyers was inappropriate with many other women on staff.
Approached at his Detroit home this morning, Conyers told AP that he knew nothing of the allegations against him, and that he had only just learned of the BuzzFeed story a few hours before. He said that he has "been looking at these things with amazement," referring to the unending cycle of sexual-misconduct allegations.
According to BuzzFeed's report, the former staffer filed a complaint with Congress' Office of Compliance in 2014, alleging that Conyers sexually harassed her and ultimately fired her for denying his advances. In the story, she described two incidents of Conyers's misconduct.
On one occasion, she alleges that Conyers asked her to work out of his room for the evening, but when she arrived the congressman started talking about his sexual desires. She alleged he then told her she needed to "touch it," in reference to his penis, or find him a woman who would meet his sexual demands.




She alleged Conyers made her work nights, evenings, and holidays to keep him company.




In another incident, the former employee alleged the congressman insisted she stay in his room while they traveled together for a fundraising event. When she told him that she would not stay with him, she alleged he told her to "just cuddle up with me and caress me before you go."




"Rep. Conyers strongly postulated that the performing of personal service or favors would be looked upon favorably and lead to salary increases or promotions," the former employee said in the documents.
BuzzFeed obtained the complaint and verified it with four people who were involved in the case, who also spoke of Conyers's misconduct with a handful of women on staff. Furthermore, according to a new BuzzFeed report this morning, a person involved in the case said Conyers did in fact know about the complaint.
"We brought the complaint to the Office of Compliance. They didn't even tell him about it. You have to go through 'counseling' and all this stupid stuff. There's an informal mediation that takes place — the congressmen don't even know about this," the person said.




"He ended up knowing about this because we took it as far as you can take it before you get to the official hearing," the person said.
Tuesday afternoon, Conyers released a statement in which he admitted to settling the case but still denied the allegations. The full statement is attached below.
This post was updated Tuesday afternoon after Conyers released his full statement.