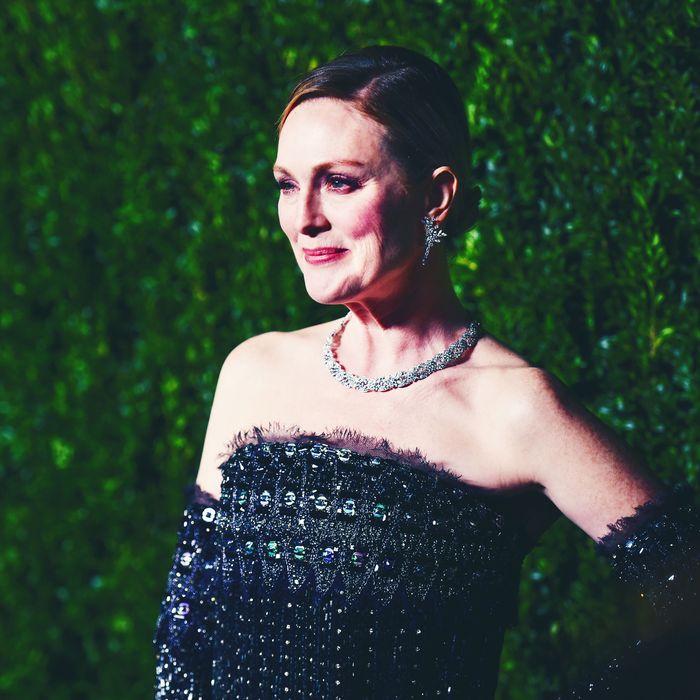 Julianne Moore.
Photo: Billy Farrell/BFA.com
Julianne Moore was honored last night at MoMA's 10th Annual Film Benefit presented by Chanel, for her decades of moving, nuanced performances. The best part of the night? All the nice, occasionally weird, endearingly sweet things that celebrities had to say about the Oscar winner. On the red carpet, which was a parade of Chanel, Kristen Stewart, the evening's co-host with Graydon Carter, David Geffen, and Todd Haynes, told reporters that Moore was "everything she wanted to be," while actress and author Jill Kargman noted her unpretentiousness and kindness. Inside, during the award presentation in MoMA's theater, friends spoke at length about Moore's talent as an actress and activist with Everytown for Gun Safety — and then the tributes got pretty fun. From Elizabeth Banks to Moore's husband, here's a recap of compliments that Moore graciously accepted.
Todd Haynes, director: "I wrote a poem, I guess. It's not too long: … How does she know more than we will ever know that on screen she is everything and nothing."
Kristen Stewart: "You're my work mom. I love my mom, no disrespect at all, but I wish you were my mom. … I want to have her vocabulary now, to describe her, because she'd be better at this than me. … I fucking love you, dude."
Billy Eichner, actor and Glamour Women of the Year Awards host: "When I found out that you were not one of Glamour's women of the year I was furious and almost ran out, but I still took the gig."
Alec Baldwin: "When I think about you now I think about freckles, I think about a woman with a lot of freckles. I stared at those freckles for a couple of weeks and thought 'wow, that's a lot of freckles.' Your talent is greater than the number of freckles you have."
Elizabeth Banks: "I wanted to talk about her bush but she was like, 'my daughter is going to be there, don't mention the bush.' But I had to mention it because honestly it's so fierce and fucking brave. … That's who we're dealing with, okay?
She had what I called 'women's wisdom.' She had advice to give that men just can't give. Advice about aging, and how to navigate your relationship with your nanny, and vaginal health. That's some of the things that she can help with. Men can't. Sorry men. She clearly knows how to live a good life. I mean look at the well-adjusted children, and the hot husband, and the gorgeous outfit, and the Chanel dinners at MoMa. I felt there was a lot I could learn from her.
Julianne knows that we celebrities are pack animals and if she could lead us, we might speak up."
Bart Freundlich, Moore's husband and a film director: "As her husband I've gotten a front-row seat to her process. … When I see that look [she gives on screen], like she's met someone that she can't stop thinking about, I think, uh, oh, I hope they can shoot this near New York."
Moore was flattered by the compliment mash-up and began her acceptance speech with, "I was going to start with jokes and I can barely talk."