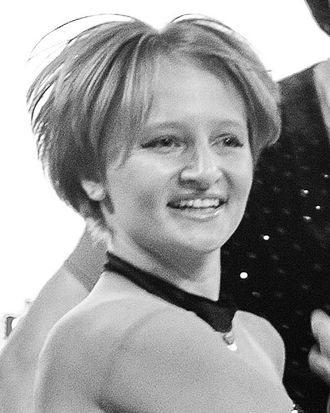 Katerina Tikhonova, otherwise probably known as Yekaterina Putina.
Photo: Jakub Dabrowski/REUTERS
On Tuesday, Reuters confirmed the long-running rumor that the acrobatic rock'n'roll star Katerina Tikhonova was in fact Russian President Vladimir Putin's younger daughter. Shortly afterwards, their source — a dance colleague of Tikhonova's — withdrew his comments. This isn't the first, and likely won't be the last, time someone has confirmed Tikhnova's identity to the press, only to backtrack. So let's examine some common questions about her, including, of course: what the hell is acrobatic rock'n'roll?
How old is she?
She's 31 years old.
If she's Putin's daughter, why does she use the last name "Tikhonova?"
Her legal name is believed to be Yekaterina Putina, while "Tikhonova" is her maternal grandmother's last name. If Putin is her father, her mother is his ex-wife, Lyudmila Aleksandrovna Ocheretnaya.
Why can't we get her identity confirmed?
Putin is famously secretive about his private life, especially when it comes to his daughters. (The other Putin daughter, 32-year-old Mariya, reportedly works in endocrinology and does not, as far as anyone knows, participate in acrobatic or even regular rock and roll.) Including the most recent incident, Reuters had previously spoken to bank chairman Andrey Akimov in 2015 – who quickly denied that he said anything about Tikhonova's true identity. They also have two anonymous sources who say that she's Putin's daughter, though neither the Kremlin nor Tikhonova herself will comment on it. But, come on [gestures at photos].
So what is acrobatic rock 'n' roll?
According to the Acrobatic Rock-n-Roll Academy — a dance studio for ages 4 to 18 in Waltham, Massachusetts — it "combines the beauty of the dance with consistent physical activities in the dynamic rhythm of contemporary Rock-n-Roll music." The competitive dancesport is governed by the World Rock'n'Roll Confederation and just held their European Championships in Moscow last week.
I'm going to need to know what this actually looks like.
Here, Tikhonova and a partner during a competition.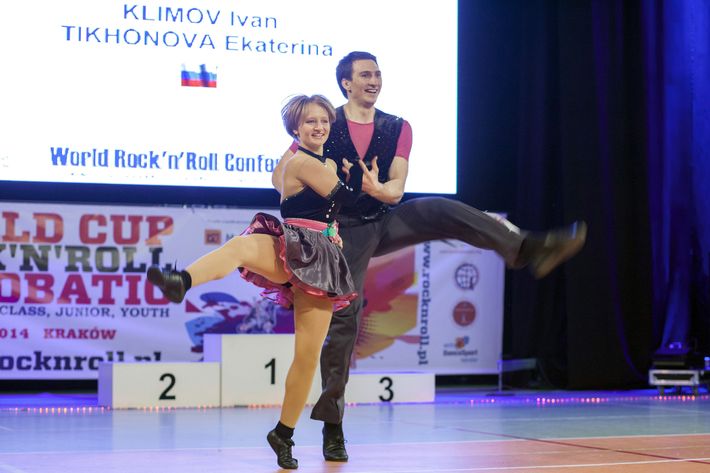 So this is big in Russia?
Certainly more popular than it is here, but adding to the suspicion that Tikhonova is Putin's daughter is the fact that Russia started building a $30 million acrobatic rock'n'roll complex in Moscow last year. At the time, Reuters reported that "it will be the only specialized facility in the world for the sport." Up next: the only specialized facility in the world for shirtless horseback riding.
When Tikhonova's not acrobatic rock'n'rolling, what else is she up to?
She's the vice-president of Expansion and Marketing for the World Rock'n'Roll Confederation. And if she is one and the same as Putin's daughter, she's married to Kirill Shamalov, a Russian businessman and the son of one of her father's friends; Reuters reports that the pair is worth about $2 billion. Per that same article, she is also "thriving in academia" and "holds a senior position" at Moscow State University. So she's quite the multi-hyphenate: acrobatic rock'n'roller–Russian oligarch–academic. And if the veil of privacy is ever lifted, it's only a matter of time before we can add something else to that list: Dancing With the Stars competitor.