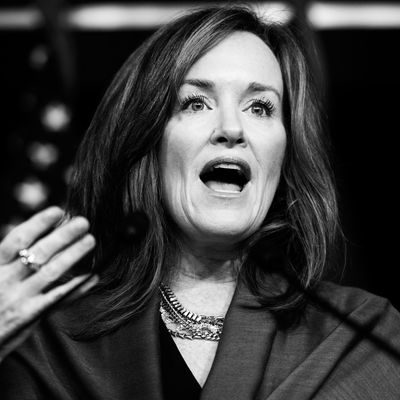 Representative Kathleen Rice.
Photo: Bill Clark/CQ-Roll Call
Amid Capitol Hill's recent reckoning with sexual harassment, Democrat Representative Kathleen Rice of New York has been particularly outspoken. A week ago, she was the first House Democrat to call for the resignation of John Conyers, the Democrat Congressman from Michigan who's been accused of sexual harassment by multiple former members of his staff. In an interview with CNN Money earlier this week, when asked if Senator Al Franken should keep his position after being publicly accused of misconduct by four women, Rice responded, "I don't think so."
Now, according to a tweet from Washington Post politics reporter Dave Weigel, Rice reportedly walked out of House Democrats' typical conference meeting this morning:
On CNN last week, Rice expressed similar frustration when she vocalized her distrust in the congressional ethics committee.
"Saying that we're going to have these allegations against politicians go before an ethics committee that can sometimes take a couple of years, no offense to my colleagues who are on the ethics committee, that's not real. That's not real. And that's not accountability," she told CNN.