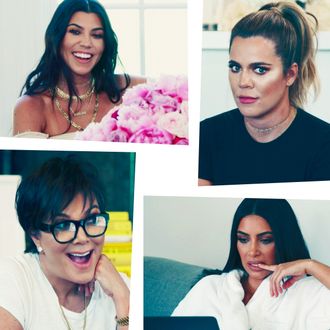 Photo: Courtesy of E! Entertainment
Welcome, guys and Dolls, to this week's #KUWTKE recap of Keeping Up With the Kardashians. On this week's episode, our A-plot was Khloé's relationship with Tristan, our B-plot was Kim's KKW Beauty line, and our C-plot was … Kourtney and Scott's relationship (no, you're not having déjà vu). I don't even have to look at the clock to tell you what time it is. #LEGGO!
Scene 2:
Khloé Kardashian entertains her big sisters, Kourtney and Kim Kardashian, in her ornate backyard. She's very excited to share with them that she and her "alleged" baby daddy and NBA boyfriend Tristan Thompson are moving back to Los Angeles. No, Tristan has not been fired — but instead of spending the late summer and fall months in Cleveland, Ohio, the couple will be shacking up in Calabasas. The only thing is, this big move is just for three months, as they'll only be living in L.A. from July to October. The main reason they decided to spend his off-season in California is so that Tristan could spend more time with the Kardashians and get to know the family a little better. But he won't be getting to know the family that well — since the commute between Khloé's place in Calabasas and Tristan's practices is brutal, the couple also plans to rent a house in L.A. proper and go between the two places.
Khloé's sisters seem excited to have her back home, but Kim seems more excited to see if she can jump from couch to couch in her heels. She absolutely cannot, and falls before she even gets the chance to really try. This was an Inside Day filled with many outfit changes for our main characters, which is why we know this scene was filmed on May 4, 2017.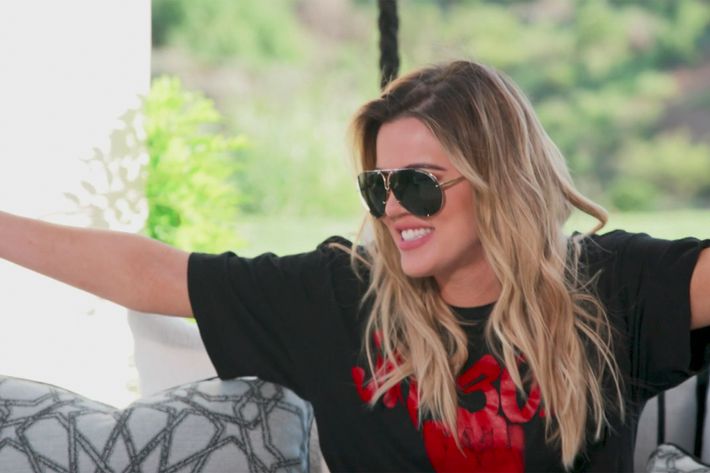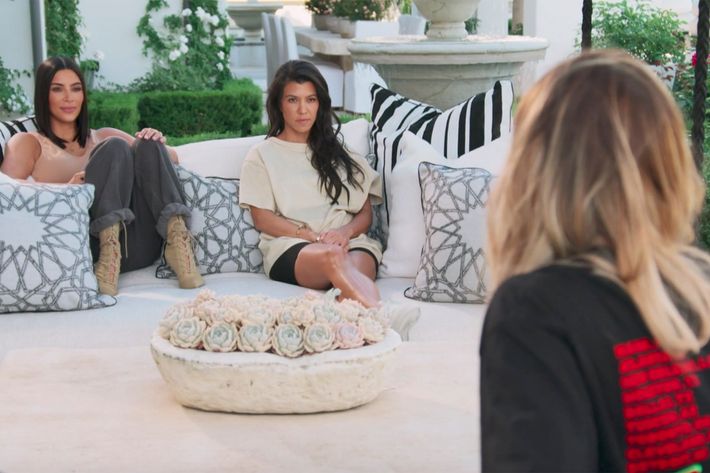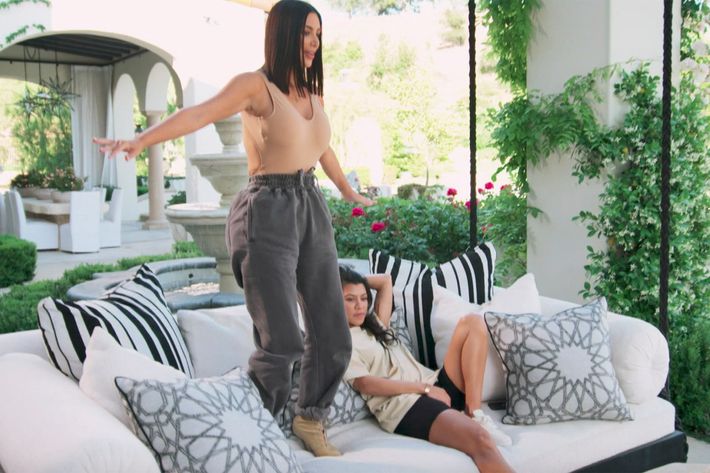 Scene 4:
Khloé's makes herself at home in the new Kris Jenner kitchen, the de facto hub for our stars to meet and talk about a certain brand of nothingness that still delights me. Today's Nothingness Topic, "shady boyfriends," is discussed by a panel consisting of Khloé, Kourtney, Everybody's Favorite Best Friend Malika, and EFBF Malika's twin, separated by plastic surgery, Khadijah.
Apparently, Malika has been dating a football player she's only seen IRL five times. Coming up is an opportunity for them to spend some quality time together — but he's wondering if he can make it since he's got a Friday-night meeting with his financial advisor. Anyone with a pulse and even the most minuscule of dating histories will tell you that if ya mans or your womans wants to see you, they will make that happen, and no one, especially a financial advisor, will get in their way. Malika, on the other hand, thinks his excuse is valid and doesn't think her friends should be that concerned. Kourtney, trying out positivity, suggests Malika follow a Tony Robbins (the man they've been taunting us with for two seasons, will we ever see this on the silver screen!?) mantra: "The quality of your life is the quality of your relationship. The women are slightly shook by Kourtney's positive attitude and use of affirmations, but follow along and even chant the phrase with one another like their inaugurating the Coven of Calabasas. This scene was filmed on June 14, 2017.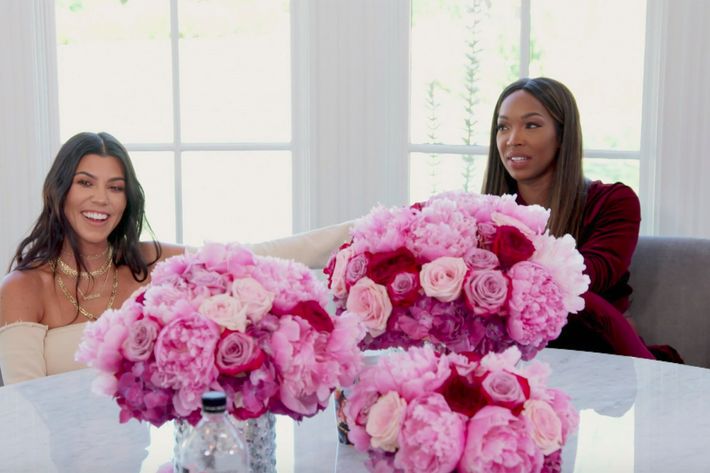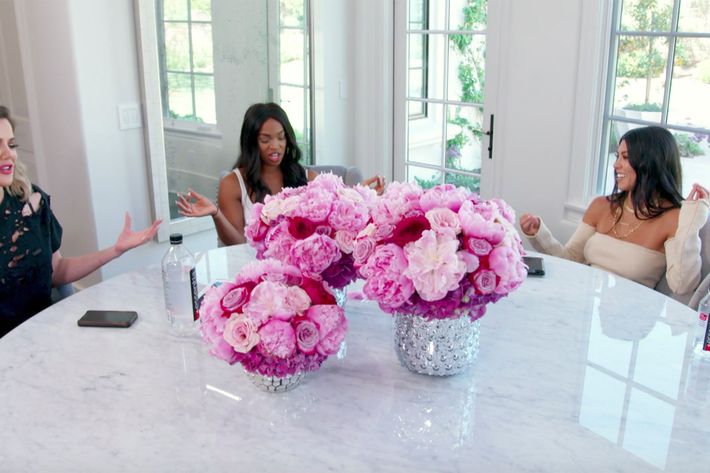 Scene 8:
Businesswoman Kimberly Noel Kardashian West is in New York City to chat with "Mr. Steve Forbes," of Forbes magazine, about finding success in business as a woman for the publication's Women's Summit. She's also decided that this event is the perfect time to announce the upcoming launch of her new makeup line, KKW Beauty. Kim's proud to give Forbes the "exclusive" announcement instead of the talk show (The View) that she's scheduled to do the next day. In her interview with Mr. Steve Forbes, Kim expresses her excitement in finally seeing the hard work she's put in this past decade come to life. Previously, she and her sisters were all part of licensing deals, but KKW Beauty is owned solely by her, which makes this a power move in business. Kim detailing exactly why she is the only business icon we need was filmed on June 13, 2017.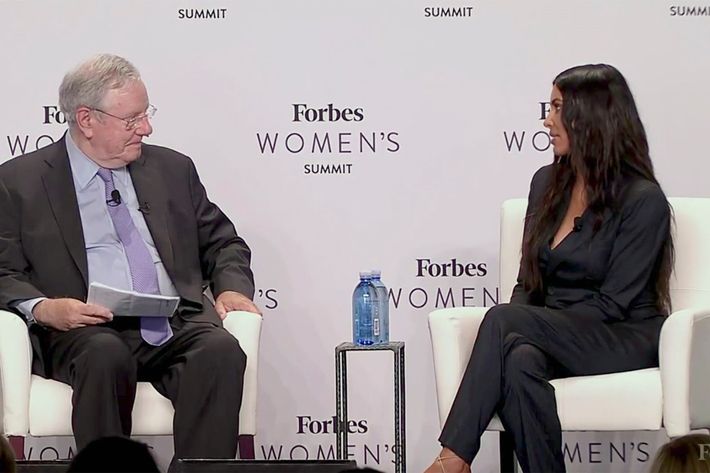 Scene 9:
Back in Calabasas, Khloé stops by Kris Jenner's home office. Khloé's sought out her mom's help on looking for rentals in Los Angeles, and needs Kris to tag along to showings this upcoming Sunday. Even though Kris told Khloé to pick literally any Sunday and she'd be there, some work came up for Kris and she just won't be able to make it. Kris does offer to go look at homes on her own time and give her daughter a synopsis of her pick, but Khloé's not into the plan because she really wanted this to be a two-person job. What Khloé doesn't know is that Kris can't make it because she's helping Tristan plan a surprise party for Khloé. Kris says she hates lying to her kids, but she must love lying to us as this scene was filmed on June 29, 2017, four days after Khloé's surprise party on June 25.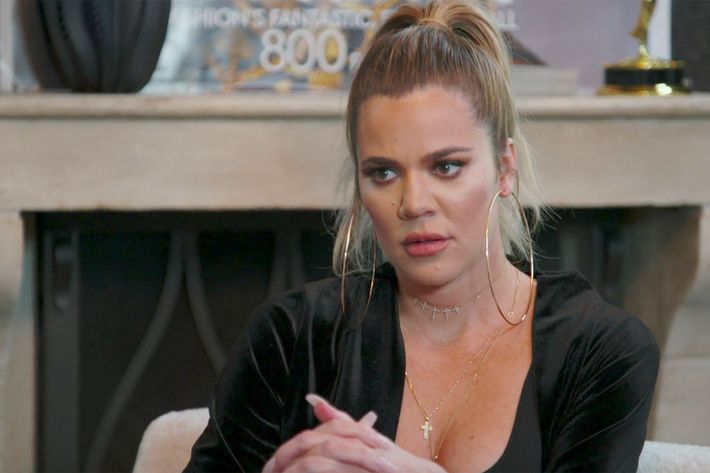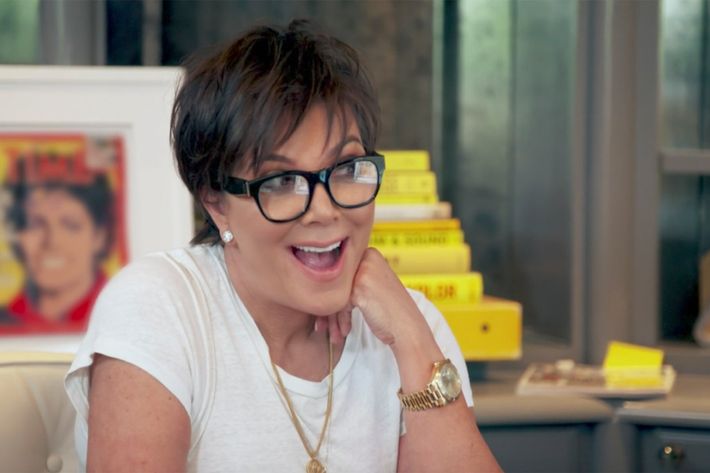 Scene 10:
At her home, Kim deals with the fallout of her KKW Beauty promotional images. Unfortunately, due to a heavy tan, dim lighting, deep filters, and contouring her body in a shade too dark for her skin tone, Kim's photos for her brand ended up looking like very expensive blackface. Kim tells the Greatest Assistant of All Time, Steph Shep, that she understands why people are upset because she made a mistake. Still, she calls the internet and the people calling out her blackface online "toxic."
Anxious about how this will affect her launch in a few days, Kim calls Jen Cohan, the communications director at Kardashian Jenner Communications, to see how to proceed. Jen sounds calm as she explains to Kim that they'll re-edit the photo to reflect her actual complexion during the shoot and apologize for any harm done. Kim thinks that sounds like a plan, but still nibbles on her little fingers as she takes in the criticism from the toxicity that is online truth tellers. The thing is, Kim took a lot of time to get her emotions right with this one, as this scene was filmed on August 4, 2017, and the photos were released on June 14. Maybe she spent the time in between the incident and this scene revisiting Professor Kris Jenner's course material on the history of blackface.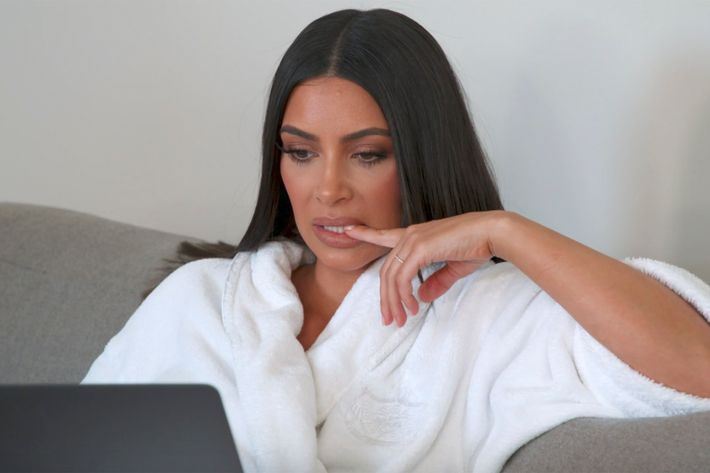 Scene 12/Scene 13:
The day to reveal Kim's KKW Beauty is finally here! For her launch party, Kim's doing something different, and choosing to hold the event in her home. On the first level of Kim and Kanye's Bel Air mansion, a team is hard at work transforming the home into an event space — complete with carpeted floors, countless mirrors, and a room (designed by Kanye) filled with roses. After Kim shows her team around the space, she gets in glam and heads to her party.
The event is filled with YouTube beauty bloggers, people Kim says she's happy to meet, though I suppose we can't say for certain if this is true or not. At the party Kim takes tons of photos, swatches her product on her guests' arms, and shows off the rose room. She LOVES the rose room, it is just so filled with roses and smells so good, because it's a ROSE ROOM! Ever heard of one!? These scenes were filmed on June 20, 2017.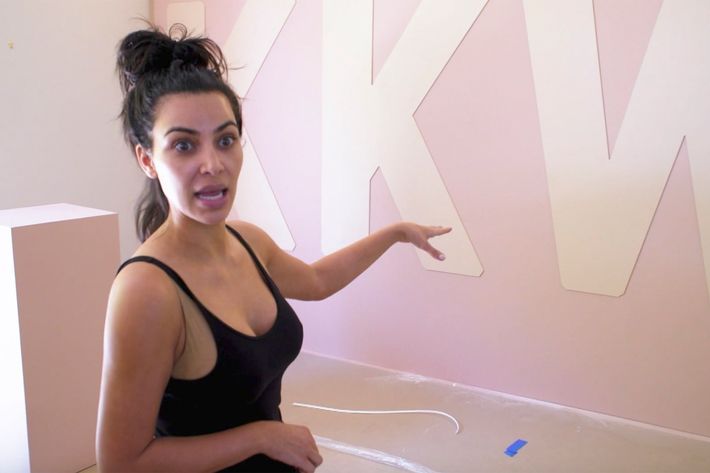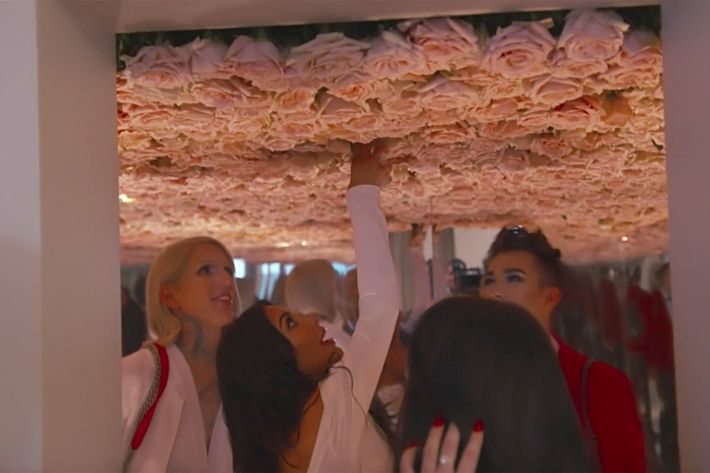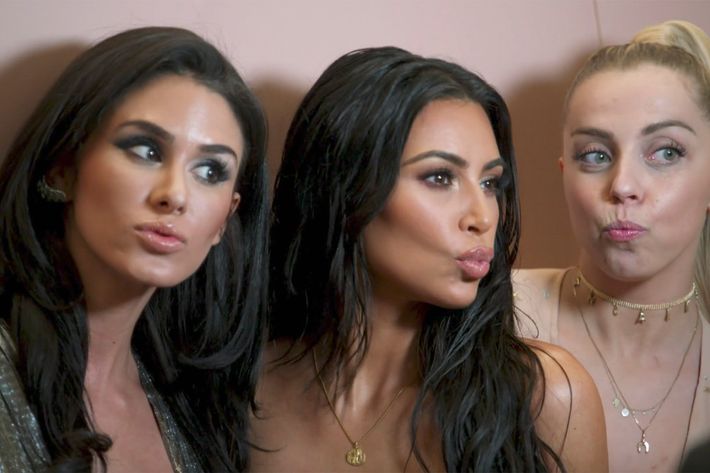 Scene 14
It would be a shame if this episode left us with only one party, so luckily we got two! Following Kim's KKW launch, Tristan Thompson and Khloé's family successfully surprised her for her 33rd birthday. After Khloé hugs and kisses some of her guests, including Kanye West, Tristan grabs a microphone to profess his love for Khloé and well wishes for her upcoming year. This scene was filmed on June 25, 2017.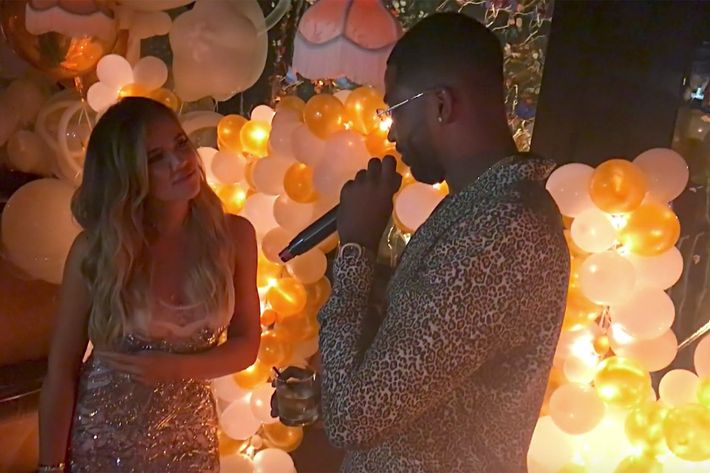 Scene 15
In the days following Khloé's party, she had a change of heart about finding a second home to rent in Los Angeles proper for herself and Tristan. Khloé's realized that she was just stressing about the impending move, and wanted to focus her anxiety elsewhere. Instead of renting in the city, Khloé and Tristan will just stay put in Calabasas and commute when needed. This means that now her closet is overrun with clothing, looking like the backroom of a Nordstrom. There is a solution to declutter, though, and that's taking up the "main closet" in a neighboring bedroom, and putting some of Tristan's clothes on racks in another bathroom. Even though she thinks the closet is a "catastrophe," Kourtney thinks this is the best solution. This scene was filmed on June 29, 2017.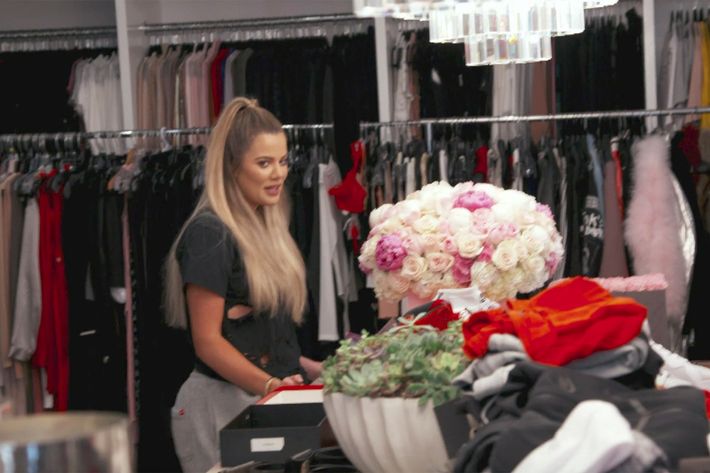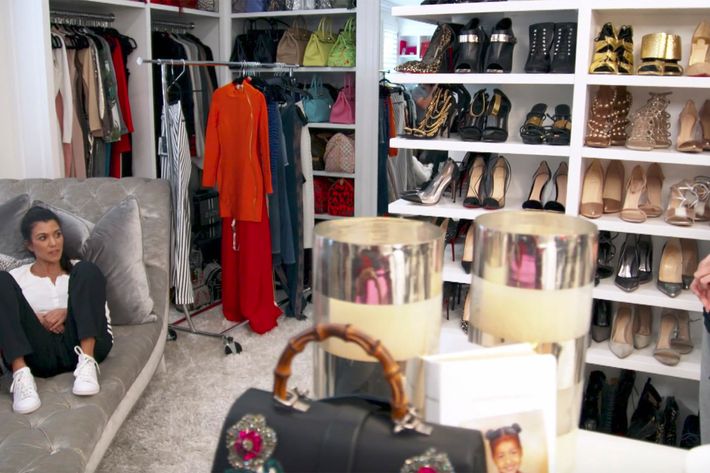 Scene 18
In the final scene of the night, Scott Disick heads to Khloé's house for a mediation session between himself and Kourtney. Scott was not invited to Khloé's birthday party, and the only reason he got from Kourtney was that she didn't want the rumor mill to get a workout by him being photographed walking into the party. This reason obviously upset Scott, and Khloé, wanting to help Kourtney articulate her emotions, offered to mediate a discussion between the co-parents so Kourtney could explain the real reasons she didn't want Scott at Khloe's surprise party.
Before the group sits down, Scott and Kourtney take in the excessive amount of flowers Khloé has in her kitchen. Khloé says that this is the most flowers she's ever gotten for her birthday. When they're done talking about flowers, they head to the living room to have what could be conservatively called the one-millionth conversation Scott and Kourtney have had on-camera about how to be a better partnership. Scott's offended by the party snub, and thinks Kourtney purposefully doesn't invite him to family events because that is one of the only things she can lord over him. Meanwhile, Kourtney thinks Scott's public lifestyle is disrespectful to Kourtney, which means he doesn't value her and her feelings. What she perceives as actions to purposefully hurt her, Kourtney says, makes it hard for her to even want to be around him.
Khloé's shocked by the honestly, but speaks for the viewing audience when she chimes in that this is an endless "Ferris wheel" ride that she wants to get off of and that the two of them need to not rehash the same issues over and over again. Kourtney tells her sister it's not that simple, and she and Scott literally walk off hand in hand as she goes to get a manicure and he goes to take care of their kids. This scene was filmed on June 28, 2017.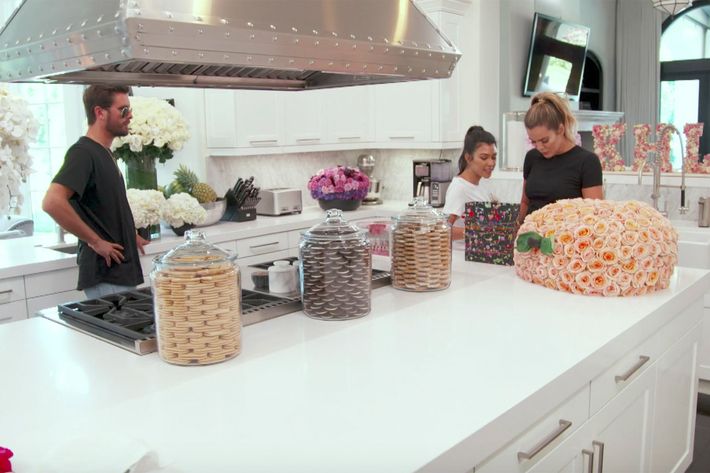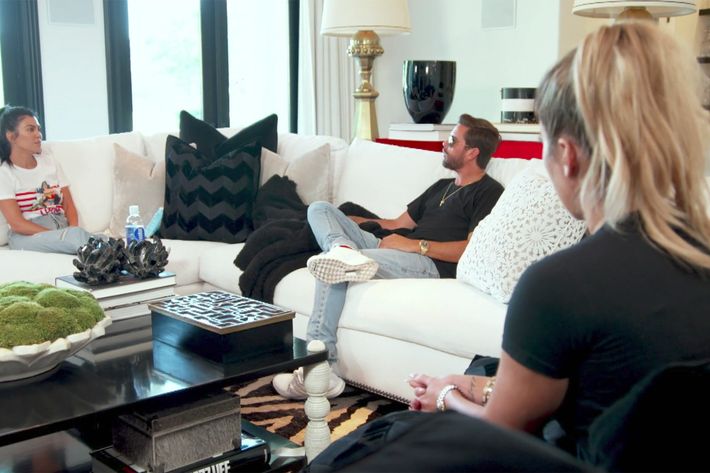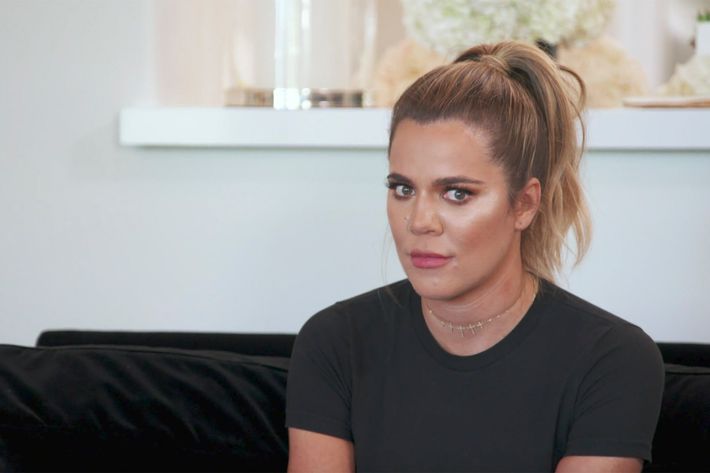 That's all for this week, Dolls. Catch ya' girl next Monday for an all new #KUWTKE recap of Keeping Up With THE ROSE ROOM. #SURPRISE