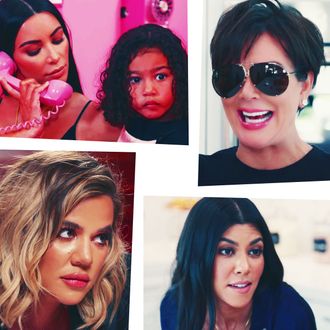 Photo: Courtesy of E! Entertainment
Today I'm thankful that on this week's episode of Keeping Up With the Kardashians, our A-plot was Kris Jenner's scribe; our B-plot was Kimberly West's Calabasas Councilwoman campaign; and our C-plot was child labor. Get in, dolls, we're recapping. #LEGGO
Scene 1/Cold Open:
In the first scene, Kourtney and Kim Kardashian bring their children and Everybody's Least Favorite Best Friend (ELFBF), Jonathan Cheban, to the Museum of Instagram Content Ice Cream. The family walks through the museum, stopping to marvel at Kim's "Kim Carbdashian" star on their version of the Walk of Fame, pose for photos with brightly colored props, and of course have a dip in the sprinkle pool. Sadly, they joke about Jonathan, the food god, choking to death on the fake sprinkles, but we're not that lucky. All in all, the family had fun, and North walked away from the experience learning a valuable lesson about not getting hit by car doors. This scene was filmed on May 11, 2017.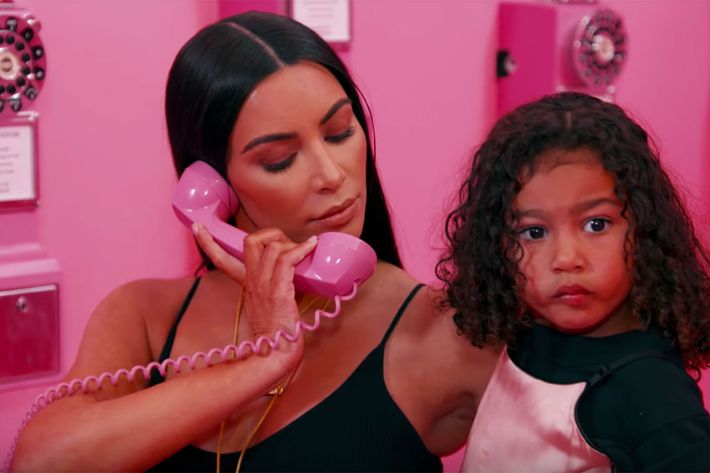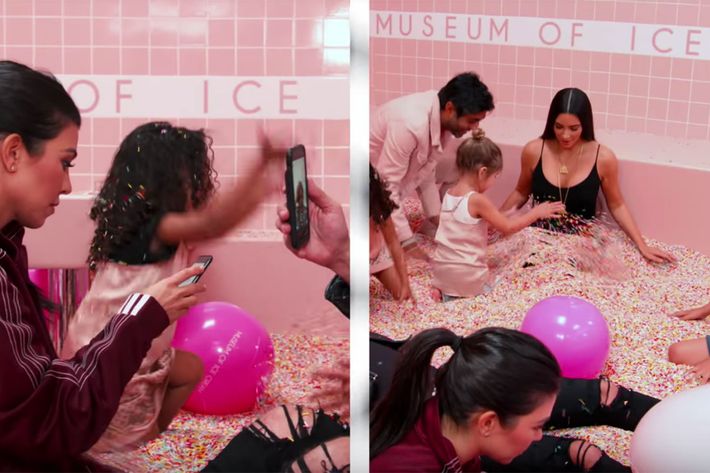 Scene 2:
After the Museum of Ice Cream, Kourtney and Kim meet up with Khloé to drive through Downtown Los Angeles. They reminisce about buying clothes in DTLA shops for their DASH stores, and Khloé reminds her sisters of the time she owned an apartment on 7th and Flower, which she considers "the good old days." While passing a sewing factory, Kourtney tells her sisters that Mason would love to tour that place since he loves sewing. Mason took up the activity at school, she explains, where he and other students sew together stuffed animals and mail them to low-income children. After admitting to her son being one of the richest factory workers in California, Kourtney and her sisters marvel at the extreme poverty they're witnessing.
Lining the streets are dozens of tents serving as places for people to live. The startling contrast between their living conditions and those of the DTLA folks is not lost on the women, who grew up with their father taking them to Skid Row as children. Robert Kardashian Sr. made a point to teach the girls that not everyone grows up  in Beverly Hills. The drive through low-income neighborhoods was such a learning tool that Kourtney wishes she had known conditions were so extreme downtown — she would have driven past with her kids on their way home from the Museum of Ice Cream. More than once, she mentions the missed opportunity to teach the Disick children about poverty. How powerful the lesson must be, driving through and looking at people living in tents on sidewalks and then immediately hopping on the highway to book it to Calabasas to tell your day nanny about the craziness downtown. Like Scene 1, this scene was filmed on May 11, 2017.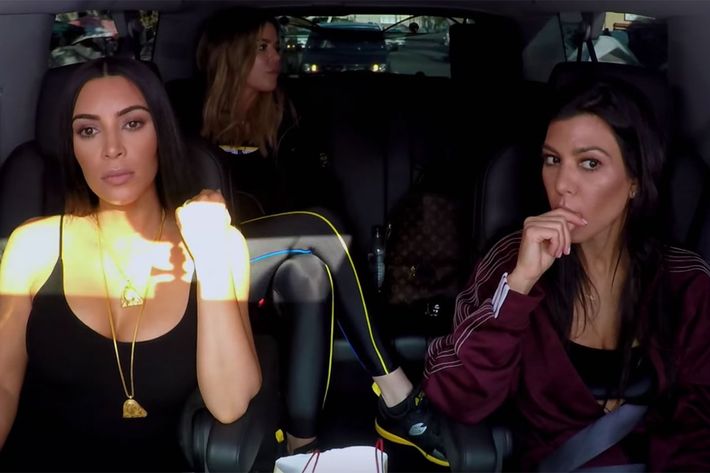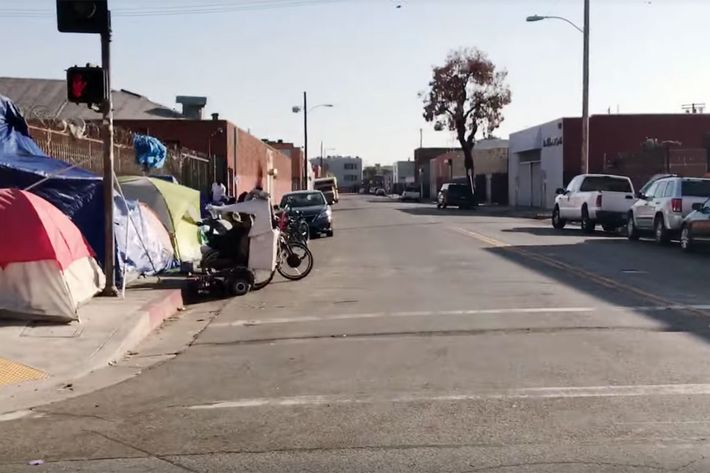 Scene 4:
At her home, Khloé Kardashian FaceTimes with her NBA beau and alleged father-to-be Tristan Thompson. Kris Jenner, who is also at Khloé's, listens in as the couple plan a vacation following a stint in Cleveland. Kris isn't all that concerned with what island her daughter will be visiting — she's more invested in Khloé finding a way to bring back the doughnuts she loves from Ohio. Khloé assures her mom that she'll do her best to procure and deliver the doughnuts. Kris then takes over Khloé's conversation to tell Tristan that she's hired a scribe to dictate her life. Kris, no matter the diversity of her grandchildren and in-laws, is still a white woman at heart and asks Tristan if he even knows what a scribe is. Because he's a grown man who went to at least a bit of college, homeboy knows exactly what Kris is talking about. Kourtney enters just as Kris is talking about her newly hired scribe, and like Khloé (and Penelope, who is always around, I guess she's not at school sewing goods for children like Mason?!), she's not that into her mom's wild idea. This scene was filmed on June 13, 2017.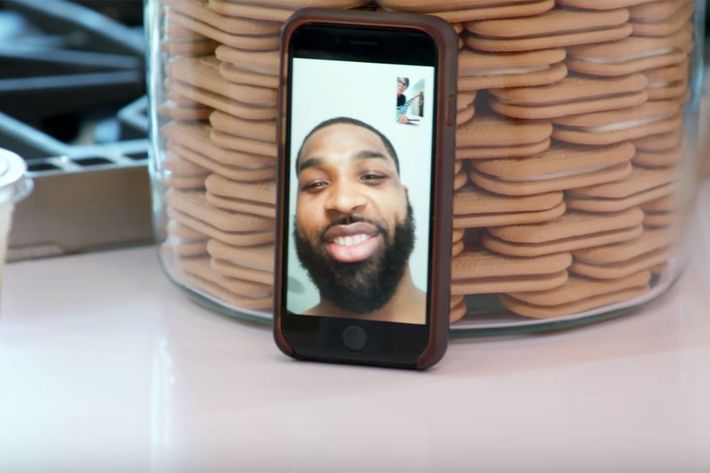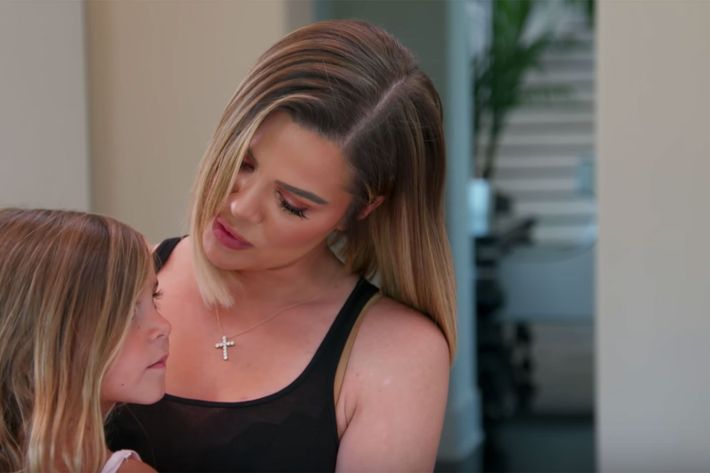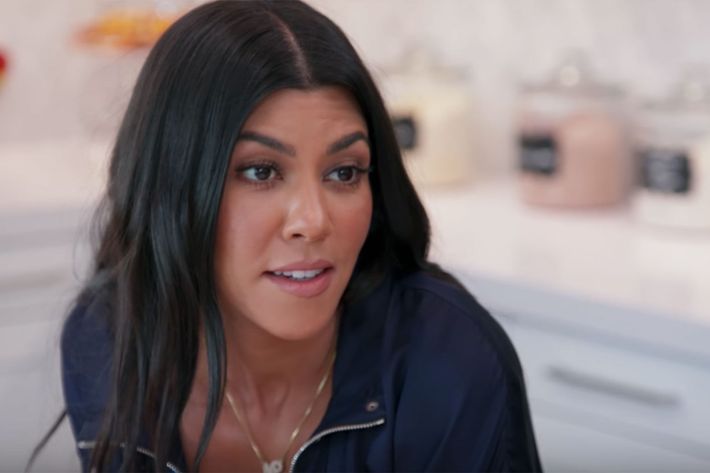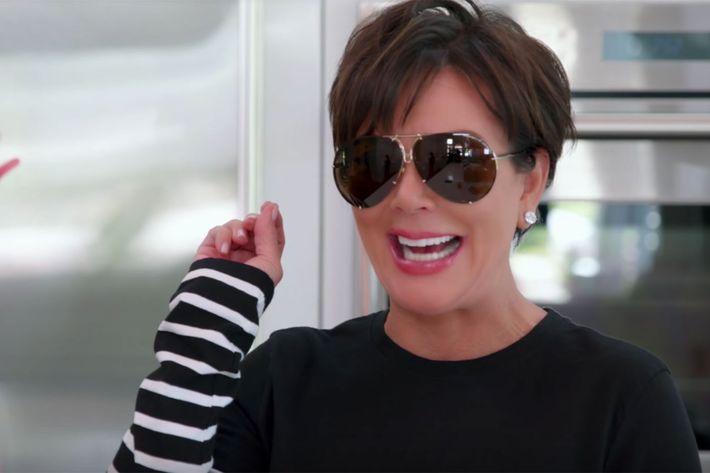 Scene 6:
With her scribe in full effect, Kris Jenner and Madhvi Patel, Kris's Personal Scribe, join Kourtney, Kim, and Khloé Kardashian for dinner. The ladies are genuinely bemused by a stranger actually logging every word out of their mouths (since Kris's scribe scribes what everyone says, not just Kris). Because we need some tension with this 100 percent ridiculous story line, Khloé starts to make up lies about Kris, ensuring that they're on record. She starts by asking Kris about her adult diaper, and detailing her rough childhood, and how she grew up thinking her name was "shithead." Oh, Khloé also mentions Kris's queefing during a recent workout. Everyone at the table is in hysterics, but all of these jokes seem to be taking a toll on Khloé. I can't help but wonder if Khloé's trapped herself in the brass, ball-busting character over these years, and can't break the confines of which she's been typecast and now has to live up to it. This scene was filmed on June 21, 2017.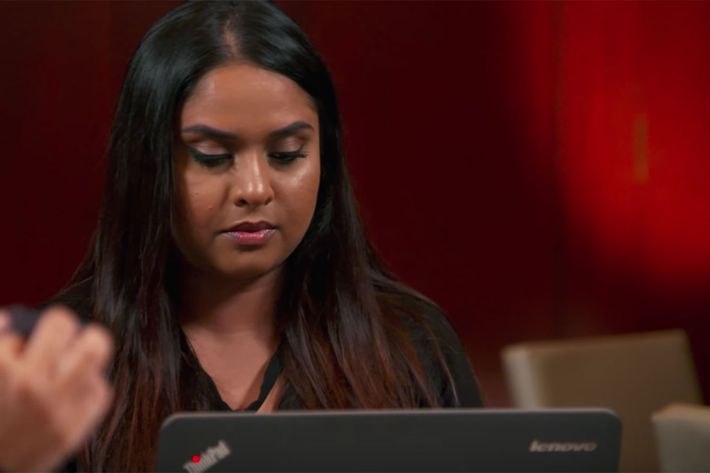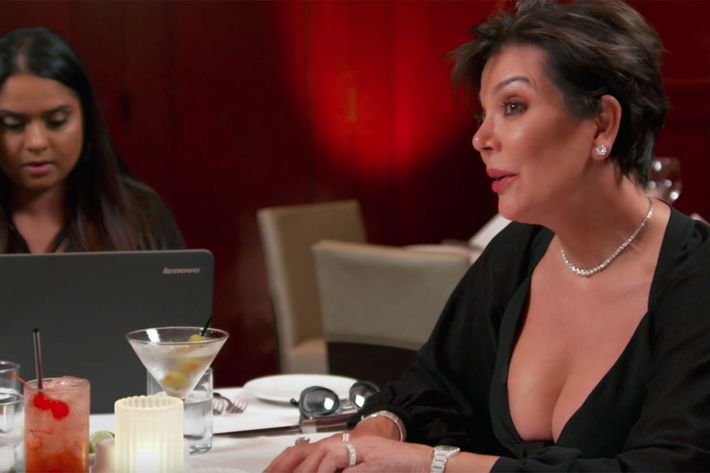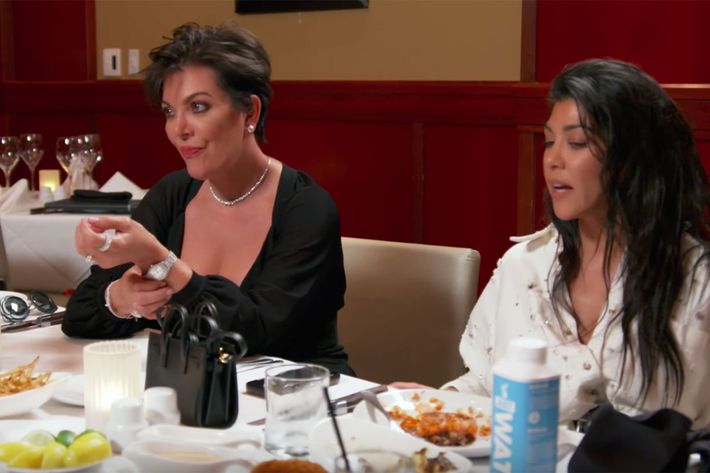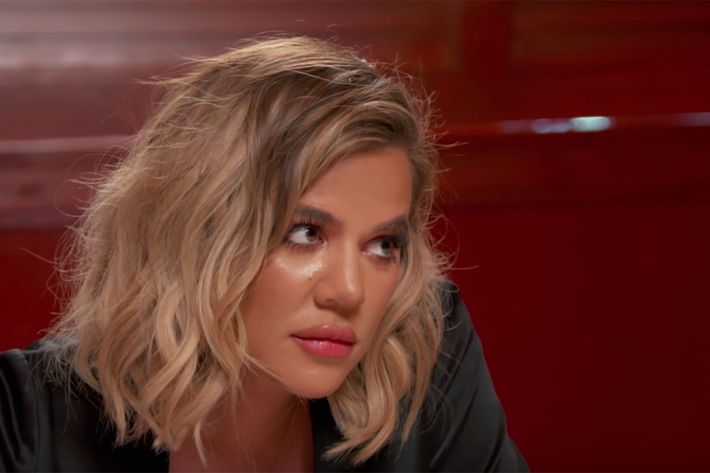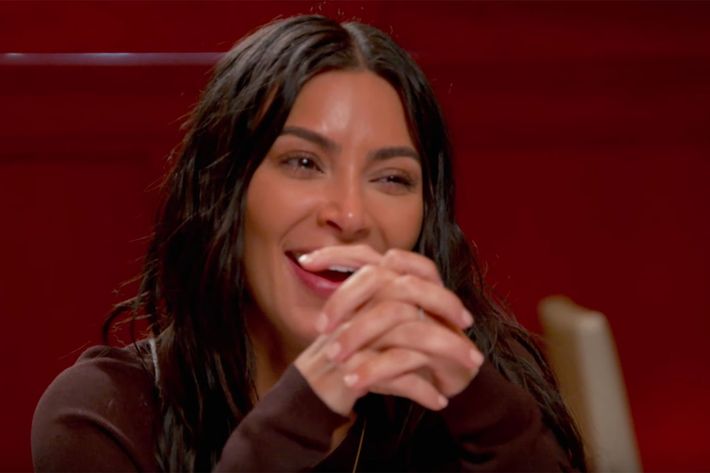 Scene 7:
Following the dinner, Khloé's worried — she can't get in touch with Kris Jenner, and she's afraid that her jokes really offended her mom. So to solve her issue, she goes to Kim, "Kris's favorite." Kim, eager to defend her placement as Kris's only ride-or-die in the Kardashian/Jenner family, gives Khloé the rehearsed lowdown, saying that Kris was actually upset by Khloé's jokes, and yes, she was crying from laughter, but those tears were actually born from shame, too. Khloé now feels bad, but like, I'm confused since Madhvi isn't making the most of her 280 characters by typing directly into Twitter. Nothing Khloé said is public record or real, because this story line is so fake!
Still, Khloé decides to apologize to Kris, and before the scene wraps, supermodel and former app participant Kendall Jenner arrives in a crop top to flaunt her "vertical belly button." Khloé is so shook by Kendall's taut belly skin that she decides she'll finally get the belly-button Botox that's been pushed on her by her doctors. In fact, Kendall's belly button causes a ripple effect: After Khloé's becomes jealous of Kendall, Kim becomes jealous of Khloé (since no one has ever told her about belly-button Botox). Seems like this would be a good time to roll back the footage of the tents lining the streets of downtown L.A., where belly-button Botox is, well, just silly. This scene was filmed on June 24, 2017.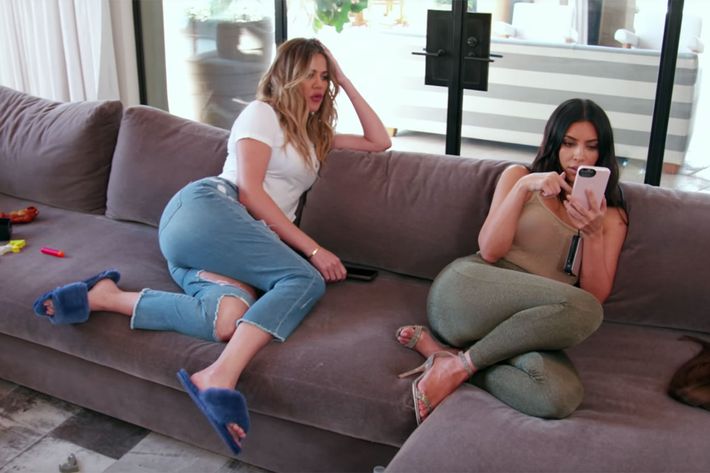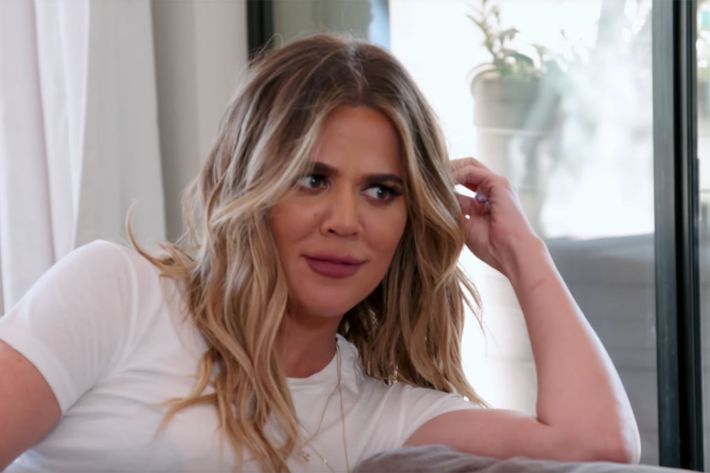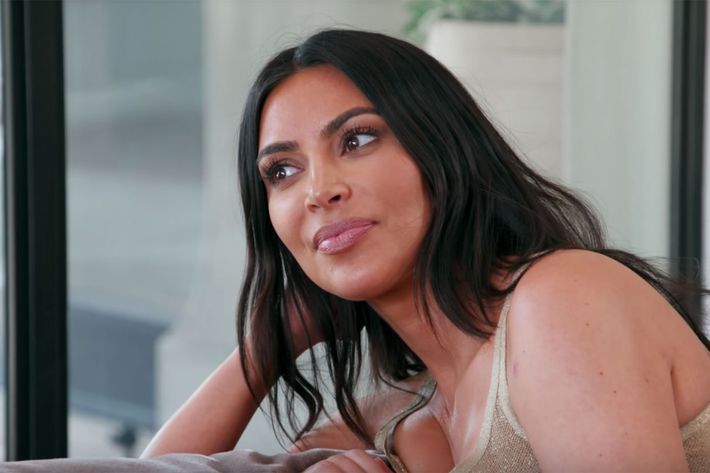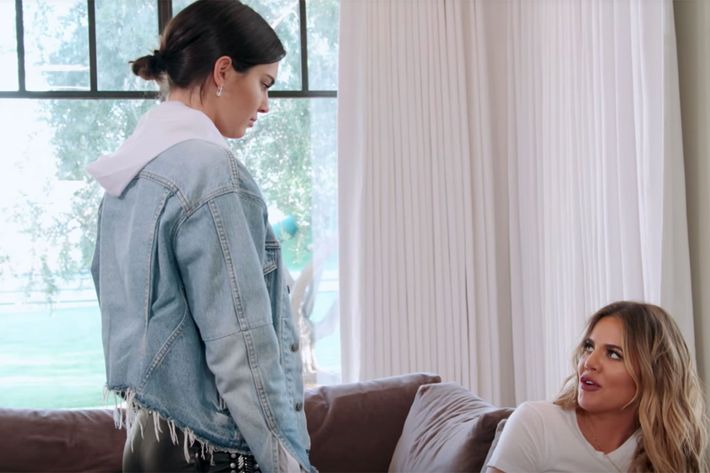 Scene 11:
Staying true to her word, Khloé pays Kris Jenner a visit to apologize for her comments at dinner. The only thing is, the moment Khloé takes this situation seriously is the exact moment Madhvi wheels up behind her in a mobile desk, typing. In Kris's kitchen, Khloé explains to Kris that it's hard to take her seriously when there's someone furiously typing just behind her. Kris understands Khloé's reservations to be normal around Madhvi, but thinks that at times Khloé can have no filter, leading her to make insensitive comments. Kris does understand where Khloé is coming from, and promises to do better in the future re: her scribe. This scene, like Scene 7, was filmed on June 24.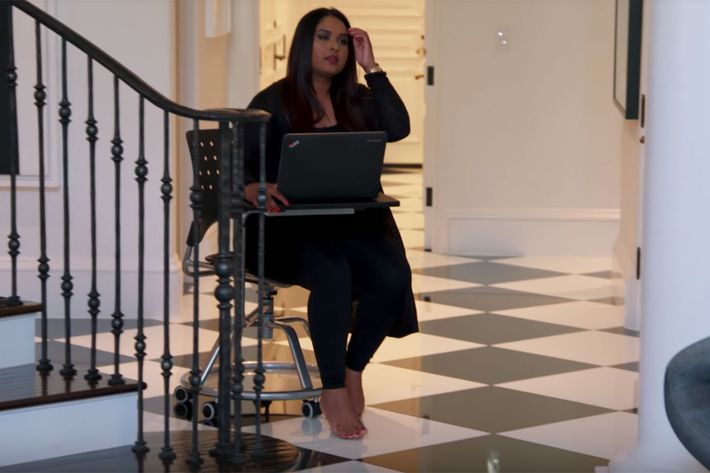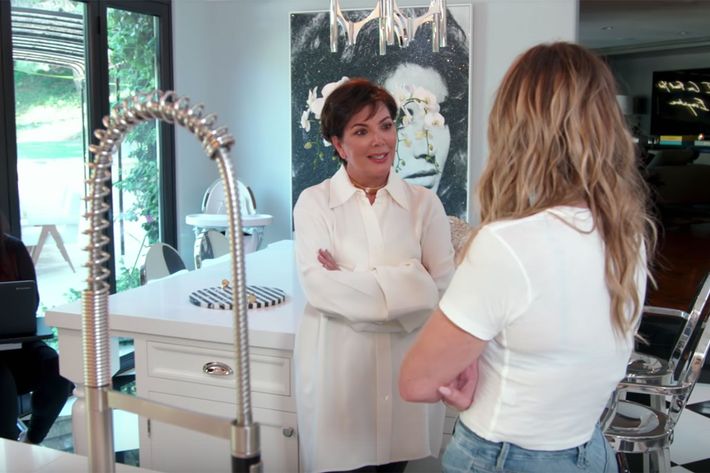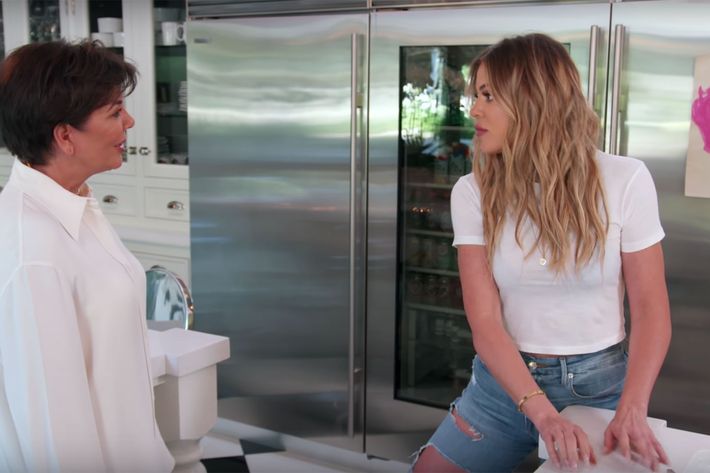 Scene 12:
At her house, Kourtney Kardashian entertains Kris Jenner, Corey Gamble, Kim Kardashian, Khloé Kardashian, and Kendall Jenner. When asked about Kylie's arrival, someone says she's not coming and Khloé calls her "the new Rob," i.e., someone who's put in a decade of work and is looking forward to a pension, i.e., not filming this here television program. Though Kris has made up in her mind that her scribe is best used for business meetings, she wants to mess with Khloé one last time before Madhvi cuts her work hours down to a traditional nine to five instead of 24/7.
In accordance with this plan, Kris asks about Khloé's prescription medication for her lice, then her mustache removal, colon cleansers, diapers, preparation H, KY Jelly and basically any other bodily function you'd deem not cute. Khloé takes it all in good fun as Kris makes herself cry from laughter. Family is love, queens! This scene, and hopefully Madhvi's last day on the job was also filmed on June 24. This, dolls, was an Inside Day.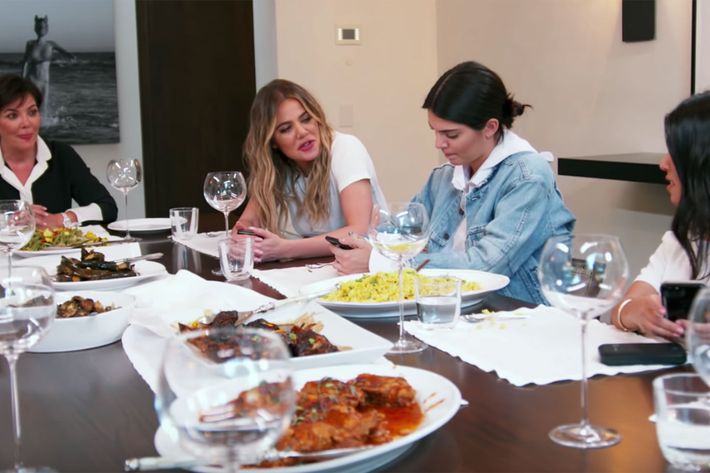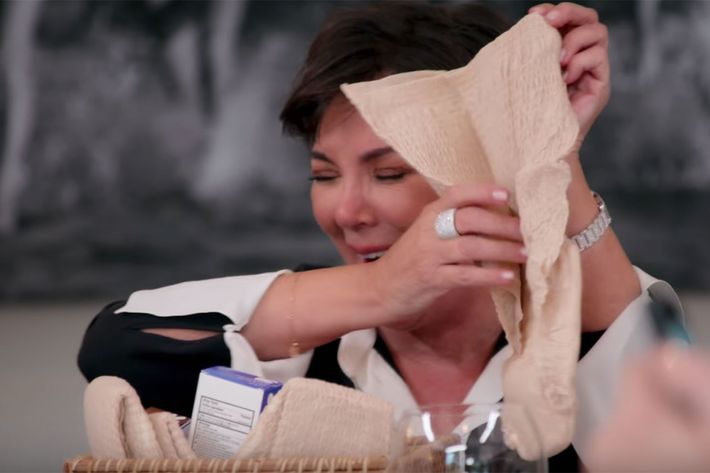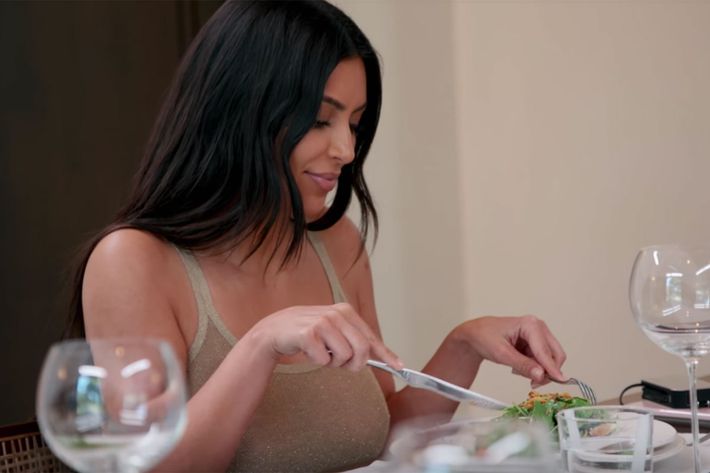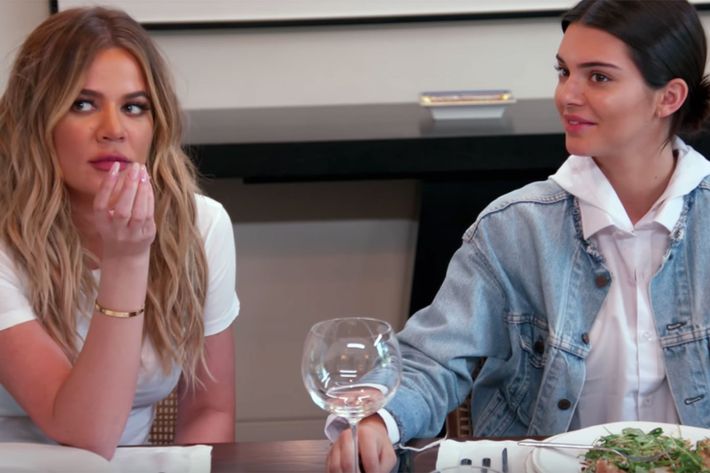 Scene 15:
Inspired by driving past homeless people with her sisters, Kim spends time with icon Nury Martinez, a Los Angeles City Councilwoman, and interacts with homeless people instead of cruising past them. Some people she speaks with want to change their status; others do not.
Now at Kris's house, Kim discusses how she's still eager to help stop the homeless epidemic in Los Angeles. Freshly fired Steph Shep and FORMER GREATEST ASSISTANT OF ALL TIME (ARCHIVED) suggests that Kim lend her support to Alexandria House, near Steph's actual home in L.A. Alexandria House is focused on helping women, which has becomes Kim' s focus, since women and children are more likely to be the targets of sex trafficking, sexual assault, and pedophilia when living on the street. Kim thinks that's a great idea, and though her mind is devoted to helping the homeless, she's probably also devoted to taking Steph down and revamping her empire with a whole new crew. This scene was filmed on May 16, 2017.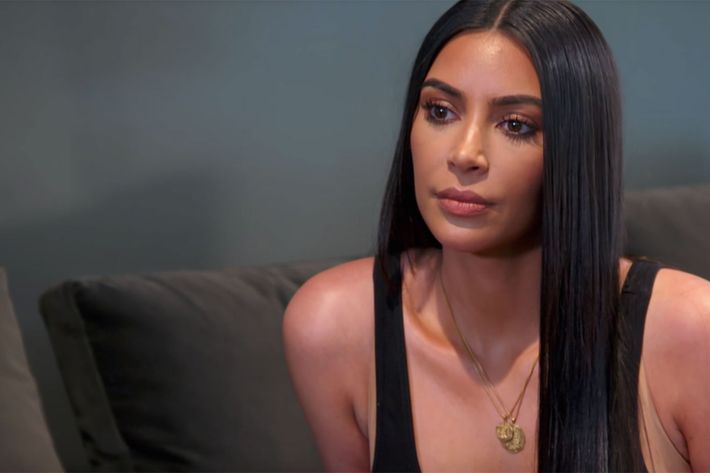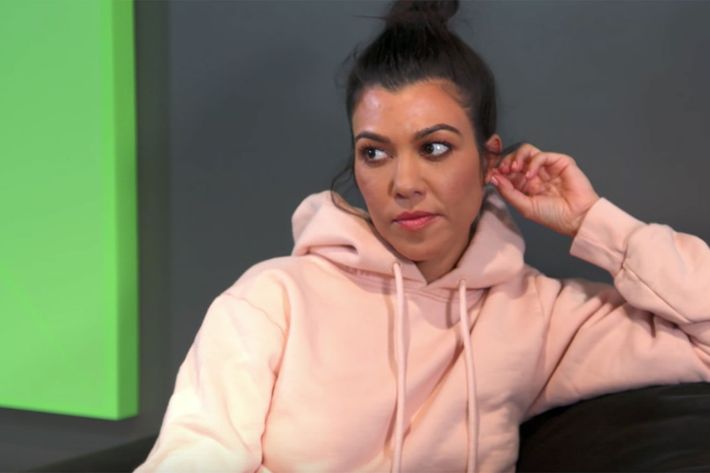 Scene 16:
At the Alexandria House, Kim's planned a party for the women of the house, to both pamper them and give them useful tools for reintegrating into unassisted living and the workforce. Really, it's super sweet and amazing to see some of the women from Alexandria House share their stories. And, like Kim mentions a lot, most people are only one paycheck away from homelessness, and poverty does not discriminate. I'm always proud of Kimberly. This scene was filmed on August 8, 2017.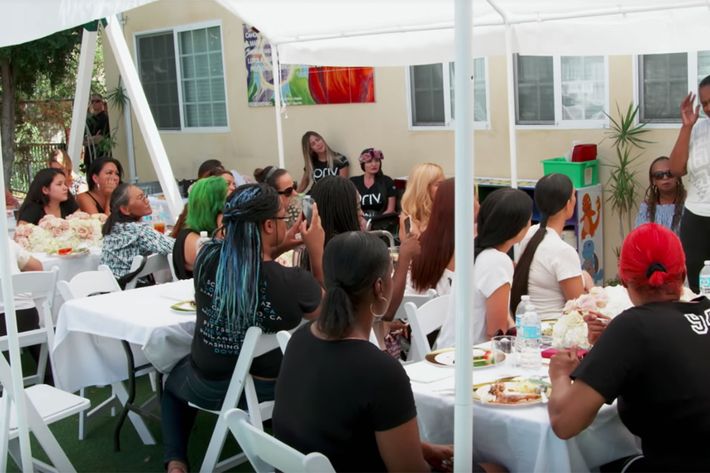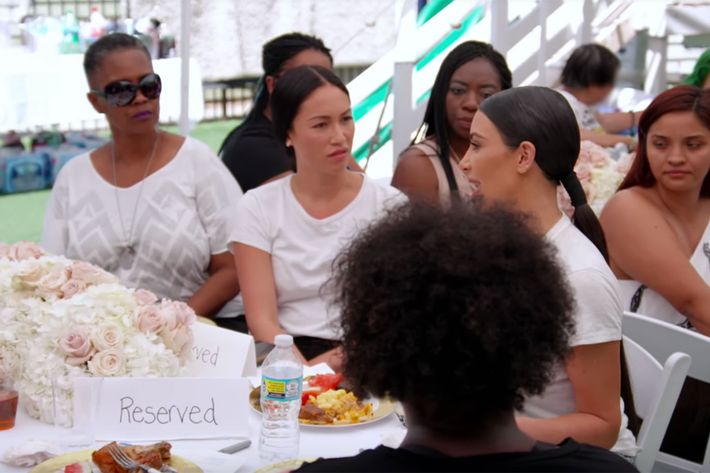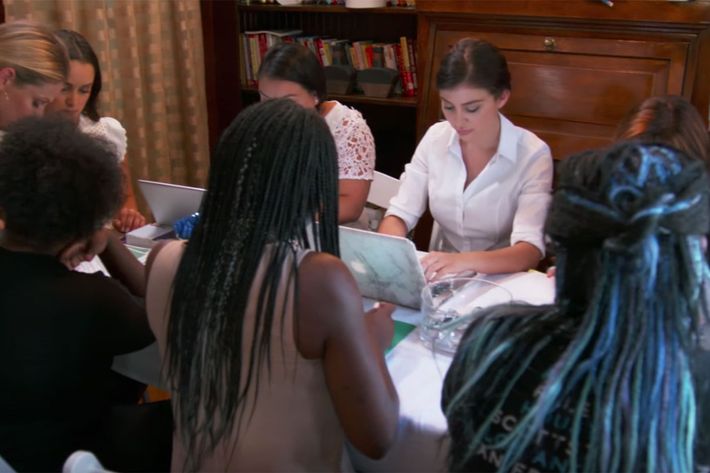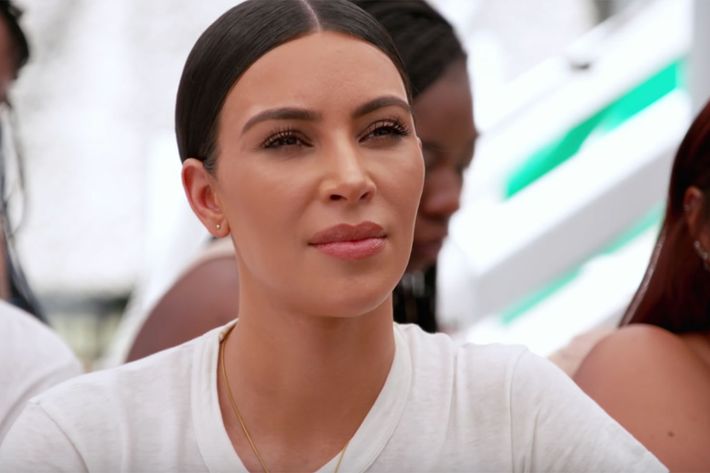 That's it from me this week, dolls. Enjoy your turkey, but just remember belly-button Botox is not covered by your insurance. I'll see you next week for another #KUWTKE recap of Keeping Up With Madhvi. #HIRESTEPHSHEP