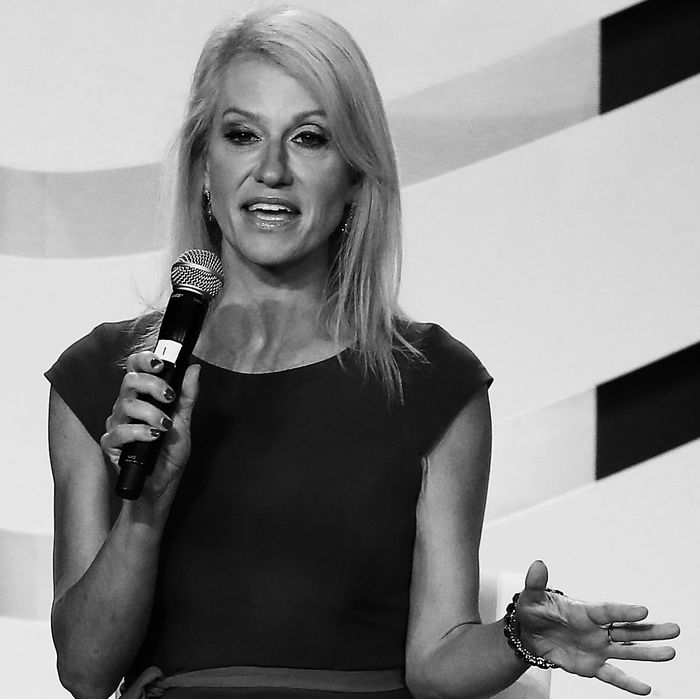 Kellyanne Conway.
Photo: Mark Wilson/Getty Images
The seemingly unending wave of allegations levied at powerful men in these past few months has prompted an impassioned national conversation about the issue of sexual harassment. And who do we have to thank for this important debate? According to Kellyanne Conway, the answer is Kellyanne Conway.
CNN reported that during an appearance on Fox News on Thursday morning in which she was asked why Trump hadn't yet made a comment about the accusations of sexual misconduct against Alabama Senate candidate Roy Moore, the counselor to the president answered:
Well, the president made a statement when he was in Asia, and he's been very busy here working on explaining to the country exactly what happened in his Asia trip. You saw that yesterday. He certainly is in touch with the different parties involved here.




But at the same time, I would like to say that I was the first person in the administration last Thursday when this news broke, I happened to be interviewed on a different network at the time, to come out against conduct as it was described, and I went to step further. I said — and I tried to make this an issue over a year ago on October 9, 2016, when I talked about maybe when I was younger and prettier, folks on Capitol Hill behaving in such a way that we should take a look at fresh — and I'm so glad that women on the left, particularly on Capitol Hill are now coming forward and now want to have hearings and are swearing under oath and getting people to come forward.




That's great. I tried to do it 13 months ago, nobody wanted to listen to me because of the campaign I was managing. This is an important topic but in terms of this particular issue and this particular Senate race, I will not get ahead of the president and anything he wishes to add.
Conway did indeed raise the issue of sexual harassment on Capitol Hill last October, telling NBC's Chris Matthews: "I would talk to some of the members of Congress out there," she said. "When I was younger and prettier, them rubbing up against girls, sticking their tongues down women's throats uninvited who didn't like it."
A valid point. But, as CNN points out, Conway's comments last year came just two days after the release of the Access Hollywood tape in which Donald Trump, Conway's boss and the current President of the United States, bragged about forcefully kissing women and grabbing them "by the pussy."
Conway also helped elect and has continued to counsel and champion Trump, a man who has been accused of sexual harassment and assault by multiple women, and whose administration has routinely adopted policies that would be detrimental to women, like limiting their access to health care and birth control.