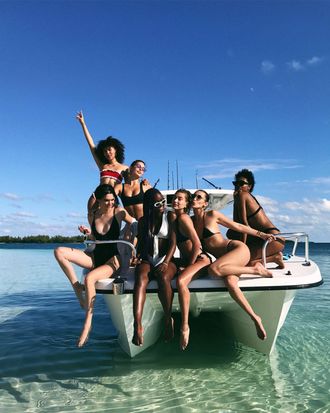 Candids from the Super Natural Friend Group.
Photo: KendallJenner/Instagram
The holidays are exhausting. Which is perhaps why models Kendall Jenner, Bella Hadid, and Hailey Baldwin, also known as the Super Natural Friend Group, just went to the beach.
Baldwin was celebrating her 21st birthday, and the women were joined by models Isabella Peschardt and Camila Morrone, photographer Renell Medrano, and singer Justine Skye at the Bahamas' luxe Baker's Bay resort.
According to Instagram, the SNFG hopped on a powerboat, hit the beach, drank a beer, and even fed some bread to a swimming pig.
But in case anyone accused these models of not working, they made sure to make — and share — some very professional-looking photos and poses. Check them out below.