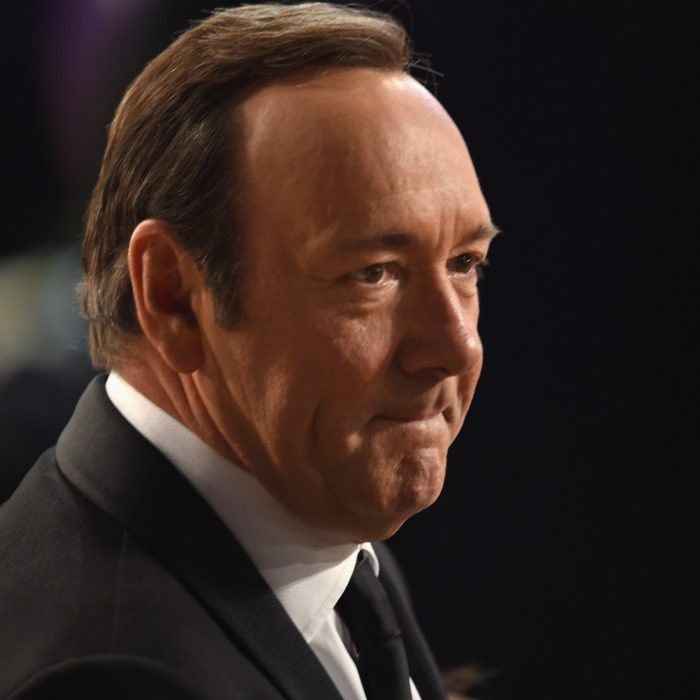 Following multiple allegations of sexual misconduct, Kevin Spacey is reportedly in the process of seeking professional help. A spokesperson for the House of Cards star told Variety, "Kevin Spacey is taking the time necessary to seek evaluation and treatment. No other information is available at this time."
Over the weekend, Star Trek: Discovery actor Anthony Rapp became the first to accuse Spacey in an explosive interview with BuzzFeed News. Rapp alleged that in 1986, when he was 14 years old and Spacey was 26, the older actor attempted to seduce the adolescent at a party by carrying Rapp to his bed and attempting to initiate sexual contact. Spacey responded with a statement in which he came out as gay and claimed he could not remember the incident, but in which he offered his "sincerest apology for what would have been deeply inappropriate drunken behavior." Since then, others have come forward with additional allegations. Filmmaker Tony Montana alleges that Spacey groped him in a bar, and actor Roberto Cavazos, who performed at London's Old Vic while Spacey was the artistic director, said that the Tony winner targeted many male actors "under the age of 30" with unwanted advances and inappropriate touches.
In response to the allegations, Netflix has suspended production on House of Cards season six until further notice. The International Academy of Television Arts & Sciences also rescinded Spacey's 2017 International Emmy Founders Award.