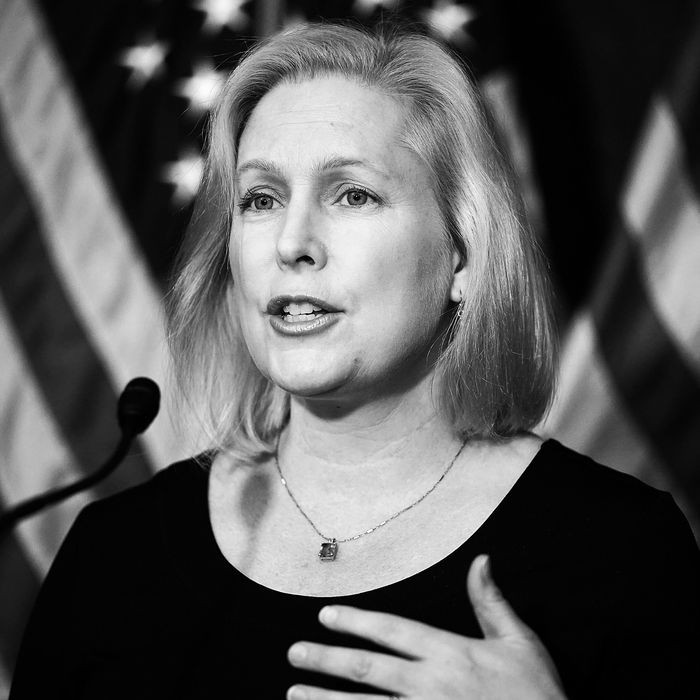 Senator Kirsten Gillibrand.
Photo: Chip Somodevilla/Getty Images
New York senator Kirsten Gillibrand told the New York Times on Thursday that she believes former President Bill Clinton should have resigned 20 years ago over his inappropriate relationship with ex–White House intern Monica Lewinsky.
Gillibrand, who serves in the Senate seat formerly occupied by Hillary Clinton, has become the highest-profile elected Democrat to say Bill Clinton should have stepped down because of the affair. The senator made the remark when she was asked directly whether he should have stepped down at the time during an upcoming episode of the Times' podcast "The New Washington."
After a long pause, Gillibrand replied, "Yes, I think that is the appropriate response." She then went on to explain, however, that what might be considered a fireable offense now could have been overlooked back in 1998. Per the Times:
"Things have changed today, and I think under those circumstances there should be a very different reaction," Ms. Gillibrand said. "And I think in light of this conversation, we should have a very different conversation about President Trump, and a very different conversation about allegations against him."
Later, a spokesperson for Gillibrand clarified that the senator was trying to point out that if the former president actions had happened today, he should have been compelled to resigned. The Times notes that the senator's statement was "remarkable" given that she "enthusiastically" supported Hillary Clinton's presidential campaign and has been involved in efforts to stop sexual harassment in colleges and the military.