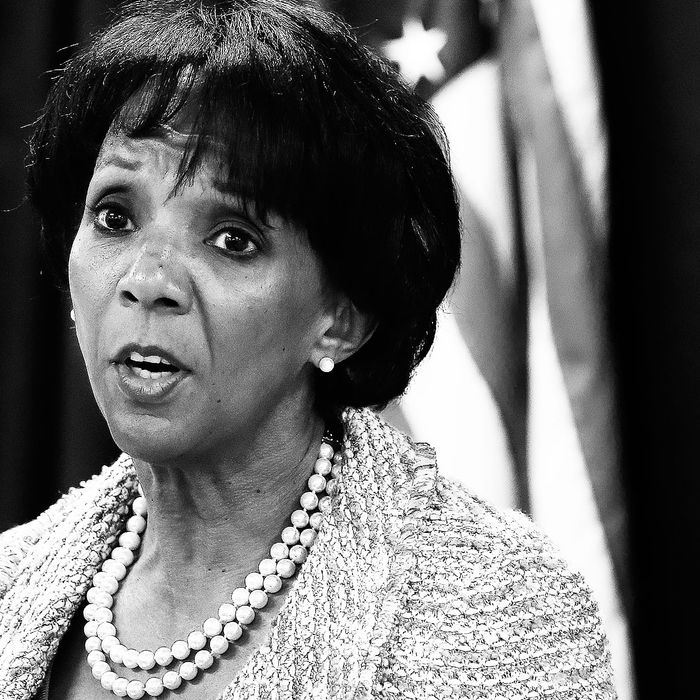 Los Angeles County district attorney Jackie Lacey.
Photo: Mel Melcon/LA Times via Getty Images
Los Angeles County district attorney Jackie Lacey announced today that her office has assigned a task force to respond to claims of sexual abuse in the entertainment industry.
"I have established a task force of specially trained deputy district attorneys who are ready to evaluate these cases if any are referred to my office for criminal prosecution," Lacey said in a statement.
"I have assigned the group of veteran sex crimes prosecutors to work together to ensure a uniformed approach to the legal review and possible prosecution of any case that meets both the legal and factual standards for criminal prosecution," Lacey continued.
According to the Los Angeles Times, the LAPD is currently investigating at least two claims against Harvey Weinstein, and one against actor Ed Westwick; and the Beverly Hills Police Department is looking into claims against director James Toback. (Police in New York and London are also investigating Weinstein.)
However, according to Lacey's statement, the LAPD still hasn't  brought any cases to prosecutors.
In the meantime, the advocacy group Women in Film is in the process of establishing a sexual harassment and pro bono legal helpline for individuals affected by abuse in the film industry.
"Our phones have been ringing off the hook since these harassment stories began to break," WIF's Kirsten Schaffer told Deadline. "We are hearing that victims feel isolated, that there is nowhere safe to go to tell their stories, that they believe they must keep their experiences silent or they will be sued or black-balled and that they feel helpless, fearing the legal costs of trying to do anything about what has happened to them. The Help Line will be staffed by trained experts to address these concerns, and all information will be kept strictly confidential."