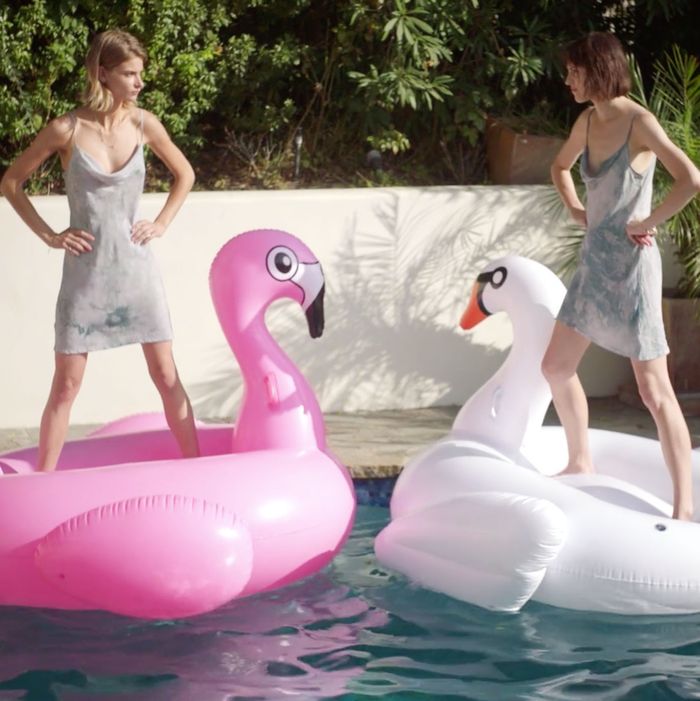 Lida Fox and Bo Don.
Photo: Courtesy lacausa, Directed by Kava Gorna.
It could happen to any woman at a party: You show up, and you and your friend are wearing the same dress. An entire Lizzie McGuire episode was based on this predicament. For perfectly sane people, this is not a problem to solve, of course — you both look great. For Instagram influencers, at least in this video from the sustainable Los Angeles–based brand LACAUSA, it might be … different. A battle-on-swan-and-flamingo-floats kind of different.
Girls star Jemima Kirke narrated the new short film Self Anthology, directed by Kava Gorna, in a collaboration spotlighting LACAUSA's latest collection. The clip follows two friends, models Lida Fox and Bo Don, who become roommates after noticing they have the same look on Instagram. At a housewarming party for their new apartment, they both arrive wearing the same LACAUSA slip dress. So, being L.A. "It" girls at a pool party, they decide to see who can balance on swan and flamingo floats the longest. Whose dress got wet? Watch below to find out. Spoiler: They work it out.