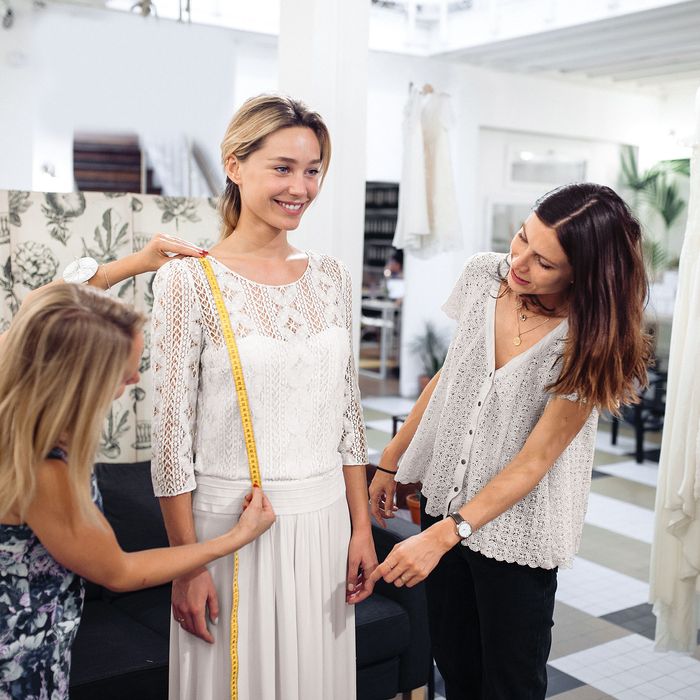 Photo: Courtesy of Laure of Laure de Sagazan
In our Ask the Experts series, New York Weddings gets tips and advice from professionals in disciplines from dress design to elopement planning.
Laure De Sagazan
Co-founder and creative director of Laure de Sagazan
You started out creating women's casualwear in Paris. What led you to bridal design?
In 2009, my cousin asked me to design her wedding dress. She couldn't find what she wanted in the bridal stores — everything was strapless and rigid. So I designed a vintage-inspired dress in a light georgette silk with Calais lace; it was very different from the wedding dresses people normally see. When I looked at the bridal market, everything was very complicated. I thought there was something new to propose to girls like me, who prefer a simple design.
Why did you open a New York boutique?
We had a lot of American brides coming to us in Paris. There was even one New York bride who already had her dress and then discovered our collection on Pinterest two months before her wedding. She emailed us and said, "Tell me the day, the time, and I will come to your atelier." She flew to Paris the next week and bought our Chaplin dress (from $3,200), a 1920s-era drop-waist style with a pleated belt. So we knew right away there was something to be done in New York, and in the fall of 2016 we opened the store. A local interior designer who was a client of ours — she bought her wedding dress in Paris — designed the space. Our goal was to replicate the aesthetic of our showroom in France — it's like a cozy apartment with lots of rattan, plants, and natural light, where brides can feel at home trying on dresses—but as an intimate Soho loft.
You just started offering your Sur Mesure made-to-order service in New York. How does that work?
The dress is made specifically for each bride, the way couture worked for decades. It includes five fittings, starting with an initial consultation with our team and then the creation of a pattern with one of our patternmakers. The bride gets to mix and match from our 60 existing styles to tailor-make her dress. So she could take the drop waist from one style, add the open back from another, and then choose from any of the fabrics and laces in our collection. It costs from $3,000 to $6,500 but widens the field of possibilities for the dress design.
You also launched a children's line with Jacadi. What's your approach for outfitting the little bridal-party members?
I created styles similar to our dresses but without disguising girls into small adults. I'm very inspired by the 1920s — drop-waist silhouettes and cap sleeves. For girls in sizes 10 to 14, we have a two-piece option with
a knee-length skirt ($125) and embroidered organza top ($139). Separates work very well for older girls because they can wear the skirt again, and the top is beautiful paired with jeans.
What's the key to looking like a Frenchwoman on your wedding day?
It's really in the attitude — not being overly theatrical. In the hairdo, you can have a wisp of hair going out of the bun. Your eyebrows don't have to be perfectly styled. And if your hem gets a little dirty or the wrong bouquet shows up, it's nothing to get uptight about.
155 Wooster St., 646-484-6593; lauredesagazan.fr
"For a winter wedding, I love pairing a mohair stole or velvet cape with a backless lace dress. It allows the bride to have two distinct looks."
*This article appears in the winter 2018 issue of New York Weddings.