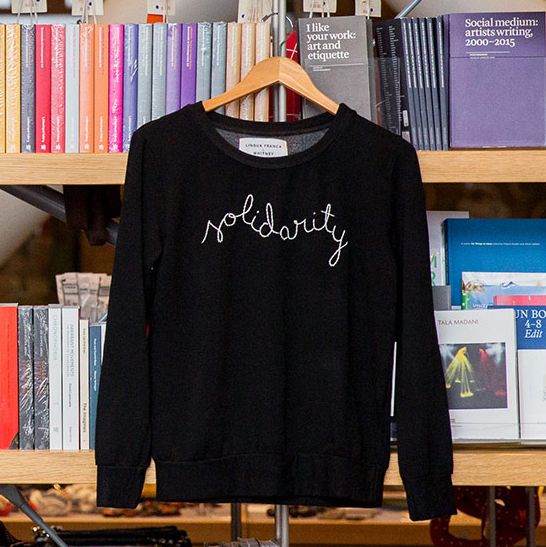 Lingua Franca sweaters at the Whitney shop.
Photo: Carl Timpone/BFA.com
While Lingua Franca's hand-embroidered cashmere sweaters could technically say anything, the political slogans are what Rachelle Hruska MacPherson's label is known for. Some popular slogans are "I Miss Barack" and "We Are All Immigrants." Gaby Hoffmann, Leo DiCaprio, and Mark Ruffalo are fans.
Special (and more wallet-friendly) editions of their popular "resistance sweaters" are now available at the Whitney Museum of American Art in collaboration with their ongoing exhibit, "An Incomplete History of Protest."
"The Whitney throughout history has given a voice to protesters," MacPherson told the Cut. "People don't know what to do right now and are heartbroken and frustrated, but you can find little things to do in your life."
Since the 2016 election, MacPherson has been donating $100 from the proceeds of each sweater sale to a charity of the buyer's choice. MacPherson was asked by the Whitney Museum's Lauri Freedman to do a collaboration with the Whitney shop for the "History of Protest" exhibit, but worried that the price point of her sweaters was too high, since they usually retail from $360 to $400. So she partnered with Stateside (owned by the former owner of Splendid) to make a insanely soft viscose and spandex sweatshirt that retails for $125 at the Whitney shop and online. Shop the sweatshirts below.