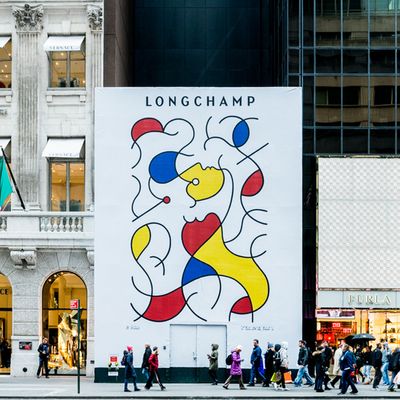 When you're building a new store on Fifth Avenue, even your scaffolding has to fit in among Calvin Klein and Louis Vuitton's elaborate store fronts. Longchamp commissioned French Artist Remed to create a work of art while the building is under construction.
Remed, whose real name is Guillaume Alby, is known for his large-scale murals, which he has produced in 13 countries, according to his website. The modern piece he created for Longchamp is named L'Eau delà–Émoi and consists of lines and primary colors.
Longchamp unveiled similar projects — dubbed the Artwalk Project — for their Shanghai and Paris stores, beginning in 2016 with a work by American artist Ryan McGinness. The New York Artwalk project was installed this past weekend and will stay throughout the store's construction at 645 Fifth Avenue, which is expected to open this spring.