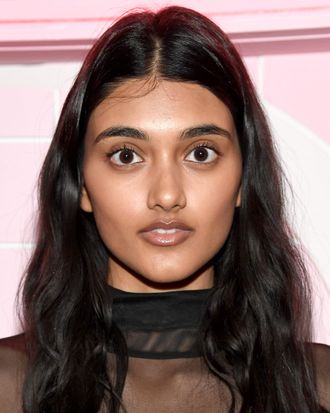 Photo: Frazer Harrison/Getty Images for POP & SUKI
Neelam Gill's career has been a series of firsts. She was the first British-Indian model to be in appear in British Vogue, the first British-Indian model to appear in a major Burberry campaign, and one of the first diverse faces to appear in ads for the rebranded Abercrombie & Fitch. This year, she also became the first British-Indian spokesmodel for L'Oréal Paris.
With these all these "firsts," it's not surprising that the press has already begun calling Gill a supermodel. At the last month's L'Oréal runway show in Paris, the Cut caught up with her to talk about changing beauty conventions, turmeric milk, and tokenism.
What does representation in beauty mean to you? Why is it so important?
I grew up feeling underrepresented. I didn't see anyone that looked like me on TV, and that made me feel like I wasn't beautiful. Knowing that so many girls can relate to me and my story makes me feel proud.
After school, all of the girls would be trying out foundation and concealer. I would have to stick to mascara and lip balm because it's all I could use, and I felt left out. I could never buy my foundation after school at the drugstore, but now my younger sister can.
It's surreal that I'm known as the first Indian model to be in different campaigns, but I'm also very grateful. It will help the industry open up to other girls and show that there's room for everyone.
How do you think beauty conventions are changing? Are you part of it?
I hope I'm a part of that change. People tell me I am. Growing up, the beauty was very Euro-centric. I thought you had to have blue eyes, fair skin, and a thin nose. I used to think if I was fairer, I would be prettier. It's not like that anymore. There's no one vision of what is beautiful. It's so much more diverse, as it should be.
There's also power in beauty. As a model, you have to understand the platform you have. You are more than a mannequin. A lot of girls do really look up to you. When I was younger, I looked up to Aishwarya Rai doing L'Oréal. She was the first Indian girl to be in a major beauty campaign. The ads are on TV, billboards, and you can't escape it. That L'Oréal is promoting a diverse cast is amazing but is also what is needed to represent today's society. I can't stand brands who think they are inclusive and cast just one token girl.
What is your bedtime beauty routine like now?
I am religious about taking my makeup off even I am tired. I use the L'Oréal micellar water. If I am tired, I'll use the wipes — but they're actually good. Then I'll use the Sarah Chapman cleanser and an oil on my face before bed.
Before I put my makeup on, I'll use the brand's Hydra Genius. It's a water-based moisturizer and primer. I came here today with no makeup on except this. I just put that on my face to keep it moisturized. My face gets really dry from traveling.
Do you incorporate anything cultural into your beauty routine?Well, when I was younger, I thought it was weird that my mom always believed in using an oil-based cleanser. That was before it was a trend.
Nowadays, it has more to do with the food that I eat. My mum always made me haldi, a hot turmeric milk and honey, which is great for you. If I'm really tired, that is what I try and do. I use almond milk. It's so relaxing, it helps you detoxify and soothe.
Inner beauty is touted as being important, and you're the face of beauty brand. How do you reconcile the two?
I might be the face of a beauty brand but I really didn't think that I could ever be a model or looked like one. I was the girl with the braces and glasses who got bullied. I've always been raised that it's not about the outside, but it's the inside. I'm surrounded by gorgeous people, but it means nothing if they're ugly inside. As soon as they open their mouth, you feel their energy.
You mean someone like Bianca Balti, who is so beautiful, but also so lovely. That's inspiring. When you exude that, it makes other people around you feel more comfortable. When people come up to me and are like, Wow, you're actually so nice, I'm like, "What else would I be? Just because I'm a model?" We're human beings. We all have strengths and weaknesses.
Do you consider yourself beautiful?
[Pauses] I don't think about it. My soul is something I'm proud of. My looks … I know it sounds weird, but I don't think about it. They're so critiqued and under heavy scrutiny. I try not to take it so seriously.
In modeling, you can't think about it. Otherwise, you drive yourself crazy.
Neelam's Recommended Products
If you buy something through our links, New York may earn an affiliate commission.