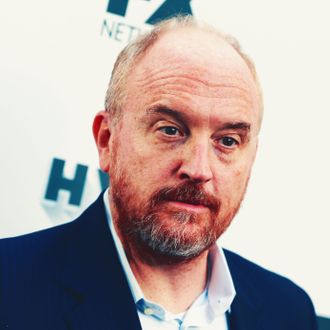 Photo: Rich Fury/Getty Images
In an explosive New York Times report, five women have accused comedian Louis C.K. of sexual misconduct, seemingly corroborating long-held unsubstantiated rumors about the unsavory sexual habits of one of comedy's most important figures. Here are the five allegations reported in that piece:
Dana Min Goodman and Julia Wolov:
In 2002, C.K. invited Chicago comedy duo Dana Min Goodman and Julia Wolov to hang out at his hotel room during the U.S. Comedy Arts Festival in Aspen, Colorado. When they arrived, they say C.K. asked if he could "take out his penis." He then took his clothes off and began masturbating in front of them before ejaculating onto his stomach. While Goodman and Wolov tried to tell people about the incident, many were unwilling to listen. "Guys were backing away from us," said Wolov.
While they continued to tell people about their experience, C.K's manager, Dave Becky, allegedly communicated to their managers that they ought to stop speaking about what had happened, leading the two women to feel threatened and limited in their career prospects.
Abby Schachner:
In 2003, comedian Abby Schachner says she overheard C.K. masturbating during a phone conversation with him. Per the Times, "She said she heard the blinds coming down. Then he slowly started telling her his sexual fantasies, breathing heavily and talking softly. She realized he was masturbating, and was dumbfounded."
Six years later, C.K. apologized to Schachner in a Facebook message, saying "last time I talked to you ended in a sordid fashion. That was a bad time in my life and I'm sorry. I remember thinking what a repulsive person I was being by responding the way that I did."
Rebecca Corry:
In 2005, C.K. allegedly asked comedian Rebecca Corry if he could masturbate in front of her during a shoot for a television pilot. When she turned him down "his face got red," Corry recalled, "and he told [her] he had issues." Courteney Cox and David Arquette, who were executive producing the show, confirmed the story to the Times. "What happened to Rebecca on that set was awful," said Cox, adding that they considered shutting down the production.
In 2015, Corry says C.K. apologized to her after rumors on the website Defamer circulated about him. "I used to misread people back then," she recalled him saying.
Anonymous:
An anonymous woman who worked in production at The Chris Rock Show in the late '90s said that C.K. asked her on numerous occasions to watch him masturbate — which she says he did in his office during the workday, while his colleagues were outside the door. "It was something that I knew was wrong," she said. "I think the big piece of why I said yes was because of the culture. He abused his power."
In the past, C.K. — who jokes frequently about masturbation in his stand-up routine and on his sitcom Louie — has denied such allegations as "rumors." Per C.K's publicist, Lewis Kay, "Louis is not going to answer any questions."
Earlier today, it was revealed that C.K.'s new film I Love You, Daddy — which features a character who pretends to masturbate in front of people — had canceled its upcoming premiere. C.K's upcoming appearance on Colbert was also canceled.