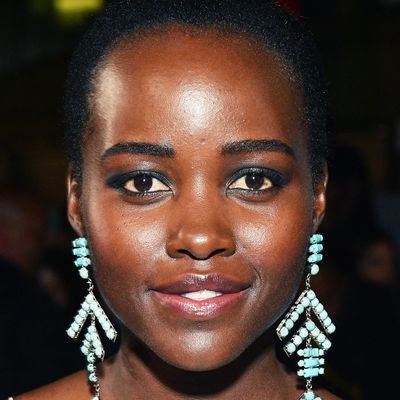 Lupita Nyong'o.
Photo: Dia Dipasupil / Staff/2017 Getty Images
Actress Lupita Nyong'o took to Instagram on Thursday night to slam the magazine Grazia UK for editing her "kinky, coily" hair to appear smoother on the cover. Per her post:
I am disappointed that @graziauk invited me to be on their cover and then edited out and smoothed my hair to fit their notion of what beautiful hair looks like. Had I been consulted, I would have explained that I cannot support or condone the omission of what is my native heritage with the intention that they appreciate that there is still a very long way to go to combat the unconscious prejudice against black women's complexion, hair style and texture. #dtmh
Nyong'o posted the original, unedited photos next to the final cover on Instagram. In the final cover, her hair has been smoothed over, with large chunks taken out.
Just last month, Solange Knowles had her hair Photoshopped out by the London Evening Standard magazine. She wrote simply on Instagram "dtmh" or "don't touch my hair." The magazine later issued their "unreserved apologies" to Solange.
Update — 2:34 pm ET: Grazia UK issued a statement, claiming that they did not Photoshop Nyong'o's pics or alter it themselves. They appear to place the blame for the Photoshopping on photographer, An Le.
Update — November 13, 2017, 3:46 pm ET: The Telegraph has obtained a statement from photographer, An Le. Le stated:
"I've had some time to reflect on my part in the incident involving Grazia and Ms Nyong'o. I realize now what an incredibly monumental mistake I have made and I would like to take this time to apologize to Ms Nyong'o and everyone else that I did offend.
Though it was not my intention to hurt anyone, I can see now that altering the image of her hair was an unbelievably damaging and hurtful act.
As an immigrant myself, it is my duty to be an advocate for the representation of diversity of beauty in this industry. I will demonstrate this in my work even more going forward.
My altering of her image was not born out of any hate but instead out of my own ignorance and insensitivity to the constant slighting of women of color throughout the different media platforms.
There is no excuse for my actions. I deeply regret the pain I've caused Ms Nyong'o, a woman I've admired for quite some time now. Again, I would like to say I'm deeply sorry to everyone I did offend.
I want to thank Lupita for addressing this important issue."
This post has been updated to include Grazia UK's statement.