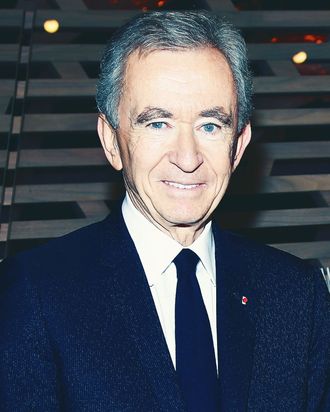 Bernard Arnault.
Photo: Pascal Le Segretain/Getty Images
On Wednesday, a major changing of the guard was announced at LVMH Moët Hennessy Louis Vuitton, the world's largest luxury group.
Sidney Toledano, a driving force behind Christian Dior's success for the past 20 years, is stepping down to become chief executive of the LVMH Fashion Group, the division that oversees "smaller" brands like Céline, Givenchy, Loewe, and Emilio Pucci. Pietro Beccari, the chief executive of Fendi, will become chief executive of Dior in Toledano's place.
In a statement, Bernard Arnault, the chief executive officer of LVMH, said Mr. Beccari's appointment "signals a new era" for the group. Indeed, LVMH fully acquired Christian Dior for $13.1 billion in April, just months after Maria Grazia Chiuri was appointed the brand's new creative director.
However, Toledano isn't getting off easy. If the rumors are true, he'll not only have to find a replacement for Emilio Pucci, but also Phoebe Philo at Céline. So, in this case, a demotion might mean more than a promotion.