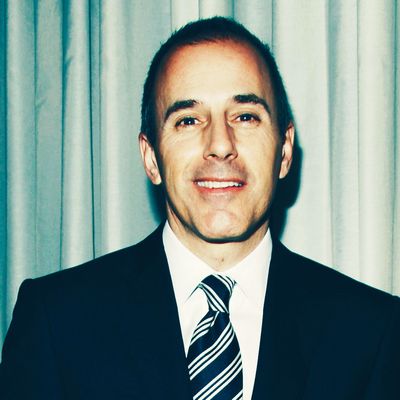 Matt Lauer.
Photo: Patrick McMullan/Patrick McMullan via Getty Image
Today show host Matt Lauer was fired on Wednesday, after a sexual-harassment claim was filed against him by an NBC employee. In a statement, NBC News chairman Andy Lack wrote: "While it is the first complaint about his behavior in the over twenty years he's been at NBC News, we were also presented with reason to believe this may not have been an isolated incident."
Though it may have been the first complaint NBC received about him, reports of inappropriate behavior on Lauer's part have circulated for some time, including some from Lauer himself. According to the Village Voice, during his 2008 roast at New York City's Friar's Club, Lauer joked to the audience of 1,900 people about sleeping with his former co-hosts, Katie Couric and Ann Curry.
Couric, who underwent a colonoscopy on-air in 2000, made a joke at the roast about doctors finding Lauer's head up her butt, to which Lauer responded later: "Let me just say that I saw that colon a lot before the rest of you saw it."
Of Curry, he said: "What's with all the small-dick jokes? It was fun to look over and see Ann Curry laughing … like she doesn't know how big my dick really is."
These are not the only of Matt Lauer's jokes to have aged poorly. But one jab from the evening was timeless.
"Let's focus on Matt's numerous achievements in journalism," former Today show co-host Meredith Viera reportedly said with the briefest of pauses. "OK, that's done."
Read more of the roasts here.