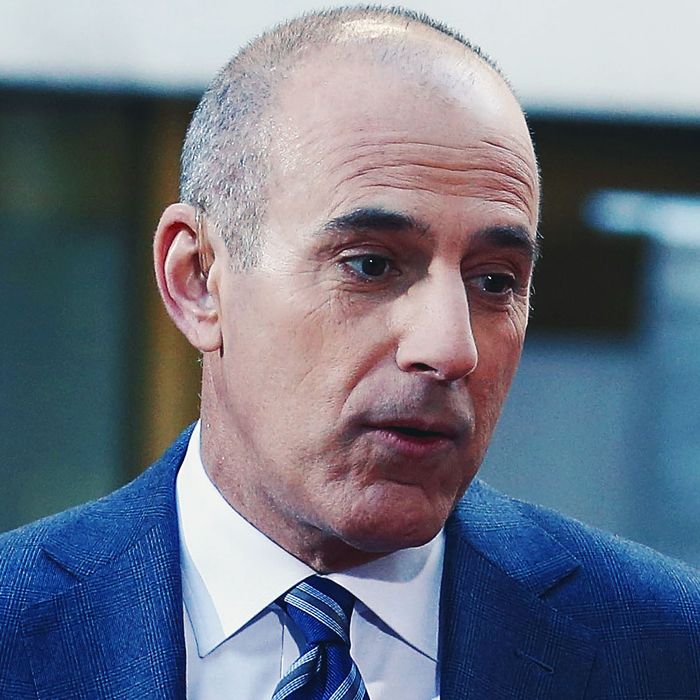 Matt Lauer.
Photo: John Lamparski/WireImage
On Wednesday morning, NBC announced it had fired Matt Lauer after an employee filed a detailed sexual-harassment complaint against the longtime Today co-host. Hours later, Variety published its disturbing two-month investigation into Lauer's alleged routine inappropriate behavior towards women at the network, from making lewd comments and giving inappropriate presents, to the fact that he had an auto-lock button on his office door.
Here are some of the biggest bombshells from Variety's report.
Lauer had an auto-lock button on his office door that allowed him to initiate inappropriate contact with women.
According to Variety, Lauer's office was a "secluded space," thanks in large part to a button under his desk that allowed him to lock his door from the inside without having to get up. Two women who claim to have been harassed by Lauer said the button gave him the chance to "welcome female employees" into his office and "initiate inappropriate contact while knowing nobody could walk in on him." He reportedly exposed his penis in his office to one employee, then reprimanded her when she wouldn't engage in a sex act with him.
His behavior was apparently well-known among Today employees.
Several people told Variety that Lauer's pattern of inappropriate behavior was not secret among Today staffers, with one anchor apparently even gossiping about the stories she heard among the staff. "Management sucks there. They protected the shit out of Matt Lauer," one former reporter said.
He reportedly had affairs with Today staffers.
Apparently Lauer had "a lot of consensual relationships" with staffers, which a former producer pointed out to Variety was problematic: "He couldn't sleep around town with celebrities or on the road with random people, because he's Matt Lauer and he's married. So he'd have to do it within his stable, where he exerted power, and he knew people wouldn't ever complain."
Lauer would reportedly "dismiss" stories about cheating husbands.
Today producers told Variety that Lauer (who is married) would routinely "dismiss" stories that dealt with cheating husbands. He apparently only began to agree to take on stories about sexual harassment after the allegations against Roger Ailes and Harvey Weinstein emerged — which made for awkward moments for staff members aware of his misconduct.
He was allegedly consistently inappropriate with women on staff.
The report claims Lauer gave a female employee a sex toy as a gift, along with an explicit note that detailed about exactly how he'd like her to use it. He'd also ask female producers who they had slept with (and offered to share the names of his sex partners in exchange for theirs), and he'd play the quiz game "fuck, marry, or kill" about his female co-hosts, identifying which ones he'd most like to sleep with. He'd also frequently comment on female staff members' bodies and appearances.
Read the full report here.