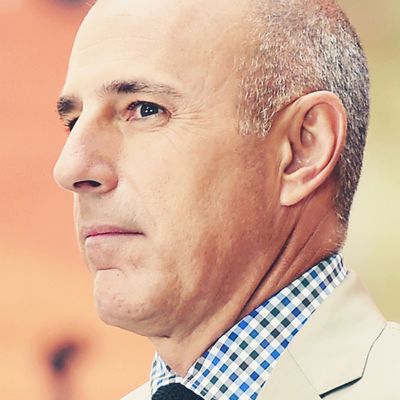 Matt Lauer.
Photo: Michael Loccisano/Getty Images
On Wednesday morning, NBC announced longtime Today co-host Matt Lauer had been fired after a sexual-harassment complaint was filed against him. In a statement, NBC News chairman Andy Lack added that there was "reason to believe this may not have been an isolated incident." While the news may have come as a shock to some, rumors about Lauer have been circulating for some time — and by late Wednesday afternoon, Variety published a disturbing two-month investigation into sexual harassment allegations against Lauer.
Here's a look at Lauer's history of bad behavior — which we will continually update as more stories come to light.
Creating a "boys' club" atmosphere that pushed out Ann Curry.
Matt Lauer's horrible treatment of Ann Curry is long and complicated, but the gist is, Lauer is believed to have essentially pushed Curry out of her brief gig as Today co-host. In his 2013 book Top of the Morning: Inside the Cutthroat World of Morning TV, CNN Reliable Sources host Brian Stelter wrote, "Curry felt that the boys' club atmosphere behind the scenes at Today undermined her from the start, and she told friends that her final months were a form of professional torture." Stelter also wrote that Lauer reportedly told an assistant, "I can't believe I am sitting next to this woman," and that when he decided to re-sign his contract (with millions of dollars in a signing bonus), NBC staff knew Curry had to go.
Asking Anne Hathaway if she learned her "lesson" after paparazzi took an upskirt photo of her.
As reported by Jezebel back in 2012, a photographer took an upskirt picture of Anne Hathaway as she got out of a limo at the premiere of Les Miserables. During a subsequent interview with Today, Lauer said to Hathaway, "Let's just get it out of the way, you had a little wardrobe malfunction the other night. What's the lesson learned from something like that, other than you keep smiling like you always do?"
That awkward Corey Feldman interview.
Former child star Corey Feldman had to school Lauer about not blaming victims during an interview in October about pedophilia in Hollywood — and the molestation Feldman himself endured. Lauer pressed Feldman as to why he wasn't naming names sooner (as Feldman was raising money for a legal fund and security to protect himself), which prompted Feldman to reply, "I'm the victim here. I'm the one who's been abused. I'm the one who's trying to come forward and do something about it."
Harassing his former co-host Katie Couric.
On Wednesday, TMZ published a video of Lauer's former longtime Today co-host Katie Couric's 2012 appearance on Andy Cohen's Watch What Happens Live, in which Cohen asked about Lauer's most annoying habit. "He pinches me on the ass a lot," she replied.
Later that day, TMZ published another video showing Lauer whispering to Couric on set in 2006, "Keep bending over like that. It's a nice view."
This post has been updated.