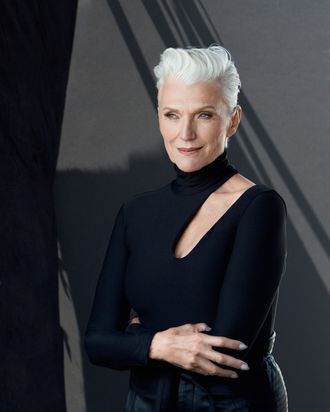 Maye Musk.
Photo: Covergirl.
Maye Musk's artist mother refused to quit working until she was 96, and it seems that Musk, 69, is living up to this legacy in her own way. The model, is making history as the oldest CoverGirl ambassador: She's the face of the brand's Simply Ageless Collection.
Musk has been a model for five decades, and she's also a licensed dietitian and nutritionist. As the mother of Tosca, Kimbal, and Elon Musk, she's the matriarch of what Vanity Fair calls "The First Family of Tech." She believes aging has only made her wiser. "Everyday," she says, "life is a little better."
Signed with IMG, she joins Issa Rae, Zendaya, and Janelle Monáe, as new CoverGirl faces. She talks about how she counsels younger models, how she feels about banning the phrase "anti-aging," and how she thinks being mean makes you ugly.
At 69, you're the face of a global beauty brand — the biggest get for models. How does it feel to achieve this milestone at this point in your life?
I would say it's the highest achievement ever in the modeling field. This is a big surprise, and I'm really, really happy. It represents women of my age. I noticed on Instagram the young women are so excited, because it gives them so much hope.
It looks like even if you're 69, you represent everyone. I just want everyone to follow my journey. I think we're going to have a lot of fun with makeup. They're going to do some fun things with me.
The modeling industry isn't always known for being friendly towards aging. What is the secret to battling ageism in the modeling industry?
As I got older, I got all the older modeling jobs. I started as a teenager, and then I was mother-of-the-bride, and then I was grandmother. You just accept that that's what you're representing as you're getting older. Usually in a runway show, they'll put one older model, and if that's me, then that's good. But you still can't expect this huge campaign.
I'm usually the oldest model, and everyone else in a show is younger. And there will be this young girl who is 22, and she's stressed that her career is over, because she has been rejected from so many jobs. To her, I say, "Get over it." First of all, you've been doing better jobs than I've ever done. You're doing just fine, and you just keep going. Be happy, be nice to everybody — you just keep working, and accept that you will carry on.
How do you think about aging? Does it scare you at all? 
Aging doesn't scare me at all. You can handle the bumps each year. They're traumatic when you're younger, and they're hurtful, and you go through some terrible times, and you feel terrible.
At this age, life is easier. My mother, she never felt her age. She worked until she was 94. She was an artist. Her hands were shaking a bit, so then she did computer art for two more years. Then at 96, she said, "Okay, I'm going to retire." She never had a problem with her age.
Allure recently banned the phrase "anti-aging." What do you think about the ban?
I'm not such a huge hater of anti-aging things because when I put makeup on, I look younger. You can brighten up your eyes, and look more glamorous and more confident. When you have confidence, you do feel like you're much younger.
But if you say, "When you wear this, you will suddenly be younger," then that's odd. I guess that's what the anti-aging idea is. To make women feel insecure about their age — that's concerning.
How do you think makeup relates to confidence?
Makeup does a lot for your confidence. When I put makeup on, I walk taller, I smile more, I feel good. I know I look prettier. Even if I just put day makeup on. I'll put on foundation and some concealer because you get sun spots when you're older, which we didn't know about in the old days. It defines your features better so you do have more confidence.
When I'm walking the red carpet, I'll have this old-glam makeup on. Sometimes I'll see a photo that's taken at an angle, and I'll say, "Hmmm, is that what I look like?"
You hear the saying "True beauty is inner beauty." As the face of a beauty brand, what do you think about that?
Even if you are the face of a beauty brand, you still have to be nice. No matter how beautiful you look with makeup on, if you're a mean person, your beauty just disappears.
You don't even want to hang around a negative person. Definitely work on your inner beauty, and your outer beauty — you need to eat well. I'm a dietitian too, so to be glowing, you need to feel healthy.
What is your night-time beauty routine like?
Very simple. I always wash my makeup off, and I put on night cream. Always need moisturizer. I usually Olay day (Olay Complete All Day) and night cream (Olay Age Defying Night Cream). I especially use that when I travel, because it's a tiny one. I'll just put that one on, and an eye cream on, and lip chap — meaning ChapStick. I sometimes use that word and nobody knows what I mean.
This interview has been edited and condensed.