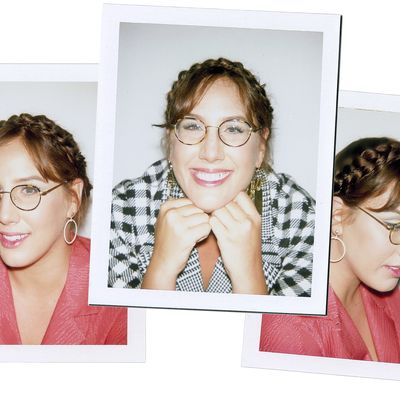 Left: Anna Lucia Uihlein wears own dress and jewelry: Center: Uihlein wears a Burberry coat and Aurélie Bidermann earrings; Right: Uihlein wears own dress and jewelry.
Photo: Lucas Michael. Photo Editor: Biel Parklee.
Anna Lucia Uihlein's aesthetic seen through her Instagram is a combination of vintage Playboys, 18th-century illustrations, and news article screenshots. The owner and curator of the online store Perfume Drinker attributes her love of vintage finds to her mother, who owned an antique store. Uihlein started Perfume Drinker three years ago because she's "kind of a hoarder when it comes to books, but I get so attached to them that I want them to be going to a good home." She talked to the Cut about her love-hate relationship with Batman, conversations she'd have with her cat, and talking to Barron Trump.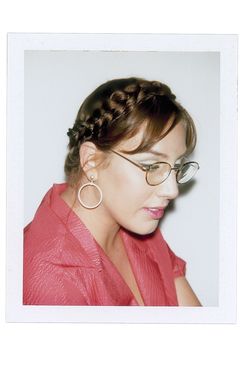 If you could be a magazine, what magazine would you be? Flair magazine. Fleur Cowles's magazine. Because it was incredibly expensive to produce. It went wildly out of control, bankrupted her husband, and only lasted a year, but it's a really fun read.
If you could speak to animals, which animals would you want to talk to? My cat. I know what she'd say, she'd say get this bow off my head. But I'm not going to do it until she says it in person.
Sneakers or slippers? Sneakers.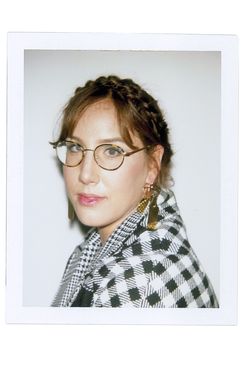 What's something your social-media followers don't know about you? What social-media followers? That I'm tall. A lot of people don't know I'm so tall in person.
What was the last website you looked at? I Googled "Barbara Walters, Katharine Hepburn, pants funeral." There's a moment when Barbara Walters is being mean to Katharine Hepburn about wearing pants and she's like "I'll wear them to your funeral."
If you could be outfitted by one designer for the rest of your life, whom would it be? Bob Mackie. No, Jean-Charles de Castelbajac. No, L.L. Bean. Some freak amalgamation of all three.
What time is your alarm set for in the morning? I have like a hundred. It starts at 6:45 and goes until 8. And those don't even really work but I just feel like I tried.
If you had only three things you could eat for the rest of your life, what would they be? My nona's spaghetti al olio, milky and sugary coffee, and Champagne.
Fuck/Marry/Kill? Fuck: Val Kilmer as Batman. Marry: Adam West as Batman. Kill: Ben Affleck as Batman because he's like a roly-poly dad and shouldn't be Batman.
If you were a color, what color would you be? Baby blue.
If you could tell Donald Trump one thing and make sure he would listen, what would it be? I wouldn't talk to him at this point. I would maybe talk to Barron. He seems like he needs a kind word or two.
Anna Lucia Uihlein wears a Burberry coat, $2,995 at Burberry; Aurélie Bidermann earrings, $395 at Saks.