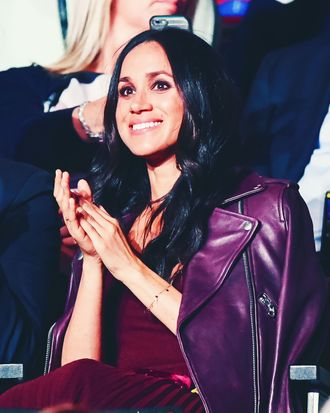 Meghan Markle wearing Mackage.
Photo: Samir Hussein/WireImage
Meghan Markle has proven that through hard work, well-connected friends, and a stream of basic-but-charming Instagram photos, an American girl can become a British princess. But when it comes to fashion, she's really giving Canadians a lift.
On Monday, when Markle stepped out with her fiancé for their official engagement announcement, she made headlines in an elegant, $750 white coat by the small Canadian brand LINE the Label, as well as earrings by the Canadian jeweler Birks. The coat sold out instantly, crashing LINE's website in the process, and according to WWD, Birks saw a 50 percent increase in web traffic.
This is not the first time Markle has supported Canadian designers. In the past year, she's been photographed wearing names like Aritzia, Mackage, Sentaler, Reitmans, Soia Kyo, Pink Tartan, and Smythe. Earlier this year, she also guest-designed and modeled a "work-to-weekend collection" for Reitmans.
Though Markle was born in California, she lived in Toronto for seven years while filming Suits. Anyone might have collected a wardrobe of Canadian fashions during that time, but Markle, notably, seems to be making a concerted effort to give her favorite Canadian brands more international exposure by wearing them in public. Perhaps it's because they helped her out as a young actress, and she's paying it forward. Or maybe she really likes Canadians. Either way, the "Meghan Markle Effect," as it's now been dubbed, is very real.
"The coat, which has been an iconic piece in our collection for many seasons, sold out immediately worldwide after the engagement announcement [Monday] morning," confirmed John Muscat, president and Founder of LINE. "We're re-cutting the coat to launch early spring 2018 and have officially renamed it The Meghan in honor of her special day."
Mackage also reports similar responses to Markle wearing its clothes. When she wore the brand's leather jacket to the Invictus Games, for example, it sold out in 24 hours. "Because of its popular demand, we recut the jacket and put it back in stock three weeks later," co-founders Elisa Dahan and Eran Elfassy wrote in an email. "As of last Friday we had Emma Watson spotted wearing the same jacket but in black."
The feeling is mutual between Meghan Markle and Canadian designers. "Canada has been lucky to have had Meghan Markle reside in the country over the past few years, and such become so closely connected with Canadian fashion brands like SENTALER," wrote Bojana Sentaler, the brand's designer and creative director.
"Canadian fashion has incredible talent, and Meghan Markle's close connection is helping to put Canadian brands on the international map," Sentaler continued. "I, alongside other Canadian designers, am excited to see her continuing to support Canadian fashion, and hope she will continue to do so while she builds her new home in the U.K."
Markle is basically an honorary Canadian citizen now. If all the immigration stuff doesn't work out, you'll know where to find her.