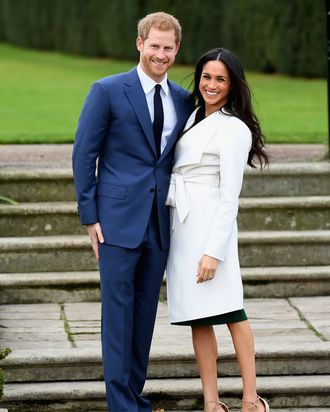 Prince Harry and Meghan Markle.
Photo: Samir Hussein/Samir Hussein/WireImage
On Monday, all eyes were on Prince Harry and Meghan Markle as the couple finally announced their engagement. In addition to ogling every inch of Markle's outfit, which included not one, but two Canadian designers, Lainey Gossip also pointed out what she wasn't wearing: Panty hose.
This may not seem like a big deal over here in America, which is full of deviants (at least according to some British tabloids). But across the pond, the royal family seems to enforce a strict, unspoken pantyhose policy. Everyone wears them. Except for Markle, apparently.
Queen Elizabeth has been wearing panty hose for 91 years, but Kate Middleton, who often wears glossy, flesh-toned ones in public, is really the one to thank for their revival in England. According to a 2012 report, sales of nude tights went up by 46 percent at Selfridges' after the royal wedding. Meanwhile, Wolford's Naked style tights soared 130 percent around the same time. Sales of flesh-toned hosiery also grew 500 percent at the British supermarket chain Asda.
"Kate's choice in sheers is fueling new descriptions such as 'gloss' sheers or 'polished' sheers," Valerie A. Mackie, marketing director for legwear at Invista Inc., told WWD in 2012. "Her choices are helping consumers understand that wearing hosiery creates an even, cosmeticlike effect to legs, especially when summer tans have dissipated."
Perhaps as the spotlight shifts towards Markle and away from Middleton, the panty hose pendulum will swing the other way as well. Markle's choice to not wear panty hose suggests the same thing as her easygoing demeanor in her post-engagement interview. (As opposed to William and Kate's awkward vibes.) Meghan Markle is real; what you see is what you get.