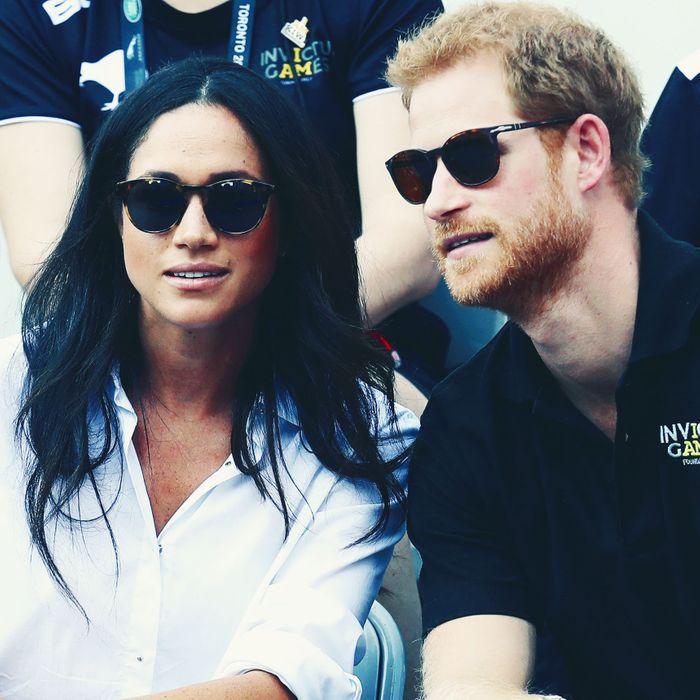 Meghan Markle and Prince Harry.
Photo: Chris Jackson/Getty Images for the Invictus Games Foundation
On Monday, all of America awoke from our post-Thanksgiving comas to some glorious news: Meghan Markle of California is engaged to a British man (Prince Harry). While we subsequently spent the morning spiking our coffee with champagne to toast the happy occasion, many members of the British press did not seem to be as thrilled about the engagement. Instead, the news appeared to be met by the U.K. media with racism and burns against American girls.
Of course, not all members of the British press reacted this way — Markle and Prince Harry are, after all, sitting down with Mishal Husain of the BBC for their first joint interview after their engagement photo call. But by and large, the same tabloids that subjected Markle to "abuse and harassment" at the start of their relationship seem to be continuing their streak of horrible takes. Here are some of the worst.
The 'American Girls Are Trapping British Men With Blowjobs' Take
Did you know that Prince Harry fell for Meghan Markle solely because she is American? And that American women are 100 percent completely and totally different from British ladies? Well, at least, that's what the Tatler would have you think. As the publication writes, "Some British men, meanwhile, like some American women for one very specific reason. 'American girls will give blowjobs way earlier than British girls because they don't consider it sex,' explains another American heiress who's married to an Old Etonian." Huh.
The 'Unconventional Family' Take
The Daily Mail, which has previously been criticized for its racist posts about Markle's upbringing and her family, has written that the engagement was "VERY unlikely" and that given Markle's status as "an American divorcee," the odds were "seemingly stacked against them." The tabloid also published an article about who might be invited to the wedding, which included unnecessary and invasive information about her black mother's finances, her "rogue" half-siblings, and drama in her extended family. And of course, another about her "unconventional" family. Many people on Twitter have sensed a theme with this coverage …
The 'Mistress' Take
The Spectator's Melanie McDonagh began her post about Prince Harry and Meghan Markle's engagement with a warning of sorts: "It may be churlish to be unkind about a young couple who have just announced their engagement but needs must. Someone has to say it." Then she proceeds to talk about the fact that Markle is divorced — and that "seventy years ago, Meghan Markle would have been the kind of woman the Prince would have had for a mistress, not a wife."
The 'She's Not Kate' Take
Similar to the Daily Mail, the Sun's coverage of the royal engagement has included posts about Markle's "VERY un-royal family" and how they're going to "liven up" the Windsor Christmases (hmm). They've also highlighted the differences between Markle and her future sister-in-law Kate Middleton (i.e., race, family background, relationship history).
In 2015, Markle wrote about her biracial identity in Elle UK, saying, "Being biracial paints a blurred line that is equal parts staggering and illuminating." We'll see what Markle and her fiancé have to say when they speak to the BBC–but hopefully she gets a chance to put the rest of the British press in their place.