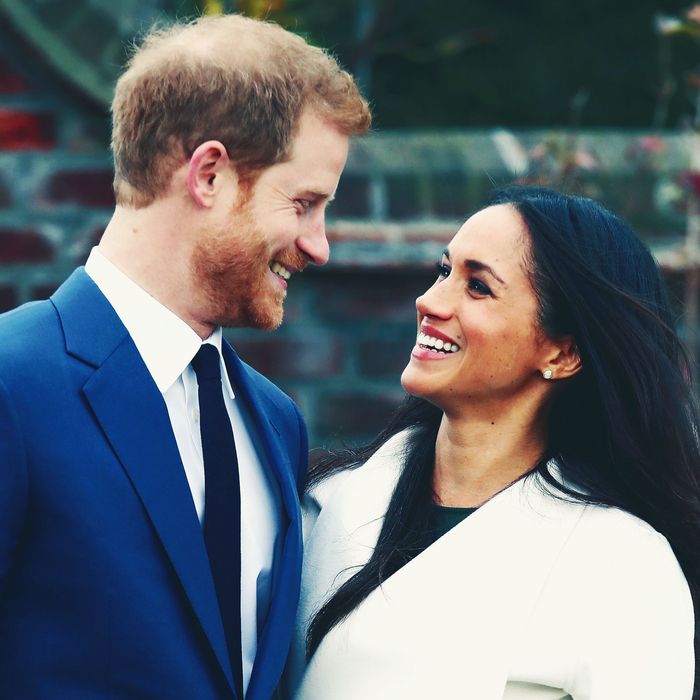 Weeeee.
Photo: Chris Jackson/Getty Images
Monday, November 27, marked a momentous day for Brits, Americans, and purveyors of Canadian fashion alike, as California-bred Toronto enthusiast Meghan Markle announced her engagement to British man Prince Harry. Not only did the announcement give us another royal wedding (and more fancy hats) to look forward to, but it also gave us a much-needed distraction from the otherwise horrible news in the world. How nice!
Here, we answer every question you might possibly have about the royal Yank-Brit engagement.
First, who are these people?
Ah, we're glad you asked. Meghan Markle is an American humanitarian and actress from that TV show Suits you binge-watched when you were sick this summer. Prince Harry is a prince.
How did they meet?
While the rest of us meet our significant others nowadays by pretending to be their Tinder date at the bar ("Are you Sally?" they ask. "Hmm yesss that is me, I am Sally, sure," we reply, and then bam, wedding), these crazy lovebirds met the old-fashioned way: through a blind date by an unnamed mutual friend who is fancy enough to be friends with both a royal and a famous person.
And so they are engaged?
Why, yes! More than that, they are engaged to each other.
How did it happen?
Markle and Prince Harry sat down with the BBC on Monday afternoon for their first joint interview, where they gave us all the juicy details about their juicy engagement. And by juicy we mean, not at all juicy, as it all just sounds lovely and boring and basic in a wonderful way. Apparently they were roasting chicken on a Sunday night at Kensington Palace earlier in the month (same), when the royal ginger got down on one knee and popped the question. Here, watch this cute video of them talking about it:
Cute!
We told you.
When's the wedding?
On Monday, all we knew was that the wedding would be taking place in spring 2018, and we thought it was very rude that the royal couple didn't give us, their close personal friends, any additional information. But on Tuesday, they announced the wedding will go down in May at St. George's Chapel in Windsor. Phew.
What else can you tell us?
Nothing for now — but we'll be sure to update this post as more information becomes available. In the meantime, here are some cute videos of the royal pair presenting themselves and their love to the press on Monday.
This post has been updated.