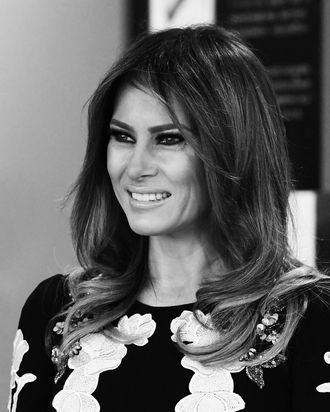 Begrudging First Lady, Melania Trump.
Photo: GREG BAKER/AFP/Getty Images
Here is some thoroughly unsurprising news: Melania Trump, the woman who delayed moving into the White House for five months, "accidentally" faved a tweet that implied she hated her husband, and can often be found gazing wistfully into the void, reportedly did not want to be First Lady. According to a profile of Melania published in Vanity Fair on Sunday:
 "This isn't something she wanted and it isn't something he ever thought he'd win," one longtime friend of the Trumps' told me. "She didn't want this come hell or high water. I don't think she thought it was going to happen."
Despite her reluctance, former Trump campaign advisor Roger Stone told the magazine that Melania was the one who pushed Trump to run for president. Her warm words of encouragement?
"She is the one who pushed him to run just by saying run or do not run. I don't think she was ever too crazy about it," Stone said, adding "She said, 'It's not my thing. It's Donald's thing.' And I think she understood he was going to be unhappy if he didn't run."
Maybe this means Melania can step aside for the real, self-declared First Lady, Ivana.
Updated, 11/27/2017, 12:45 p.m.:
In a statement to CNN's Kate Bennett, a spokesperson for Melania Trump wrote:
"Once again part of the liberal media, this time Vanity Fair, has written a story riddled with unnamed sources and false assertions. As a magazine tailored to women it is shameful that they continue to write salacious and false stories meant to demean Mrs. Trump, rather than focus on her positive work as First Lady as a supportive wife and mother. As has been stated on the record many times before, she is honored by her role."