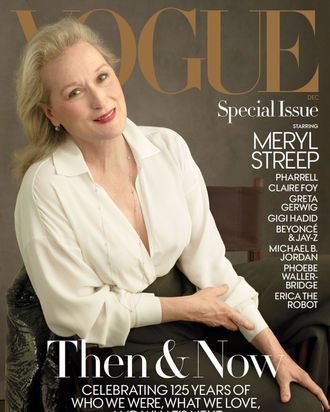 Meryl Streep.
Photo: Courtesy of Vogue
For Vogue's 125th-anniversary special issue, cover star Meryl Streep sat down for an interview with editor-in-chief Anna Wintour about her role as Katharine Graham in Steven Spielberg's new movie, The Post.
Wintour rarely does interviews for the magazine, but she was a longtime friend and admirer of Graham's, who served as the publisher and owner of the Washington Post for more than two decades, famously leading the newspaper through the Watergate scandal. Wintour even admits that Graham intimidated her.
"She intimidated youuuu?" Streep coos in an accompanying video interview.
Of course, it was not lost on Vogue that it's ironic to have Streep, who played Wintour-like character Miranda Priestly in The Devil Wears Prada, return to the Condé Nast offices for another on-camera appearance. But the two kept things (almost) all business, covering everything from Harvey Weinstein to the "feminist agenda." Watch the full video below.