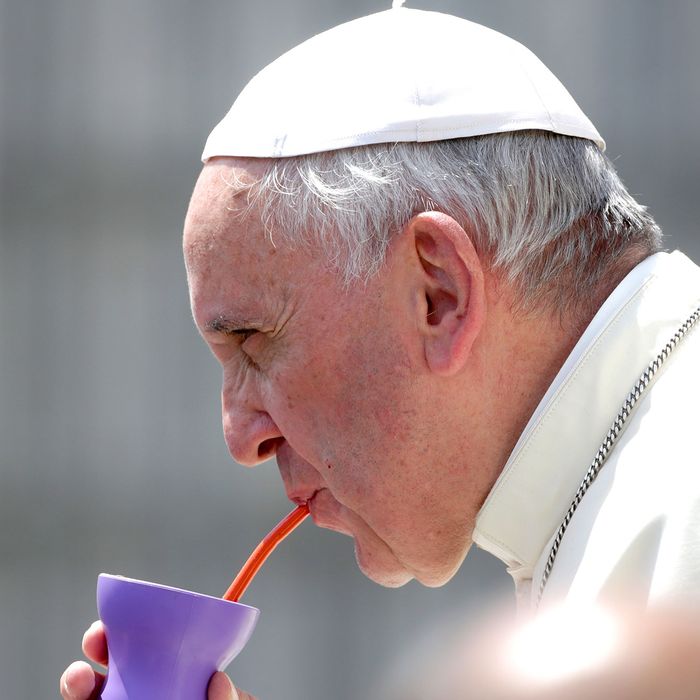 Pope Francis.
Photo: Franco Origlia/Getty Images
On Wednesday, it was announced that the 2018 Met Gala theme will indeed be a religious one. The title: "Heavenly Bodies: Fashion and the Catholic Imagination." So we decided to use our own imaginations to come up with suggestions for outfits, performers, and ice breakers.
1. Rihanna dressed as a bad Catholic schoolgirl, with Pope Francis in papal athleisure as her date. They arrive, arm in arm, via the Popemobile.
2. Taylor Swift with a cross to bear.
3. Anna Wintour giving Holy Communion at the end of the red carpet.
4. André Leon Talley secretly conducting confessionals on Snapchat.
5. Rihanna pressuring Mother Pence to smoke in the bathroom.
6. Leonardo DiCaprio and the Pussy Posse dressed as the Seven Deadly Sins.
7. Jay-Z and Beyoncé, but they don't show up and "invite" the "Illuminati" "in their place."
8. Kylie Jenner as the Virgin Mary, with Kris telling everyone it was immaculate conception.
9. Madonna performing "Like a Virgin" with backup from that choir boy in Baz Luhrmann's "Romeo and Juliet."
10. Jude Law in character as a messy bitch Young Pope, starting some drama; Diane Keaton wearing her "I'm a virgin, but this is an old shirt" nightie.
11. Justin Bieber with his Hillsong squad.
12. Alexander Skarsgård as a bald Franciscan monk.
13. Riccardo Tisci, Donatella Versace, and Alessandro Michele as the Holy Trinity.