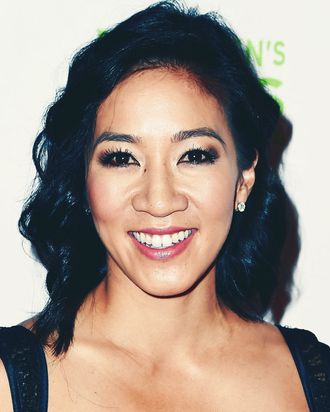 Photo: Nicholas Hunt/Getty Images for Women's Sports Foundation
Michelle Kwan still thinks ice skating is fun — and she's still the most decorated skater in the history of the sport. In the 15 years since her "Fields of Gold" routine left everyone in tears at the Salt Lake City Olympics, Kwan has worked at the State Department and campaigned for Hillary Clinton. Her newest job is partnering with Procter & Gamble to promote their mom-centric Love Over Bias campaign. The Cut talked to Kwan about the impact tiger parenting had on her, the shame associated with failure, and how she looks back now on never having won gold.
You were one of the few Asian-American faces I saw growing up. Did you think about representation while you were competing?You know, I never saw myself as a pioneer for Asian-Americans in figure skating. There were huge giants that came before me like Kristi Yamaguchi. But a lot of people would tell me they had a similar story to me, with the American dream — the idea that if you work hard, dream big, and play by the rules, your dreams can come true. It's my story. It's also the story of many immigrant families.
I always saw myself as having this unique opportunity. My parents didn't have the means to provide brand-new skates, flashy costumes, or ice time. They were barely juggling multiple jobs, providing a roof over our heads, feeding us, working at the restaurant, my dad was working at a phone company, and then they gave me this crazy opportunity to ice skate! It seemed foolish at the time, but it was my dream to compete at the Olympic Games. Maybe I didn't get new skates, but I got used skates. I made it to the national championships in used skates that were custom-made for another girl.
I still have those skates. Underneath the arch, there was a name crossed out and my dad had "Michelle Kwan" written in. Granted, they were a little big, but it worked. My mom borrowed costumes from another girl. But I didn't feel disadvantaged. I felt empowered because I had these opportunities. I was going to try to make the most of it.
There's been a lot of discussion over the past few years about "tiger parents." Do you feel like you had them? And how did it impact you in skating?
My sister read the book, and so did I. There were tough-love moments growing up. I remember vividly this one time I was playing around on the ice and my dad was really upset. He was like, "You were late. I pay a lot of money to have these lessons. Don't waste my time. Don't waste coach's time. Don't waste your time."
It's a tough lesson to learn at 8 or 9 years old. My dad was driving me before and after school, and could barely sit down for a meal. I realized how much he was giving up.
We weren't a family that always said "I love you." After 9/11, I was the first in the family to ever say, "I love you." We didn't get Christmas presents. It was like, You want to go ice skating? That's Christmas.
Did you feel like they were pushing you?
More like encouraging. There was this one moment when we watched all the skaters. My parents were like, "You're not the most talented. Look at this person. But if you work hard, you could win. You could do better. You could be the best." But it wasn't pushing. I was always hard on myself.
There's a lot of shame associated with failure, particularly in Asian culture. As someone who fell publicly while competing, how do you feel about it?
As a kid, falling was embarrassing. As I got older, I got used to falling and picking myself back up. There's not a sense of failure. It's of disappointment. You train so hard to not make mistakes. When you do, you're learning from that. How do I improve? How do I get better for the next time. Through every failure, there's something to be learned.
The new Tonya Harding movie is coming out. There are a few movies that promote the trope of emotionally frail skaters who are under a lot of pressure. What do you think about that?
I haven't seen the movie yet, but I lived through it. If people think figure skaters are frail then they need to tune in for the Olympics this winter. You don't do triple triple combinations and fly through the ice if you're frail. If you represent your country and millions of people are watching, it comes through a lot of grit and hard work. They're not frail by any means.
It's hard. You put a lot of pressure on yourself to represent you and your country. To be the best, you need to be the most well-trained and well-prepared athlete you can be. The pressure is going to be all around you. You just have to make sure that your body and mind is fine-tuned. Then you go out there and do it.
My mom was always too nervous to watch me in any competition. She was even nervous to watch you on TV! Was your mom the same?
No, my mom was zeroed in. Seeing "Love Over Bias," it captures so many stories of athletes and their parents and moms. I might not have been able to pick out my mom, but I knew she was in the building and was always watching.
I traveled all over the world with her — competing in Australia for the Goodwill Games, the Japan Open, or the Lalique in Paris. I always felt her confidence through the ups and downs. She was always going to be there and be proud.
You're one of the most decorated skaters in history. Yet a lot of people point out you haven't won gold before. Now that you've had some distance, how do you look back on it?
I had amazing experiences. Perhaps the gold eluded me. It's not so bad getting silver and bronze and winning five world titles. There's just one thing that's missing in the repertoire.
When I look back, I wouldn't have changed anything. I couldn't have worked harder. There was the dedication to the sport. The amazing family and team that I had. The mind-set, the drive, the motivation, the grit, it was all there. There was just that one thing. [Pause] You can't always be perfect.
This interview has been condensed and edited.