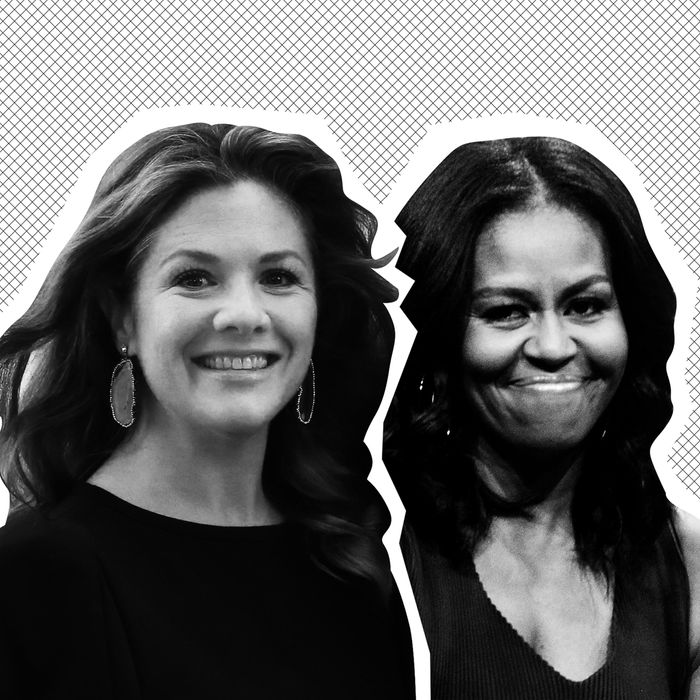 Sophie Gregoire Trudeau and Michelle Obama.
Photo: Getty Images
This week, Sophie Trudeau and Michelle Obama were spotted out and about enjoying their friendship in Toronto.
President Obama and Canadian prime minister Justin Trudeau have been open about their "bromance," and the sentiment extends to their wives. Ms. Obama has referred to Ms. Trudeau as "my soulmate," and the women previously spent time together during Prime Minister Trudeau's visit to the United States in 2016.
On Tuesday, the friends went shopping and got lunch at Toronto's Gusto 101. (They shared a kale salad, grilled octopus, buffalo mozzarella, ravioli, shrimp pasta, and shishito peppers, and Ms. Obama reportedly hugged her server.)
The women were in town for a speaking engagement at Ryerson's Mattamy Athletic Centre.
Ms. Obama gave a talk entitled "Advancing Women and Girls to Change the World," in which she discussed gender equality, suggested President Trump stop tweeting from bed, and called on men to become more active in the advancement of women.
"The question for men is, 'What have you done lately?'" she said. "How have you made space in your position of power, where are you in this?'"