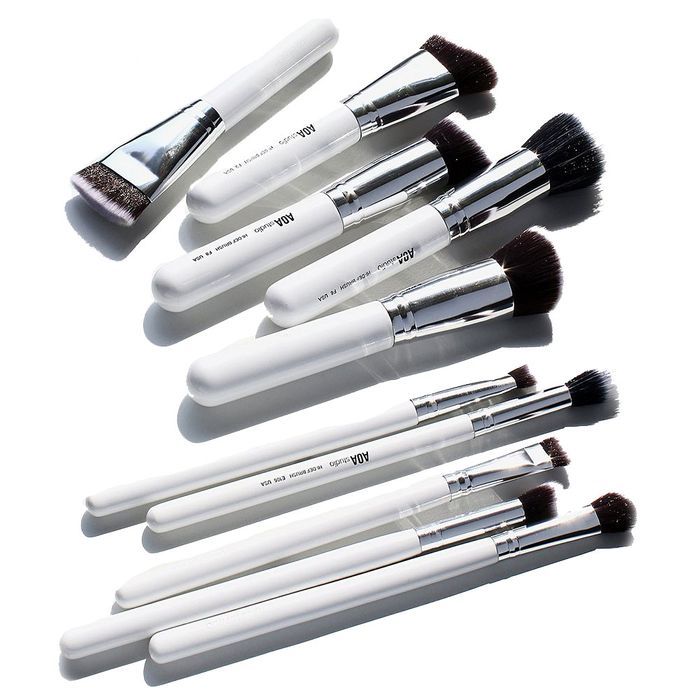 Occasionally, when I'm seeking 20 minutes of unadulterated pleasure, I cruise beauty tutorials on YouTube. They always remind me of the seemingly endless possibilities within hair and makeup, as well as the creative lady geniuses who bring them to life. But they also remind me of another thing: I never seem to have the right brush.
You know the problem: Your favorite vlogger uses 35 makeup brushes, and they're all wildly expensive. Or maybe they don't cost much individually, but a full set will blow your budget.
Luckily, there's a solution: AOA Studio's ten-piece, $10 brush set. Made by Miss A, a newish internet makeup company dedicated to selling beauty on the cheap, it will make you feel like a YouTube star.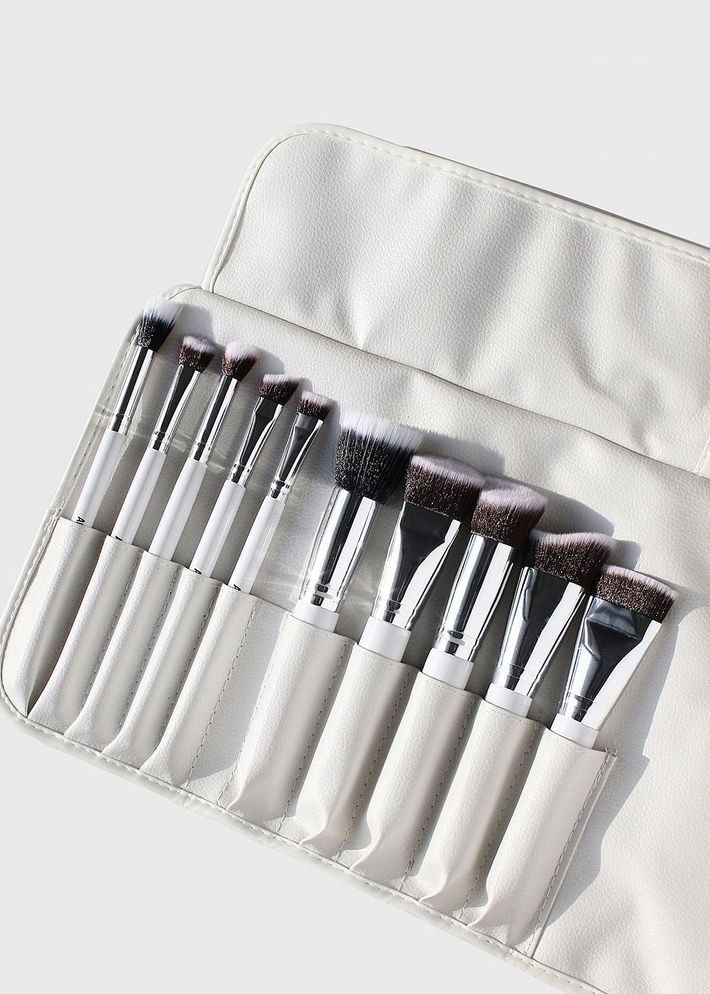 Use the five smaller brushes for your face's smaller areas. There's one for your nose, one for under your eyes, and one for your cupid's bow, plus a little rounded brush that helps you blend everything once it's on your face. A slim stipple brush (the one with the super-long hairs) is the perfect tool to layer on a glimmering highlighter.
The five larger brushes are meant for the rest of your face. There are two designed for contouring: one with a skinny line of bristles to contour your cheeks, and one that's shaped like a wedge to fake high cheekbones. The rest are for blending all the contours (a large stipple brush), applying foundation (a brush with a head shaped like a "V"), and patting your face with powder (a brush that angles into a wedge).
All of the brushes are vegan, which is makeup-speak for synthetic. The bristles are soft, densely packed, and offer a springy resistance that allows them to transfer product easily. They're not as soft and ergonomically styled as a luxury brush, but who cares when you're not wearing contour every day? For the casual user, AOA Studio is a much smarter buy.
The set, along with a faux-leather brush roll, arrives in two colors: white and black. Don't let the white scare you; you'll smear the black set with makeup just as easily. And should you happen upon a mesmerizing smoky-eye tutorial in your future, take heart: AOA Studio sells a $10 eye-brush set, too.
If you buy something through our links, New York may earn an affiliate commission.