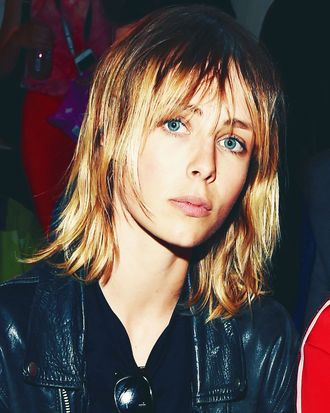 Edie Campbell.
Photo: Stuart C. Wilson/Getty Images
On Thursday, 27-year-old British model Edie Campbell published an open letter to the fashion industry in WWD. It came after an outpouring of stories on sexual assault which her fellow model Cameron Russell collected and published anonymously on Instagram under the hashtag #MyJobShouldNotIncludeAbuse. Although Campbell says she hasn't experienced abuse firsthand, she's spent the past few weeks helping to share others' stories on her personal account, which has over 108,000 followers.
Campell says she felt compelled to write the letter because "we have reached a turning point." She declares that the issue spreads "far further than one man," referring to Terry Richardson, and that the truth of the matter is much more "complex" and "nuanced" than we want to believe.
"The models that shared their stories with Cameron were not all talking about the same photographer," she writes. "And more than this: many of them were male models."
Though the global conversation on sexual assault has focused its attention on abuses targeting women, Campbell says she believes that in the fashion industry, "the numbers are much more evenly split between male and female victims."
As for how to move forward, Campbell suggests that the industry's "informal" nature, or the blurred line between personal and professional, has allowed instances of abuse to go unchecked. She also says fashion "applauds diva behavior" while making it seem "uncool" to speak out. Finally, she says fashion's "artist genius" has, in the past, been given carte blanche. "We can no longer operate like this if we want to see change."
"Fashion is great when it celebrates the people involved in the creative process, not when it destroys them," Campbell writes. "The work should not become more important than the people who are involved in it."