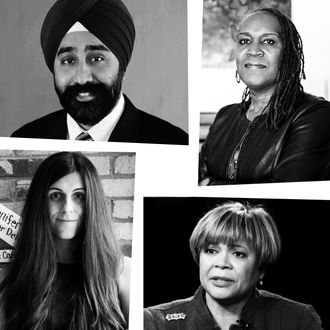 Clockwise from top left: Ravi Bhalla, Andrea Jenkins, Vi Lyles, and Danica Roem.
Photo: Getty Images; AP; Courtesy of Facebook/RaviBhallaHoboken; andreaforward8.org
While we woke up the day after the 2016 election feeling defeated (to put it lightly), this year's race resulted in a number of wins that were truly Italian-chef's-kiss-emoji satisfying. From the woman who took on a New Jersey politician after he shared a sexist meme about the Women's March to the trans candidate who beat a transphobic state legislator, here's a roundup of some of the most gratifying wins from the 2017 election.
– Democrat Danica Roem was elected to the Virginia House of Delegates, making her the first openly transgender individual to serve in a state legislature. She defeated 13-term incumbent Delegate Robert G. Marshall, who once called himself the state's "chief homophobe" and introduced a "bathroom bill" in the state.
– Democrat Vi Lyles won the mayoral race in Charlotte, North Carolina, becoming the city's first African-American female mayor. She was heavily outspent by Republican Kenny Smith, and yet she still managed to take home 58 percent of the vote.
– Former local news anchor Chris Hurst was elected to Virginia's House of Delegates. He campaigned on a gun-control platform after his girlfriend, reporter Alison Parker, and her cameraman were murdered on air by a former co-worker.
– Democrat Ashley Bennett was elected as Atlantic County freeholder in New Jersey. She decided to run after incumbent Republican John Carman posted a sexist meme on Facebook during the Women's March on Washington, asking if the protest would be "over in time for them to cook dinner."
– Progressive candidate Wilmot Collins, a refugee from Liberia, was elected as mayor of Helena, Montana, unseating Jim Smith to become the city's first new mayor in 16 years — and the state's first black mayor. Collins has previously spoken out the racism he endured after moving to Montana in 1994, including an attempt to set his car on fire and someone writing "Go back to Africa" and "KKK" on the siding of his home.
– Andrea Jenkins was elected to the Minneapolis City Council, becoming the first black openly trans person elected to a major city's government. Advocates are calling Jenkins's victory a game changer for transgender people of color. "That means anything is possible at this point," Cecilia Chung, senior director of strategic projects at the Transgender Law Center, told the Washington Post.
– Tom Coyne, mayor of Brook Park, Ohio, left the Democratic party last year to endorse Donald Trump. On Tuesday, he lost his bid for reelection against independent Michael Gammella — who just so happens to also be a representative for the United Auto Workers union.
– City Councilman Ravi Bhalla won a six-person mayoral race in Hoboken, New Jersey, becoming the state's first Sikh mayor. Bhalla's win comes shortly after he was labeled a "terrorist" in a racist campaign flyer — which prompted the Indian-American politician to say on Twitter, "We won't let hate win."
– The third-ranking Republican in the Virginia House of Delegates, Tim Hugo, was defeated by Democrat Donte Tanner by just 68 votes, even though Hugo had an early campaign cash advantage over his opponent. Hugo, the House's majority caucus leader, had also never won less than 57 percent of the vote since taking office in 2002 — until now, of course.