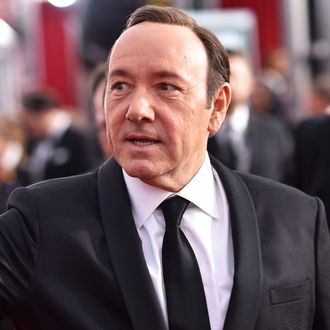 Kevin Spacey.
Photo: Dimitrios Kambouris/Getty Images for Turner
Kevin Spacey is now the subject of a criminal investigation by police in Nantucket, according to the Boston Globe. Former Boston TV news anchor Heather Unruh held a press conference Wednesday to recount her son's alleged sexual assault at the hands of Spacey. Unruh said her son was drinking with Spacey at a restaurant on Nantucket in July 2016 when Spacey put his hands into the 18-year-old's pants and groped his genitals. "Kevin Spacey had no right to sexually assault him," Unruh said, speaking behalf of her son, who was not present at the press conference. "There was no consent." Unruh said an unknown woman noticed how shaken her son was, and encouraged him to run away. Unruh and her attorney Mitchell Garabedian said it was unclear if the woman saw the alleged abuse.
Police in Nantucket have opened an investigation into Spacey's conduct, Unruh said, and she thinks he deserves to be in prison. Her message to the House of Cards actor, who has now been accused of sexual misconduct by dozens of men, was simple: "Shame on you for what you did to my son, and shame on you for using your apology to Anthony Rapp to come out as a gay man." Unruh first hinted at the accusation in a tweet that went viral after the first round of sexual-misconduct allegations against Harvey Weinstein. Unruh said the bravery of Weinstein's victims inspired her family to come forward.