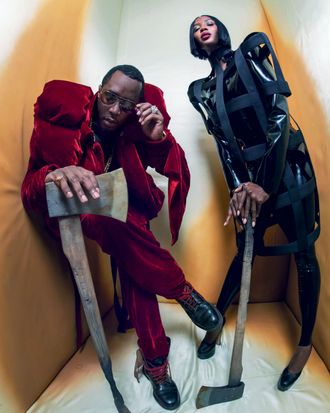 Naomi Campbell and Diddy for the 2018 Pirelli calendar.
Photo: Tim Walker
It's impossible to imagine the all-black version of fashion's most famous calendar without Naomi Campbell. Luckily, we don't have to. The model appears in this year's Pirelli calendar — which is shot by Tim Walker and inspired by Alice in Wonderland — as a royal beheader alongside her close friend Diddy, who she calls "my brother."
This is Campbell's fourth appearance in the Pirelli calendar, which is published every year by the Italian tire company. To celebrate the launch, she spoke with the Cut about mentoring other models, her relationship with Diddy, and why she loves to recognize "black excellence."
On not accepting limits:
Alice in Wonderland is a fantasy. We think that it has to be always white; it doesn't! Quincy Jones made The Wiz black. It's just a matter of our minds and what we allow. I don't have a limit in my mind; I wasn't raised that way. I was raised to know I'm going to get what I'm going to get. And that's how I've looked at it in modeling. There have been times when I've said, "Excuse me, where's mine?" I put my time in.
On comparing this year's all-black Pirelli calendar with her all-black Vogue Italia issue:
Franca [Sozzani, former editor of Vogue Italia] would be very proud of this calendar and proud that Marco [Tronchetti Provera, the CEO of Pirelli] and Pirelli have done this. The timing is impeccable. It's perfect with rap music being the number-one genre of music today. Edward Enninful was my editor on the black issue, and then he was the stylist on this as well.
On chopping heads for Pirelli:
I loved being the beheader. Me and Puff wanted to be together. I'm bossy so it's perfect for me, and I just love having that ax in my hand and being like "If you mess with me, off with your head." I loved my character very much. I took it very seriously.
On her relationship with Diddy:
We are brother and sister so we love to do things together. I remember when Puff said to me once, "I'd love to be on the cover of Vogue one day," and I said, "Let's try." And he said, "Oh, we're never going to get it," and I go, "Yes we will!" And Jonathan Newhouse made it happen.
Puff inspires me every day because there is no limit. His Instagram is so inspiring; he's really about team love. He's very private, but he is loyal. He has been loyal to me for so many years. We've known each other for 20-something years and he's consistently the same; I adore him.
Edward and Puff got to be close, too. I never know what's going to happen with Puff, but it's always something magical. I went to dinner with him a few weeks ago, and after dinner we ended up in a recording studio with four boy-band groups! And this is why for me, being with him is like … I just roll with it. I love his company, I love his demeanor, I love his love towards me, and I love our friendship.
On hashtagging "#BlackExcellence" on social media:
If I think it's excellent what people have done, I want to say "#BlackExcellence." We have to think of the next generation saying to themselves, Oh, I could never be like that. You have to give hope. If I don't use my voice to give hope, what am I going to do with it? That's the one thing Mr. Mandela taught me to do. At the time I was very young and I didn't quite understand it, but I understand it more today.
On her frustration with the lack of diversity in the fashion and modeling world:
I've been frustrated for a while with alongside Bethann [Hardison] and Iman, but I do feel this year has been a significant change. And it's not a change as a trend. It's a change to stay, the way it should be. I live in that optimistic mindframe. That's the dream inside of me.
On her morning motivation:
Life! I have a blessed life. I choose to live life and not let life live me, so I'm happy in my skin. I don't care how hectic it gets and how many planes I have to take, I do what I have to do because I know that I'm blessed. That's it.
On her first experience working on the Pirelli calendar:
I've done Pirelli four times. The first one was when I was 16, with [photographer] Terence Donovan. That was also iconic because I was with a group of all black women, women of color. I was too young to understand that. I was actually so young that they had to get permission from my mum; I had to go to bed at a certain time.
On what this year's Pirelli calendar shoot was like:
The whole day from beginning to end is fun. We had my makeup table collapse and go up in flames and break down. We just blew it out and kept on going. We were singing a song at one point — just a really happy vibe. Everybody very supportive of one another on set. Puffy was supportive of me, telling me. "Get here sis! Get into character!" He knows how to get into my head.
I was just floored by the beauty of Adwoa [Aboah]. She's so beautiful; I mentor her now when she comes to New York. I'm like: "Make sure you come to my house, I want to make sure you're eating in the model apartment." I took her out dancing a couple weeks ago. We're just very supportive of one another.
On helping other models:
Whether it's Bella or Gigi, if they say "We got a Victoria Secret show in two weeks, can you help us?" I will always do it. Jasmine Storm, Imam Imam, Adwoa Aboah — if they need my help, I'm going to help.
This interview has been edited and condensed.