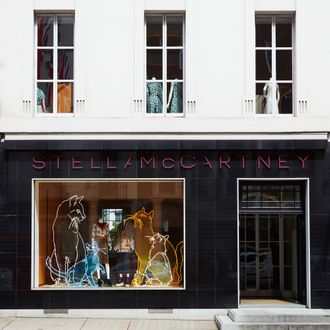 A neon display in a Stella McCartney store window.
Neon has existed for centuries and been ubiquitous for decades, but one need not look farther than the self-love decal Petra Collins designed for Café Henrie to guess that the medium is having something of a moment.
Neon used to simply spell out "no vacancy" or "Budweiser," but it's now often used for the kinds of "Good Vibes" signs one might see at a Sweetgreen. When vendors opened their booths this summer at Brooklyn's new DeKalb Market Hall, they were required to have neon signs. In the latest iteration of the trend, neon doesn't spell anything at all: neon pictograms are popping up in stores and homes, ranging from custom illustrations to a surprising number of inexpensive plug-in cactuses.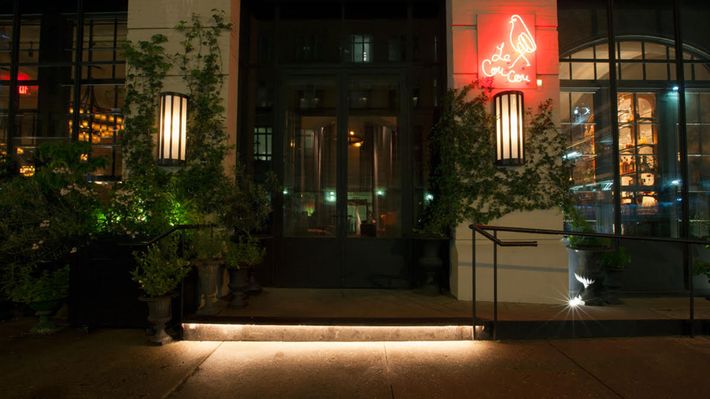 "There's a lot of people thinking about what can be done, as opposed to just writing out the name of the restaurant, or saying 'oysters,'" says Matt Dilling, who opened Lite Brite Neon in New York in 1999. "We're getting calls from brands and hotels and banks, and they're giving us huge creative license." Like Salt Bae, né Nusret Gökçe, who's hired Dilling's team to create a series of neon meat hooks for the New York opening of his Turkish steakhouse chain.
Lisa Schulte, a Los Angeles neon bender who's worked with the likes of Stella McCartney and makes Dan Flavin–esque abstract pieces, agrees: "Neon has taken a turn," she says. "There's a whole new generation that it feels new to. Probably because of selfies." (Schulte, on the other hand, has been at the neon game for 35 years; she has between 10,000 and 20,000 pieces in her personal — but rentable — collection.)
New Yorkers looking for at-home neon can find it at local shops like Lite Brite or Krypton Neon in Long Island City, though it won't be cheap. A less expensive option is Brite Lite Tribe, which makes customized signs starting at $82 (for a single letter) or this wall-décor heart. Or just get a cactus — there's a lot of them.